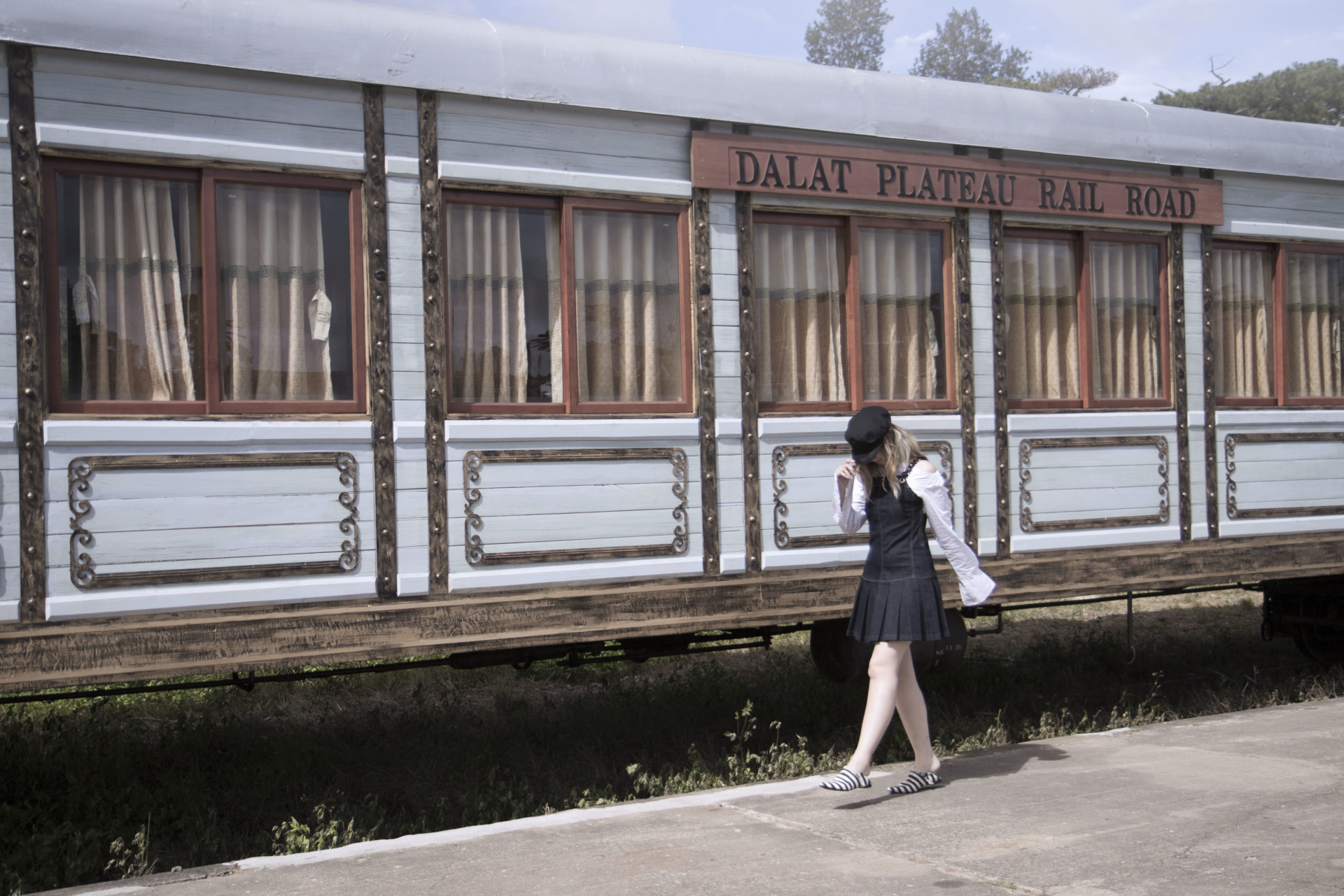 Waking up on our first day in the romantic town of Dalat, I exclaimed excitely the beautiful sunny weather as I looked out of our hotel window. On the weather forecast before we reach Dalat, it reported rain for every single day during our stay, and I was disappointed. But this morning, here I see Mr Sunshine. I rushed my friends to get out of the room for exploration before Mr Sunshine change his mind.
First stop, we decided to visit the oldest railway station in Dalat. Reaching there was fairly easy, telling the taxi driver "railway station" and he will know where to bring us. It's situated about 2km from the city center which is considered a little out of the way. There is no way one can reach here by foot unless you are crazy enough to venture up the hill for 2 hours.
A bit of the history: The railway station was built in 1938 following the art deco style designed by French architects Moncet and Reveron, incorporating high, pointed roofs characteristics of Cao Nguyen communal building of Vietnam's Central Highland ethnic minorities. The three roofs are said to represent the three peaks of Dalat's iconic Lang Biang mountain.
The train line is part of the Da Lat–Thap Cham Railway line, 84 km (52 mi) long, and rose almost 1,400 metres (4,600 ft) along a winding route. Due to the difficulty of the mountainous terrain west of Sông Pha (where the Ngoan Muc Pass rose into the Central Highlands), it took 24 years before the track finally reach Dalat. The track was served by steam locomotive until it was destroyed during the Vietnam war.
Until 1990s, a 7 km (4.3 mi) section of the line between Da Lat Railway Station and the nearby village of Trại Mát was restored and to be used as a tourist attraction. The last station on the 7km track is the Linh Phuoc Pagoda. A great suggestion will be to buy a ticket and ride the train to the beautiful Linh Phuoc Pagoda, while passing through fields of vegetable farms and flowers.
Us? We only discover we can do that after a big detour with the taxi driver, getting lost in communication, seeing the train that left the station travelling along side with us on the road, then we discover we should have just taken the train.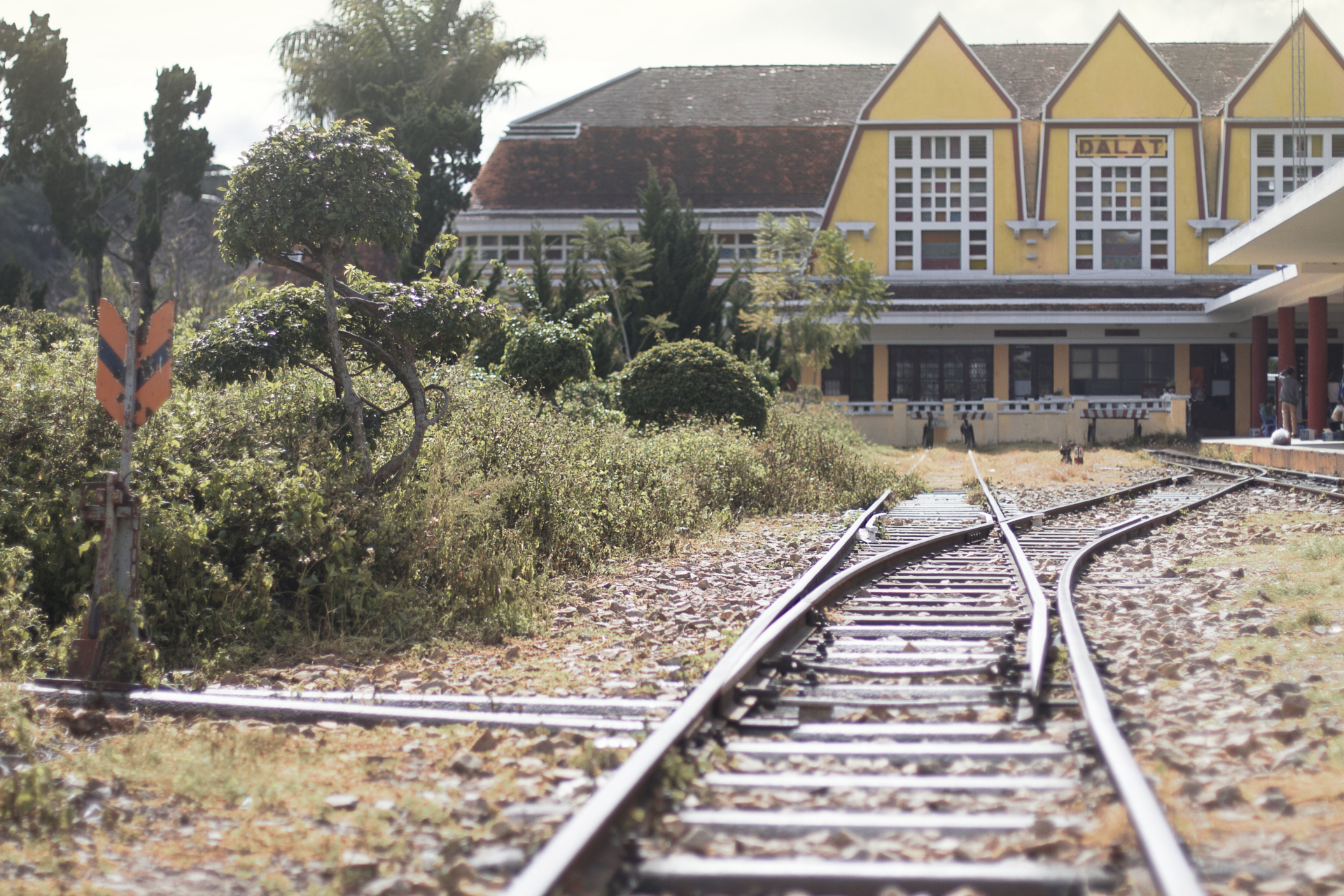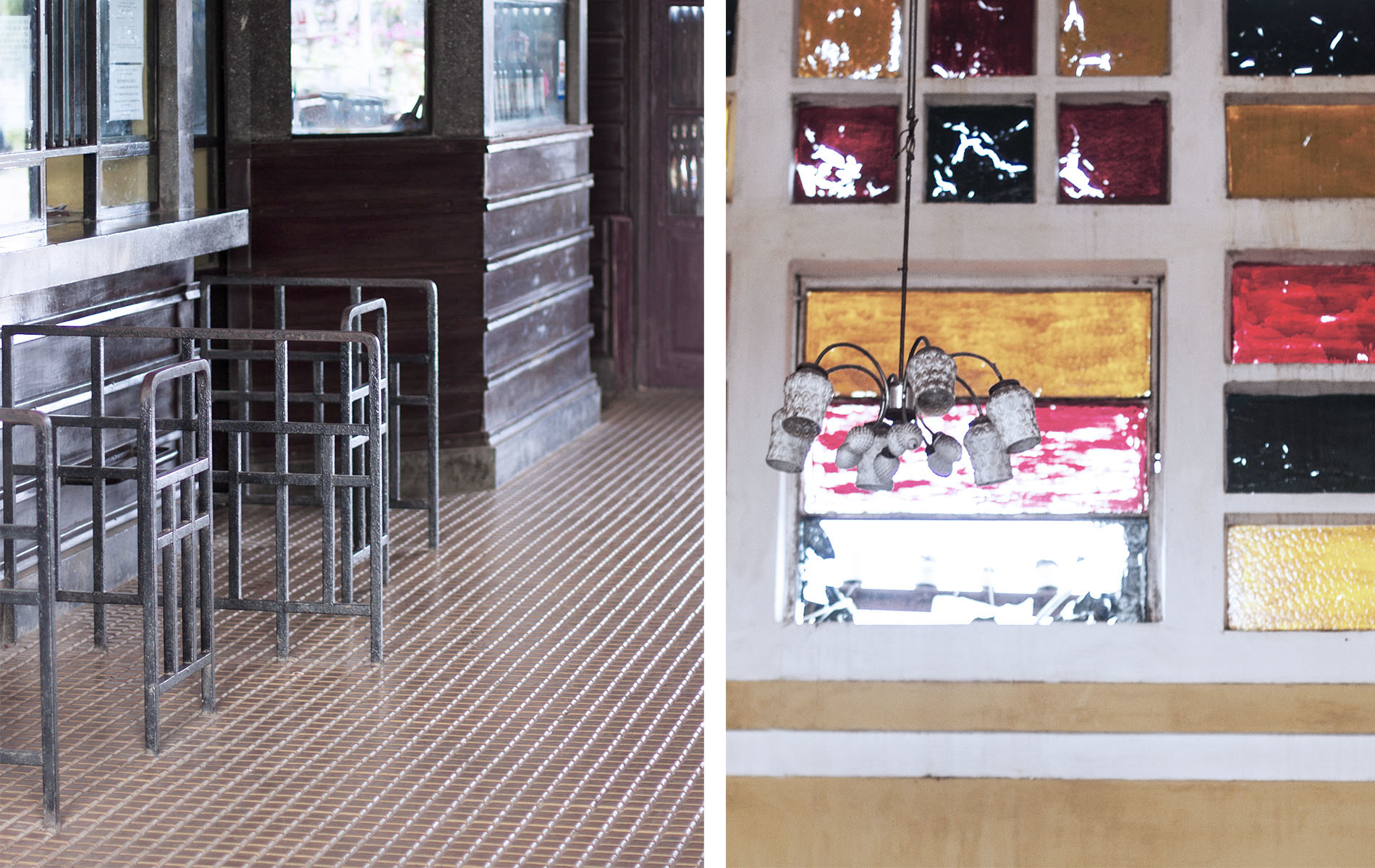 Art decor designed railings at ticketing counter (left),
stained glass sits below one of the pointed roofs (right)

The 5 stops train operate from 7.45am to 4pm daily and requires minimum 20 passengers for it to run. We saw returning train approaches the station while we were taking photos in the station. Surprisingly, the train was extremely packed with passengers. I'm not sure how it works to ensure there are at least 20 passengers before the train can run, but it does looks really fun to board these cute trains.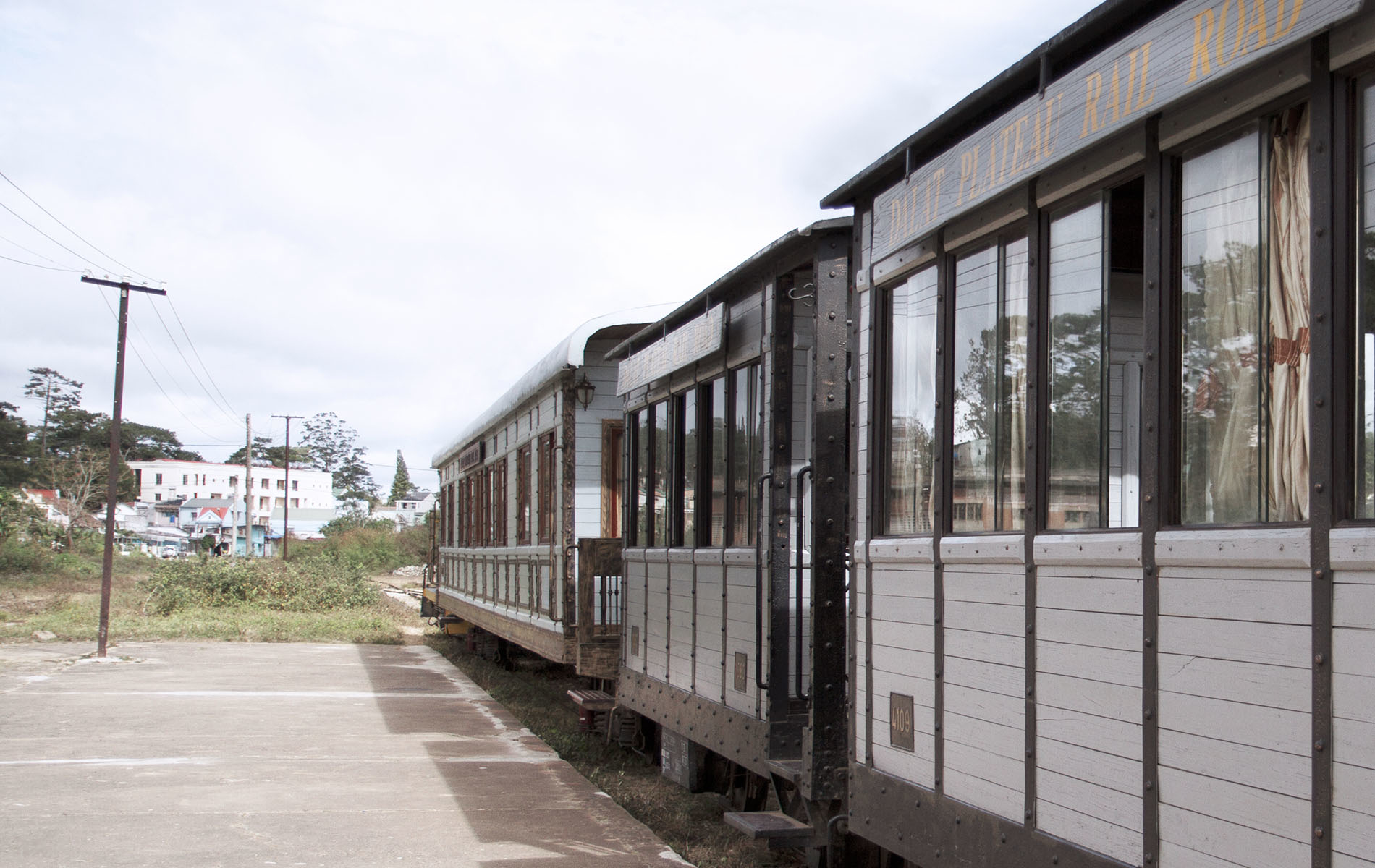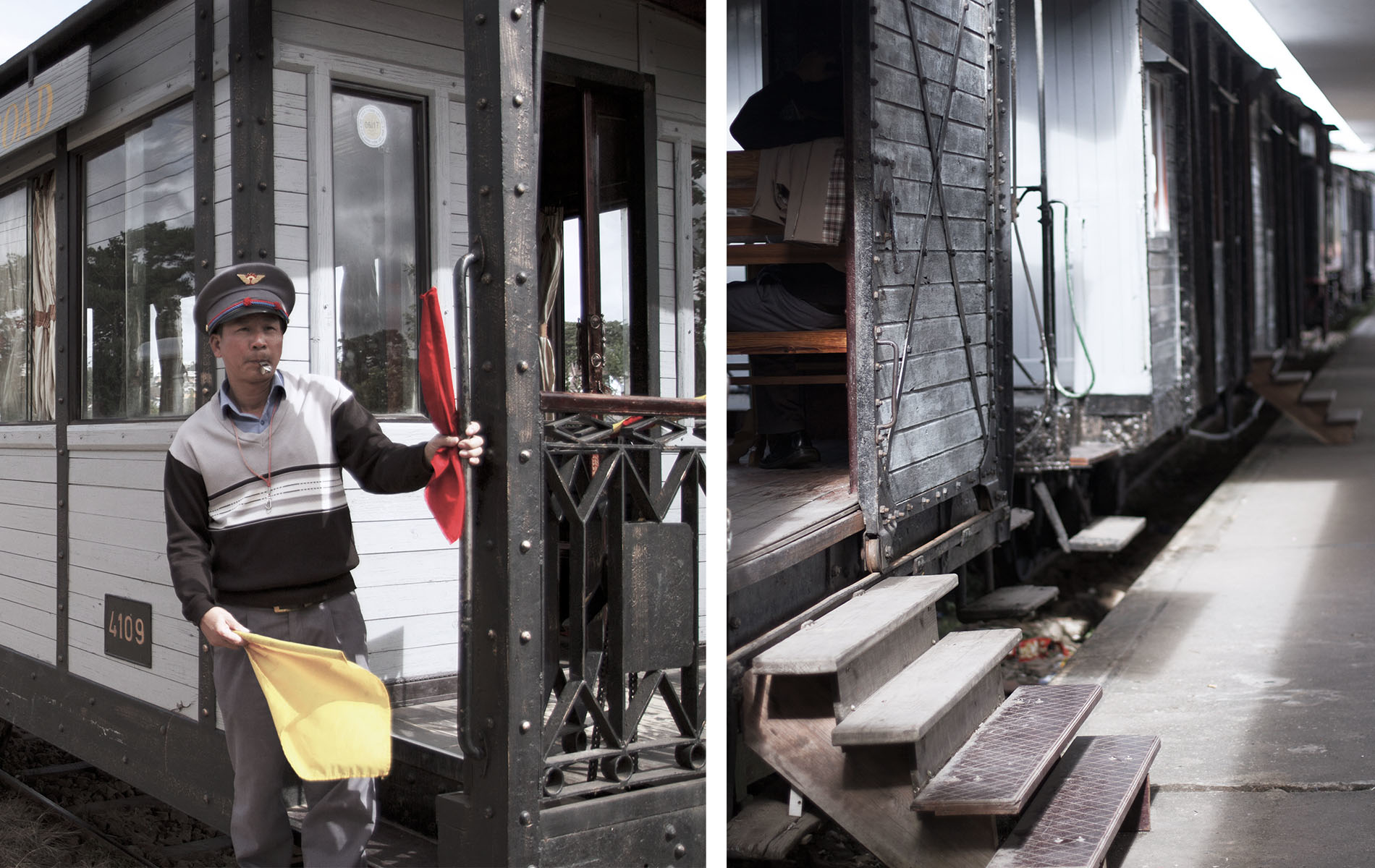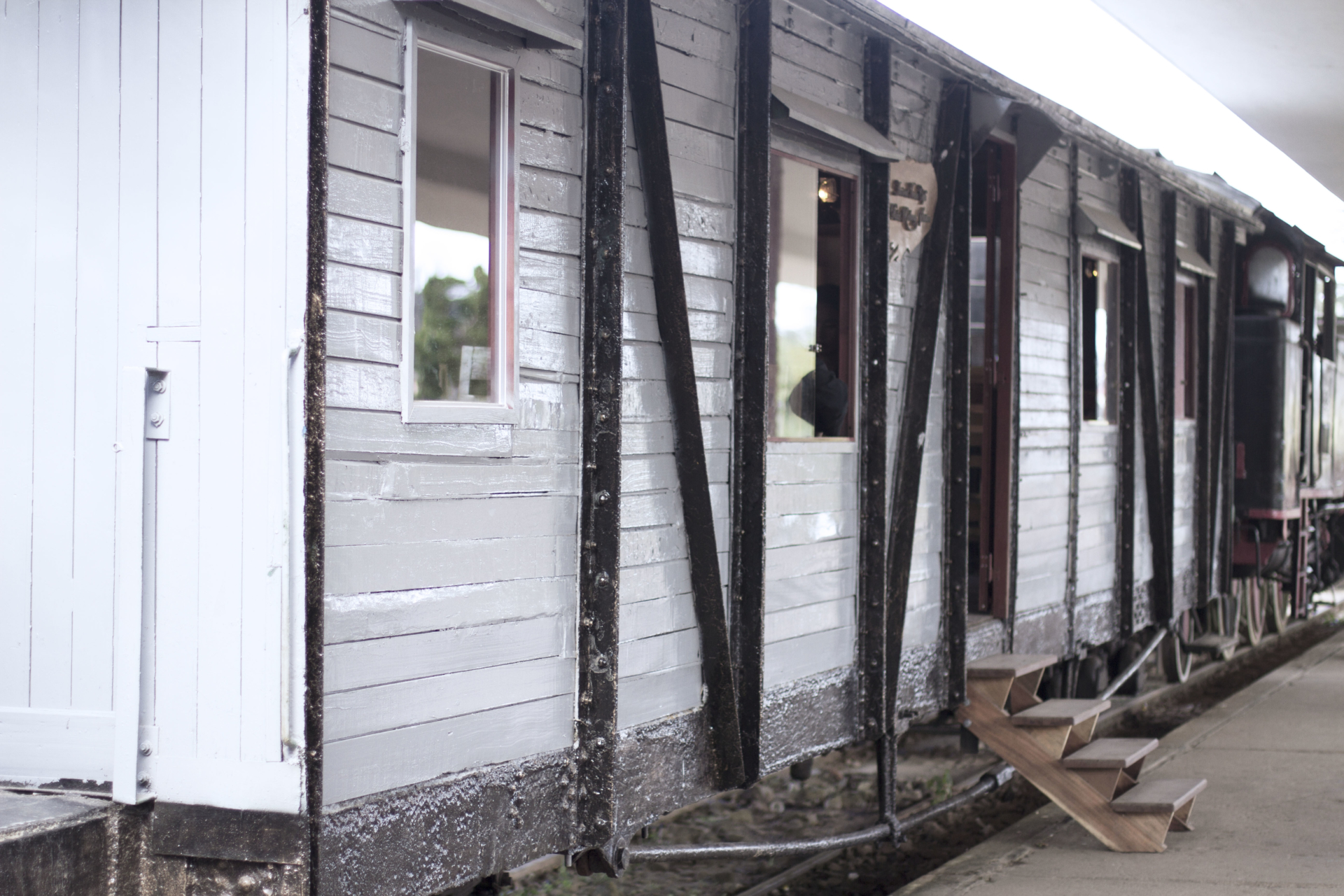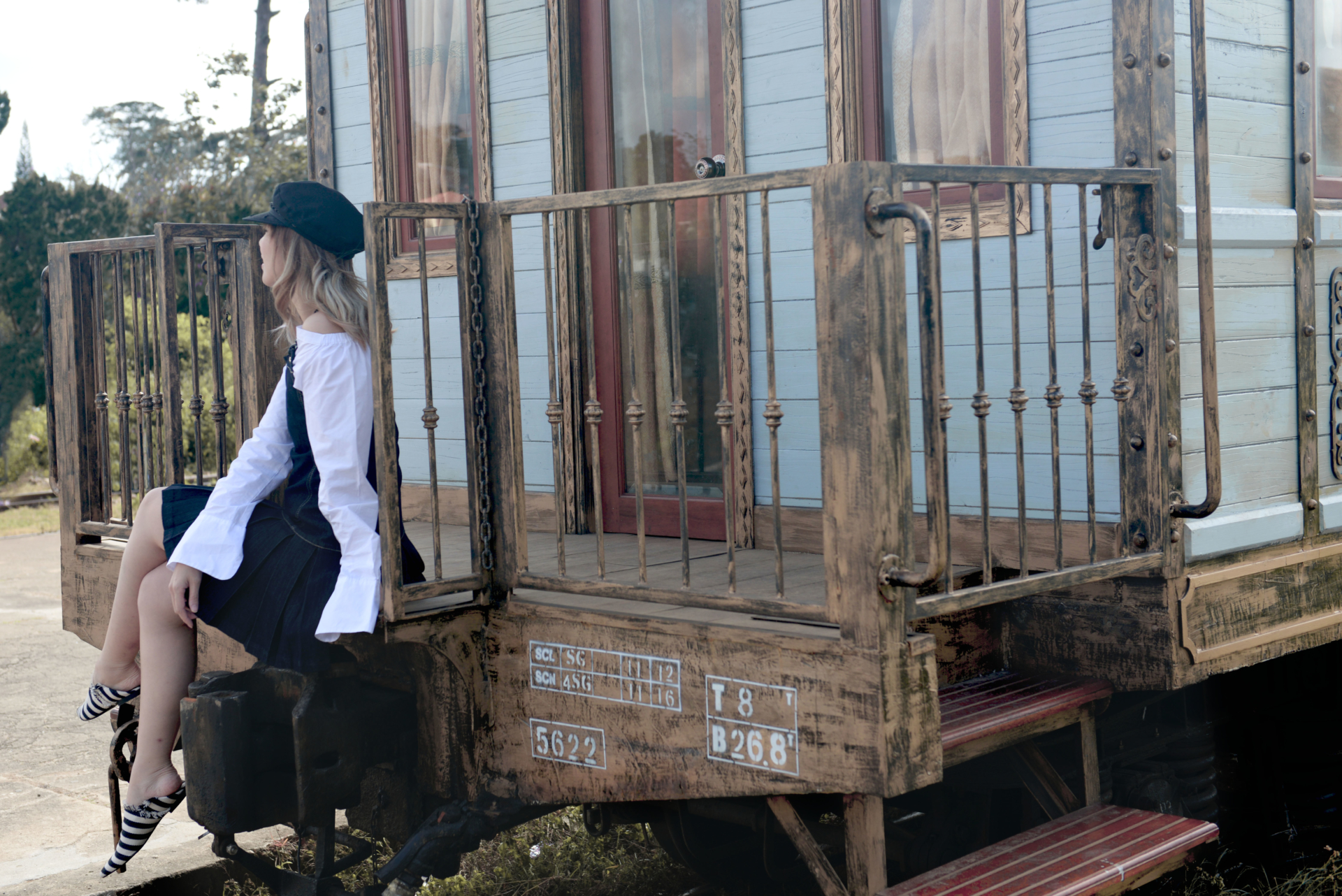 My outfit for day 1 in Dalat is from Liu Jo, a fairly new italian brand founded in 1995 from the beautiful Italian town of Capri. The brand main style is feminine mix with a side of glamorous, elegant and dynamic flair. The look is contemporary and seductive but easy enough for every day wear. I'm spotting a denim dress from their Blue Denim Spring Summer 17 collection. I love the acrylic chain details as strap on the dress and the cute pleats at the bottom. A very easy to wear piece either for the weekend or travel. The cooler temperature in Dalat calls for the dress to be layered, and I pair it with an off shoulder white shirt, which will show off the pretty chain details. The cut from Lui Jo is surprisingly small considered that it's an Italian brand. The torso of this dress is a little short for my 5ft 5″ frame but it's still comfortable. Thus, if you are petite or an Asian cut flatters your shape, you can consider Liu Jo.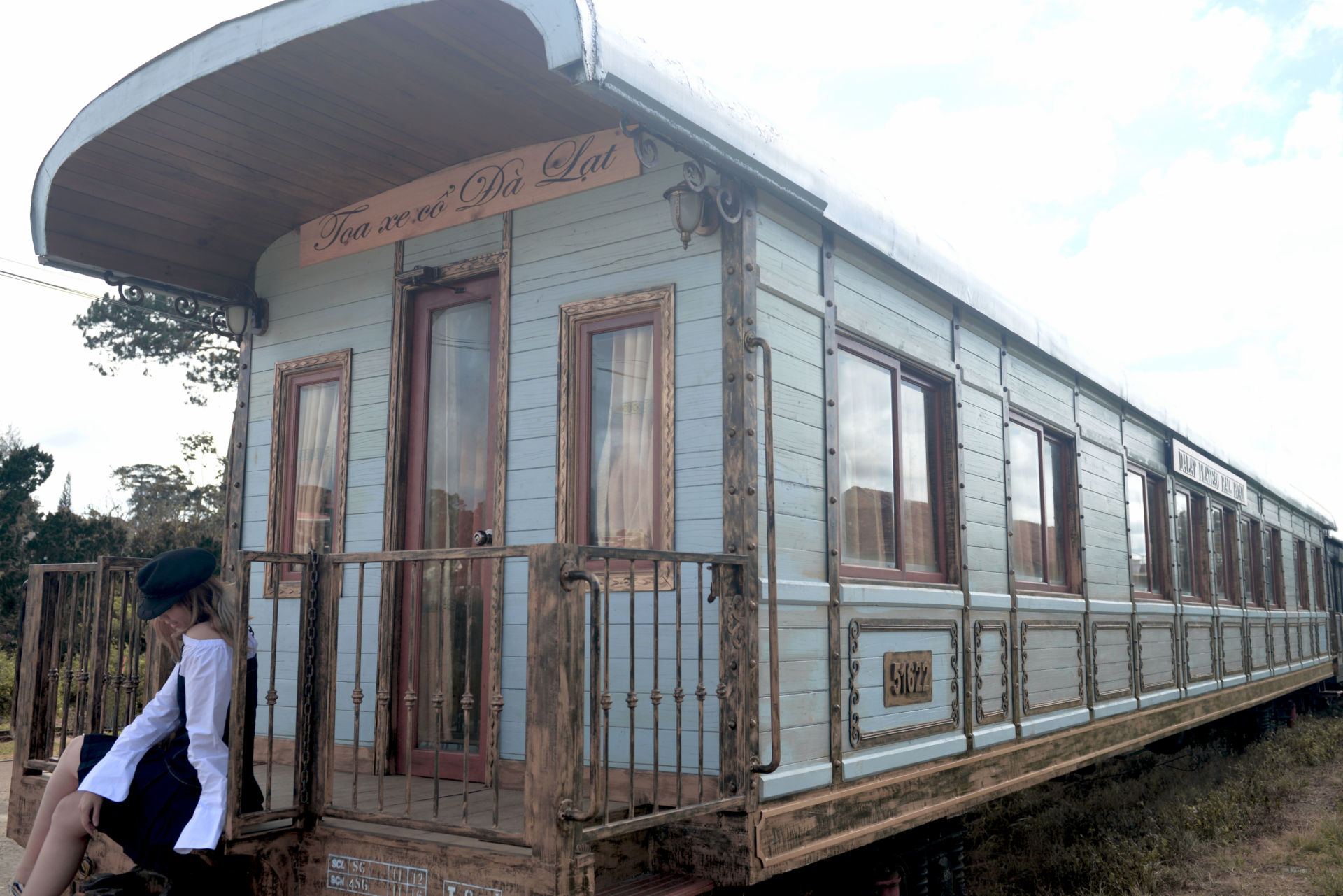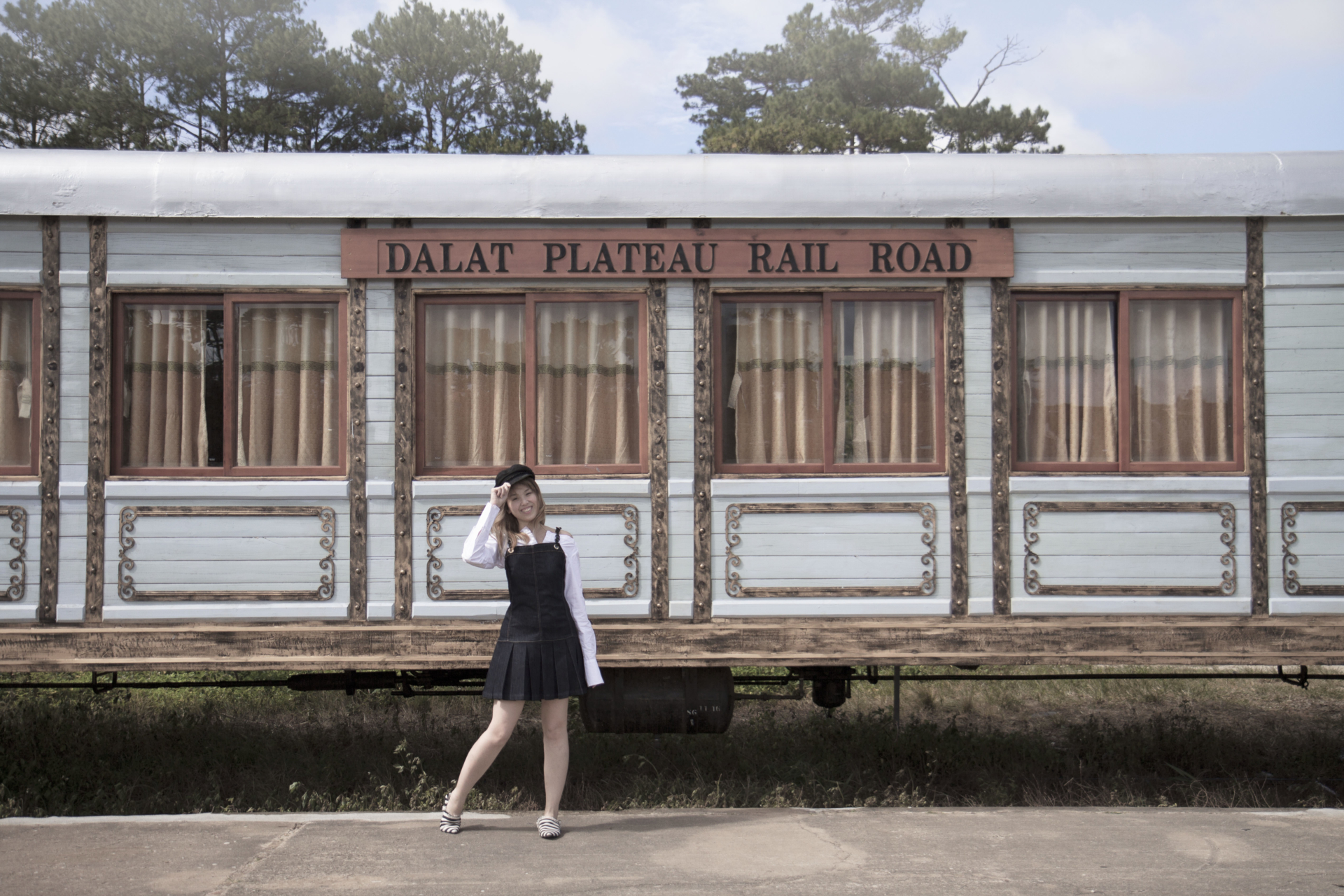 You can observe the detailing on the frame of each train carriage to have an ornate french touch, thanks to French influence with it's colony of Indochina in 1887 until being defeat in the Indochina War in 1954. I have read that some visitors to Dalat find these French touches a little too tacky but I disagree. I applaud the Vietnamese to hold these French influences strongly and proudly, continuing to present it in their own interpretation even after many decades from the fall of France Indochina. Thus, the history of French colonisation still remains in every part of Dalat, bringing you back in time.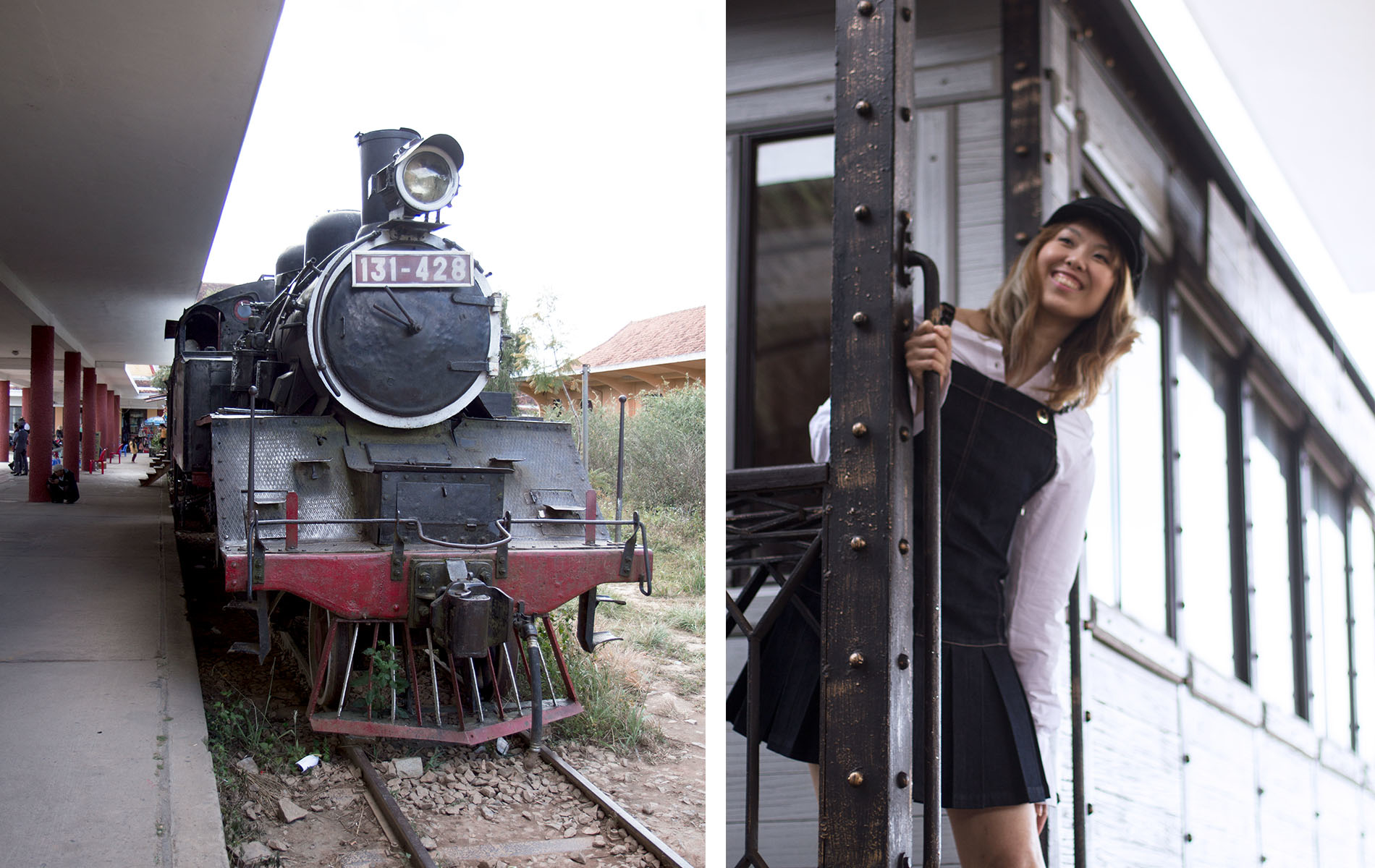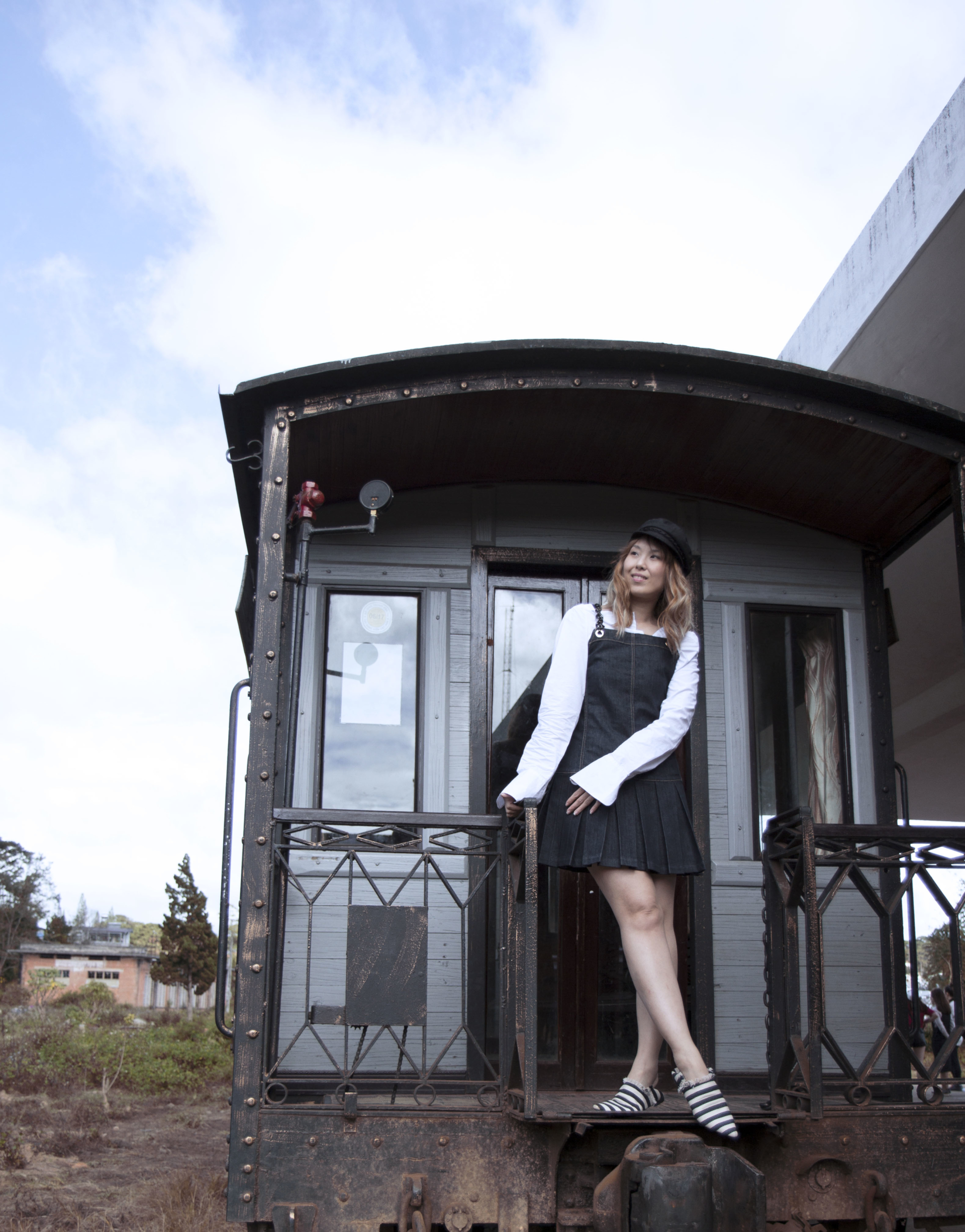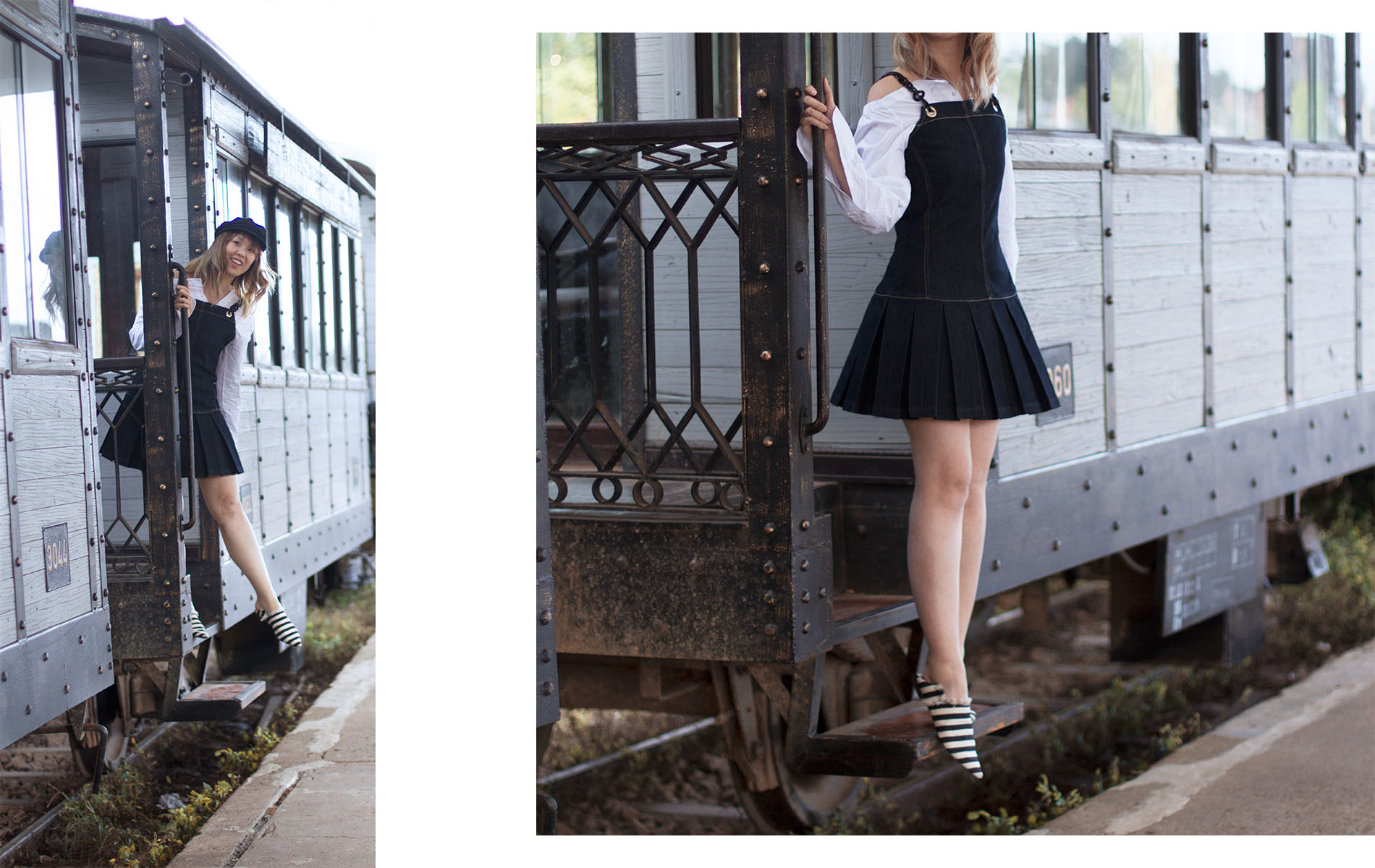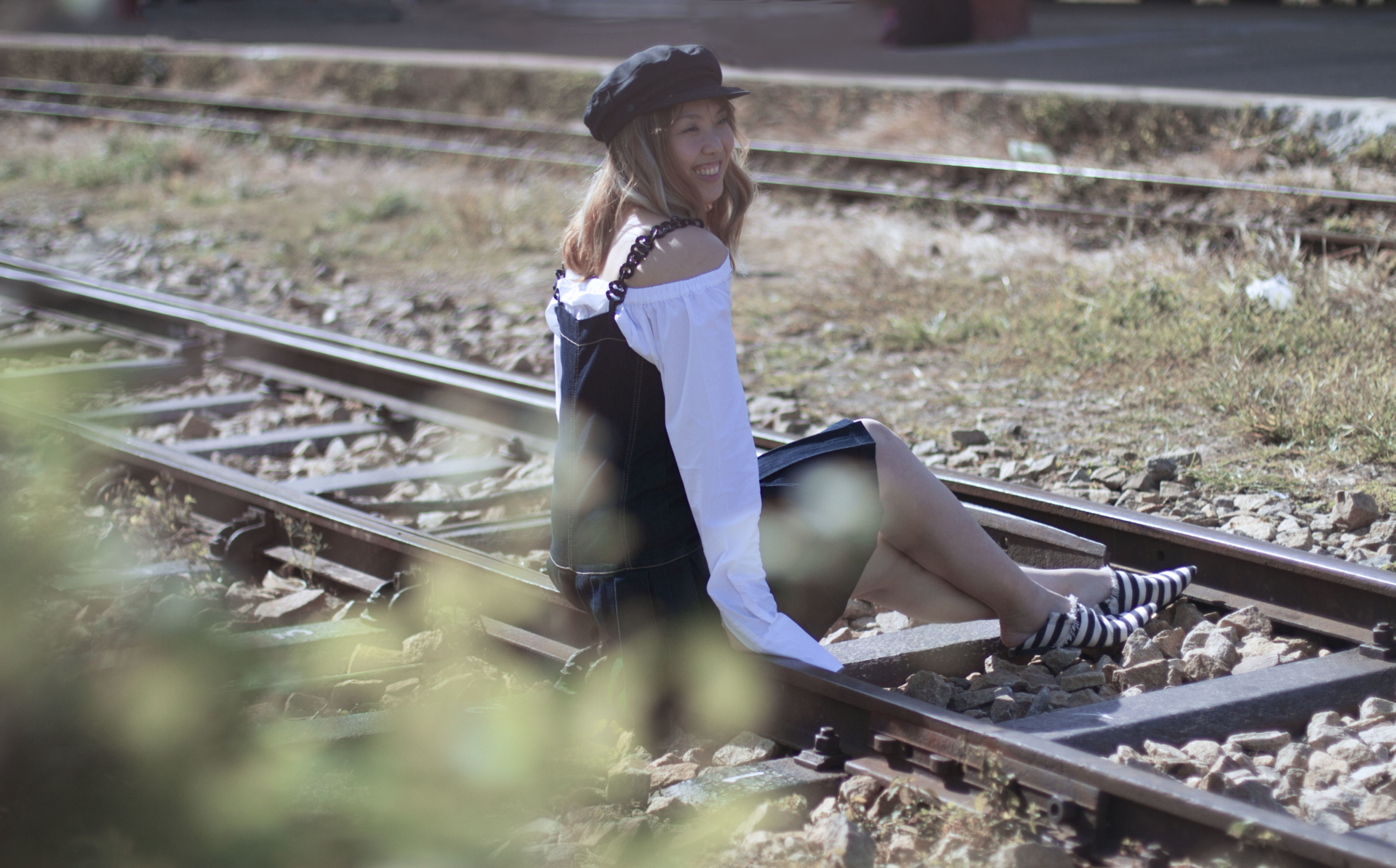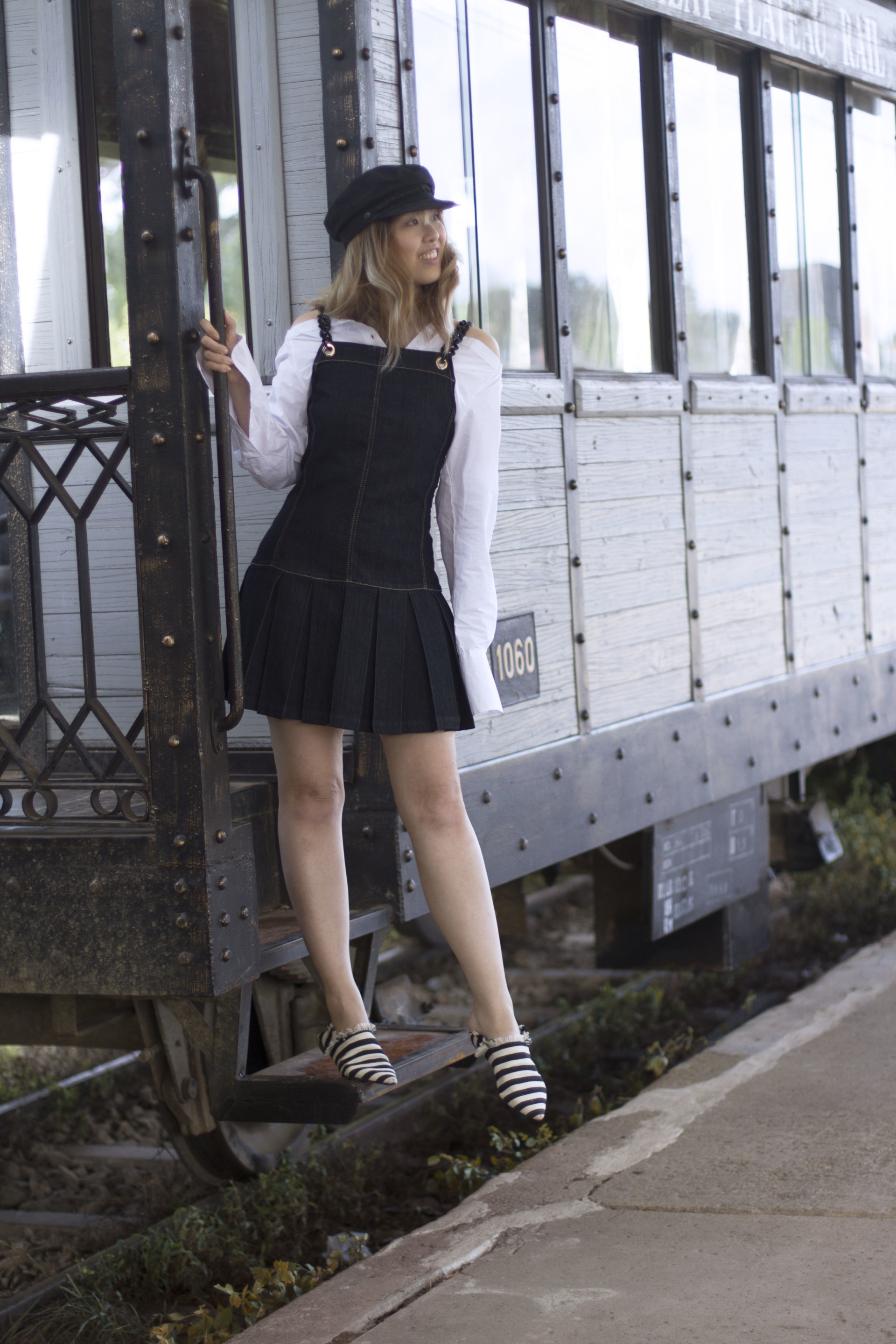 Liu Jo apparel can be found at 290 Orchard Road, #02-49 Paragon Shopping Center, with it's new flagship store occupying 3,305 square feet space. Visit their web page for list of store locators
*This is a sponsored post but as always, opinions are genuinely mine. 
Shop my pick and similar style below: