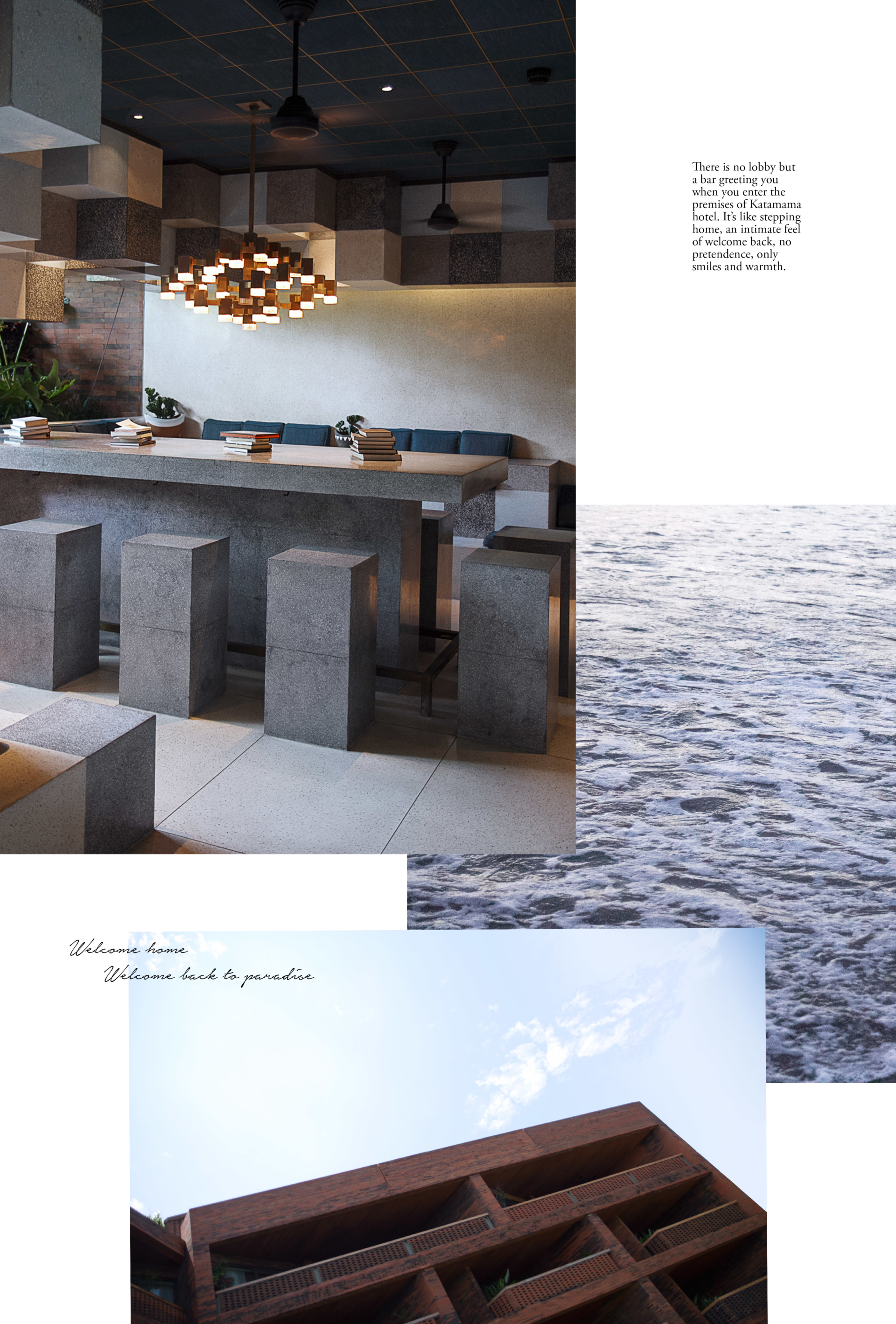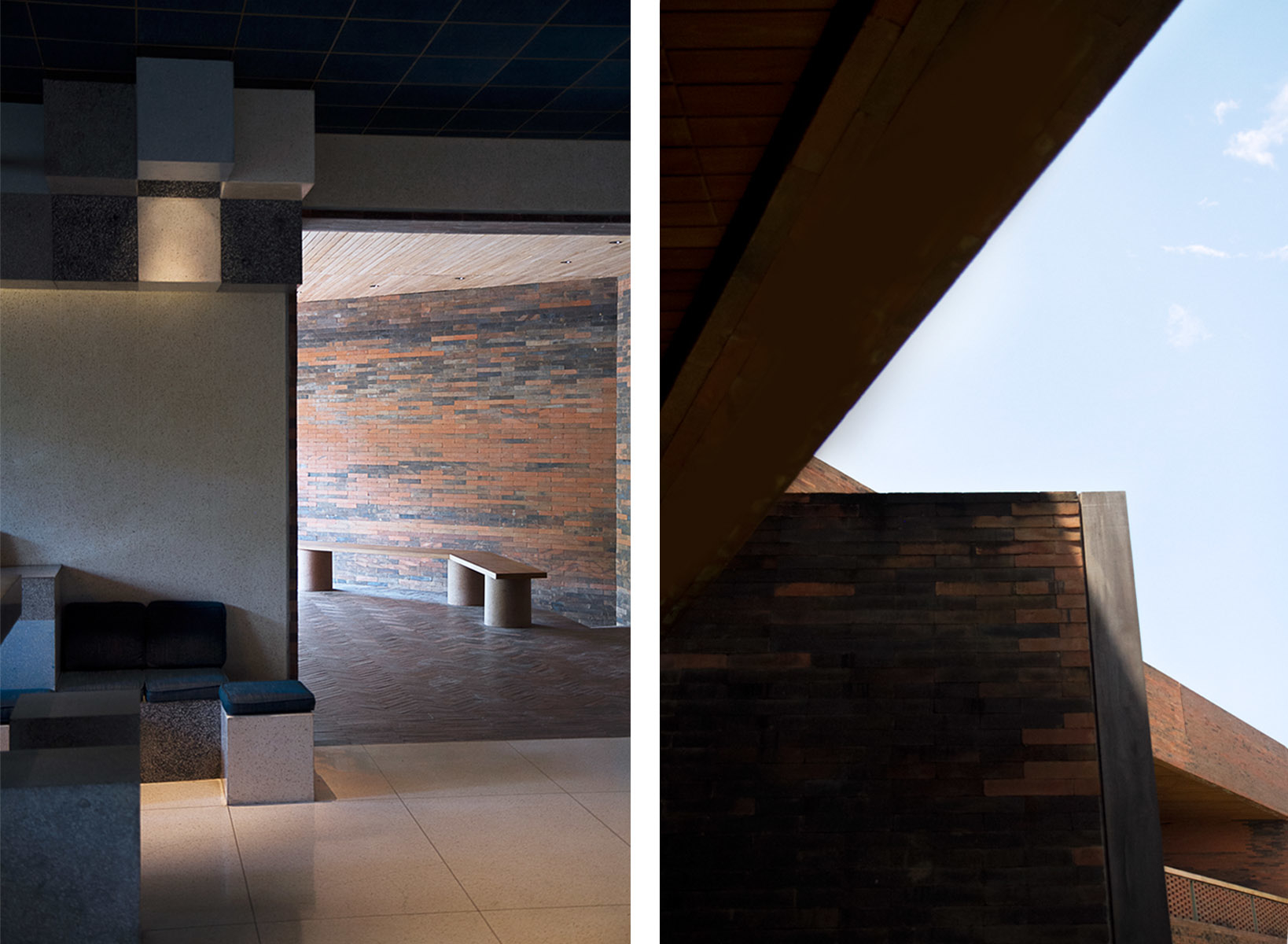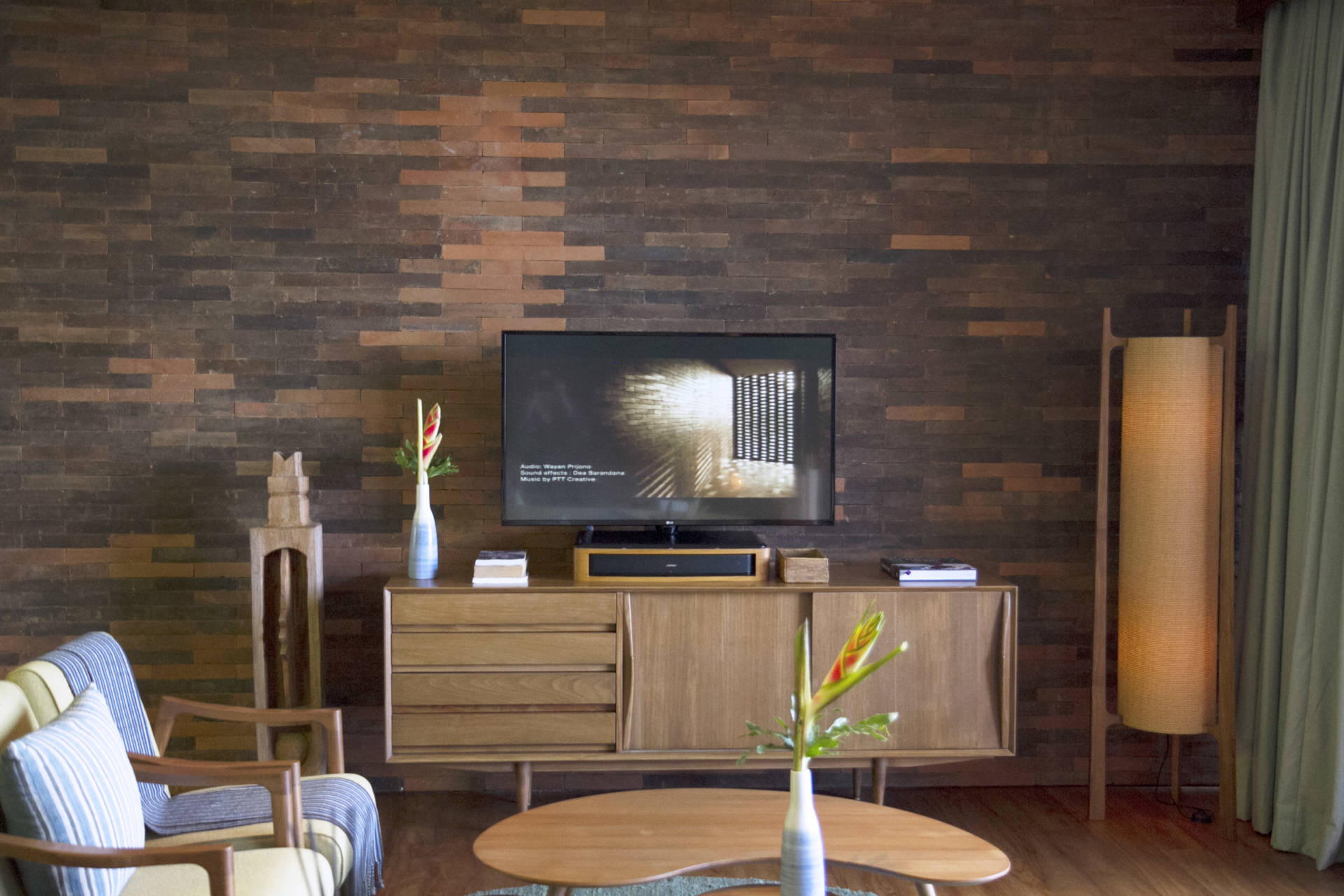 This came as a surprise. I was not sure if I've invested my money in the right place, staying in a hotel built of raw bricks. I love luxury finishes, smooth, shiny, clean lines, and this place is entirely opposite of that. My friend (Ms Y) and I decided on this hotel over a few others based on the rave reviews on trip advisor and of course, because this is the newest hotel in Seminyak. We arrived late in the afternoon, all ready to take a break in our  room, away from the heat. Leaving our baggage with our driver to sort out with the bellmen, Ms Y and I ascended rows and rows of red brick stairs. The entire facade is made of bricks, which looks very unusual for a hotel. Once we stepped into premises, the first thing that greeted us was a bar counter. I felt like I've reached home. There is an intimate and warm feel. Nothing too pretendence, but genuine smiles when a guy in smart white short-sleeved shirt matched with a relaxed but cool looking bermudas approached us. I was actually in the middle of comfortably sitting myself down on the high chairs, throwing the rest of my bags sprawled onto the pretty granite table. "May I have your name, please?" He asked. "I'm Jennifer." I replied while still trying to adjust my butt on the square high chair. 
 "Ah, we are expecting your arrival." was the next thing I heard, but this time, it's from a pretty lady dressed in a black dress. At the corner of my eye, I saw Ms Y already wandering off exploring the premises. "Let us escort you to your room now, shall we?" I was taken aback by this sentence. What? No need to present my passport? No need to register my name or give my credit card details now? I'm like "HUH? Internally I was thinking, Damn!, just when I finally sat down comfortably, all ready to do the registration, I need to get up now and go to the room. She saw my surprised look and quickly answered, " We will do the check-in process in the room." Oh, I totally welcome this suggestion as the heat is getting into me right now. This is a first for me too, I've never done any check-in procedure right in the hotel room. I looked out towards our driver, and saw that the guy in the smart white shirt has already gotten all our luggages in his hands. That's efficient. Gesturing to our driver to wait for us while we checked into our room first, we followed both of them towards the evaluator, while passing through a huge pretty dining area. I am now officially transported to paradise.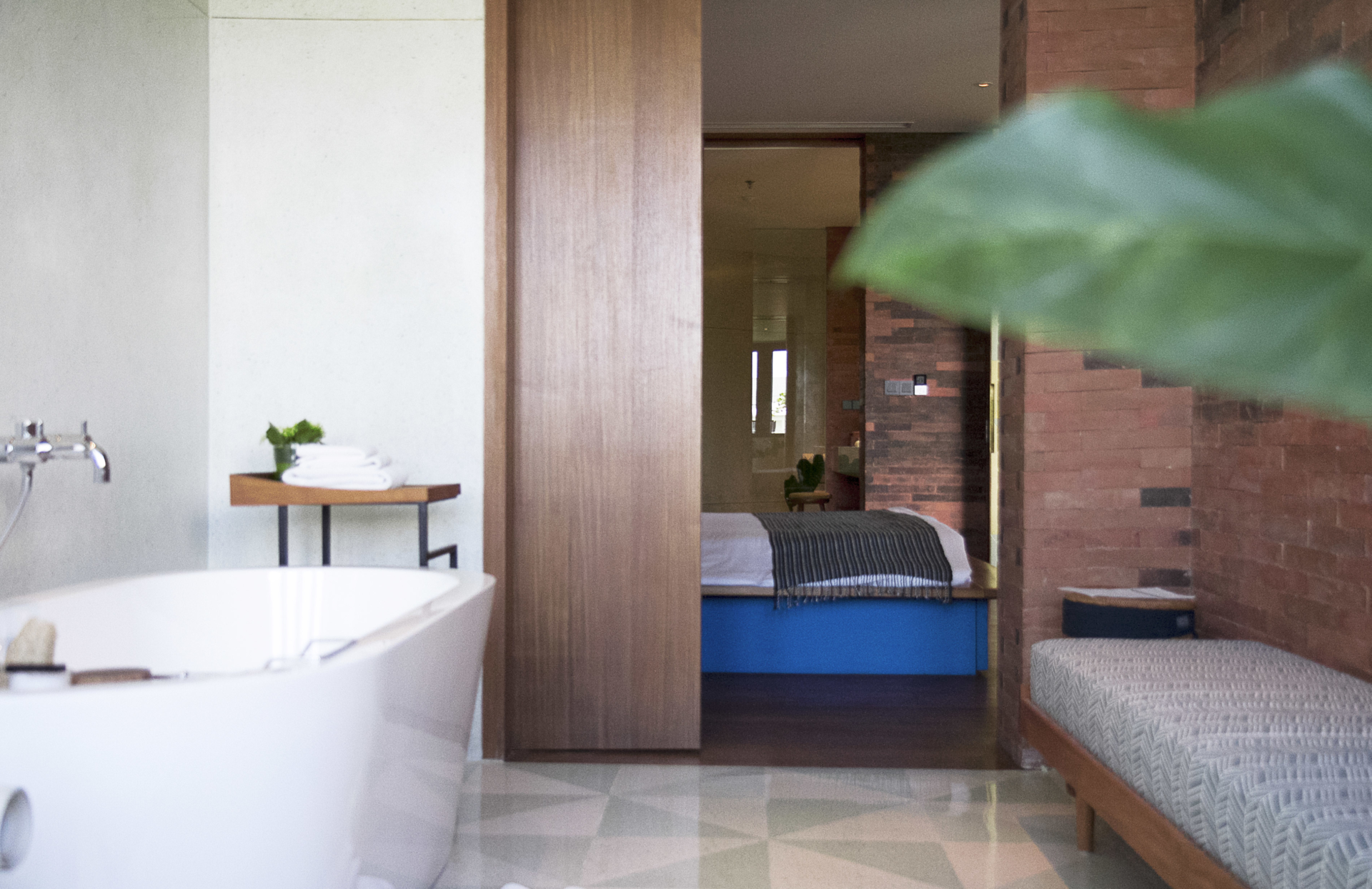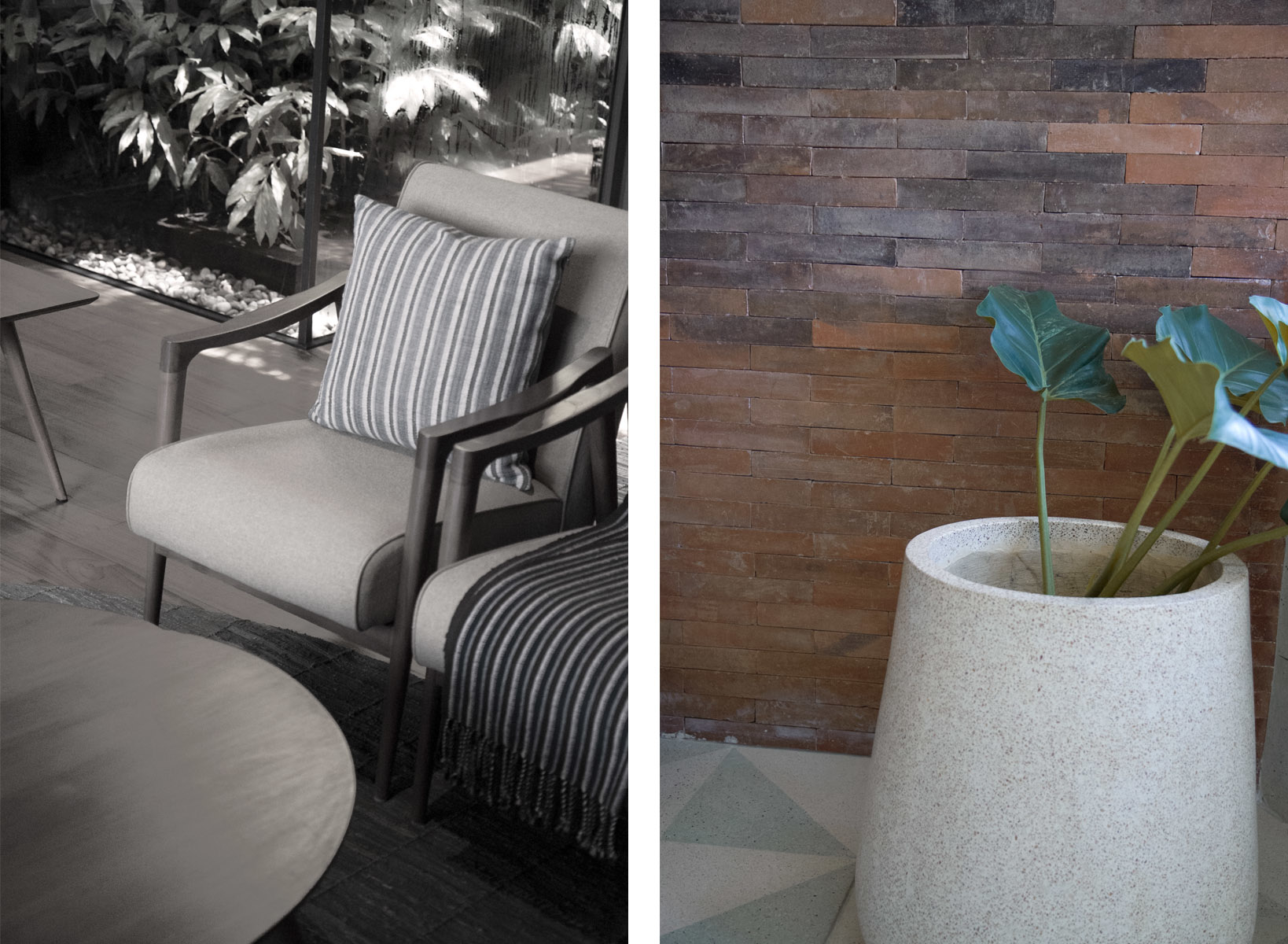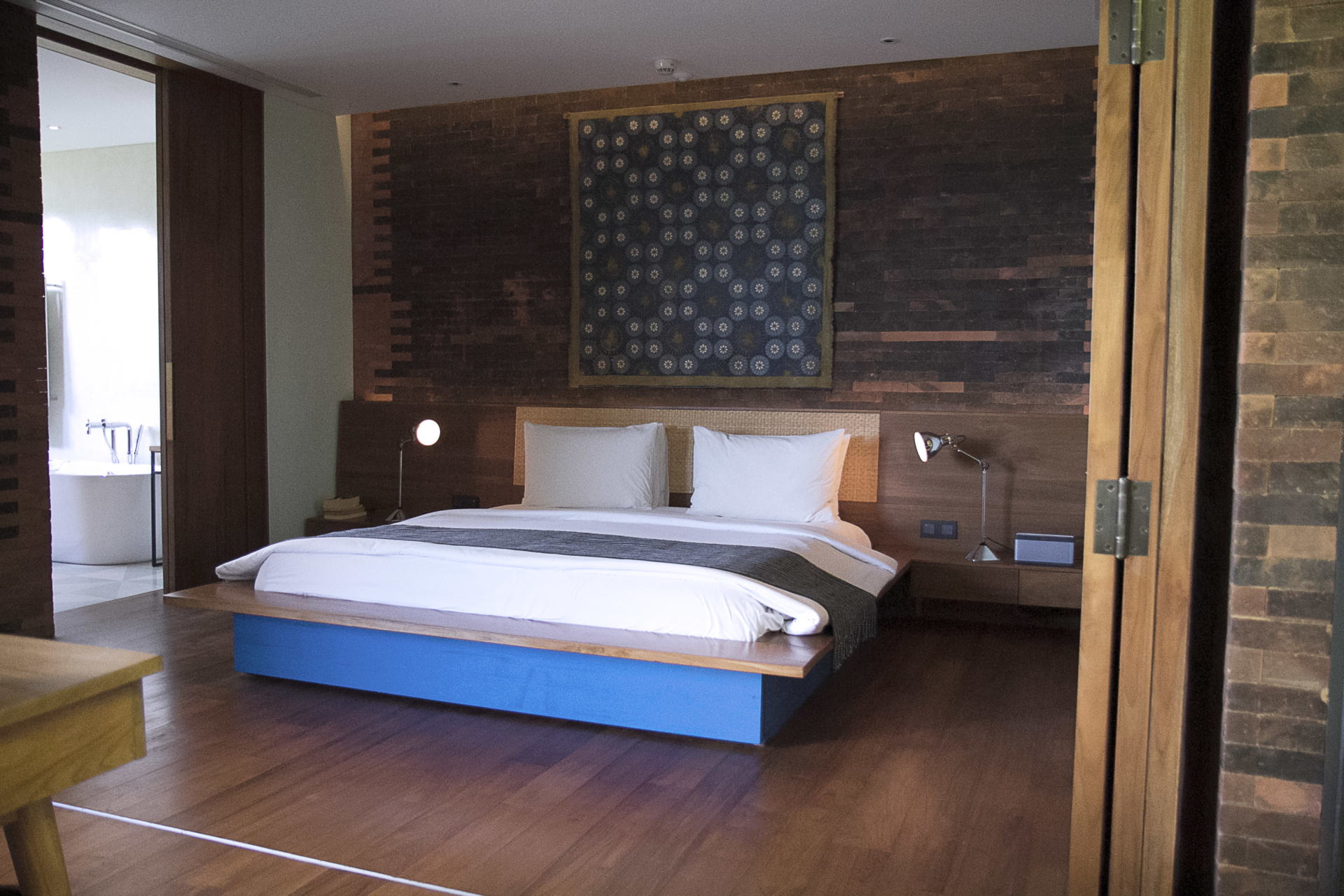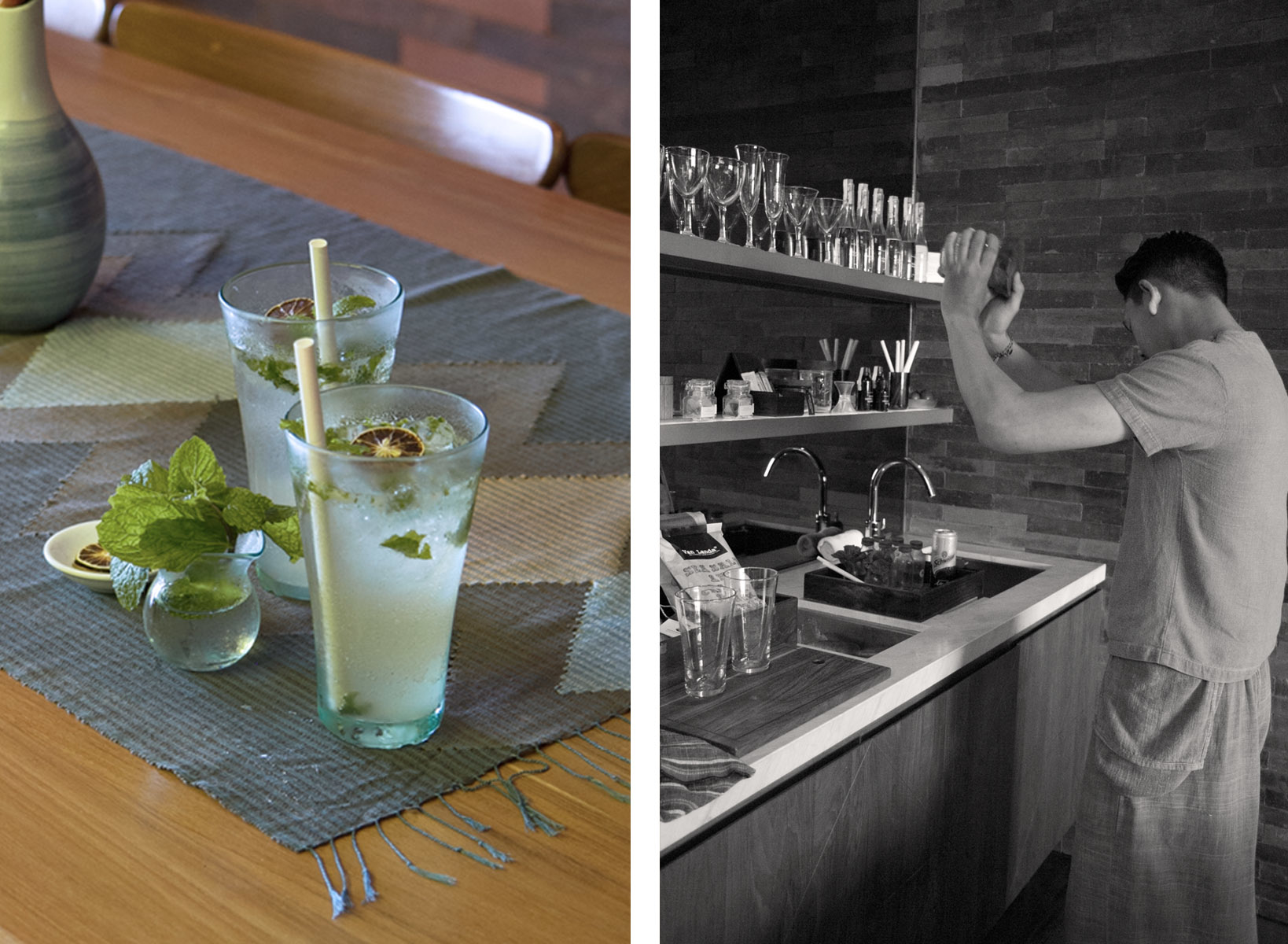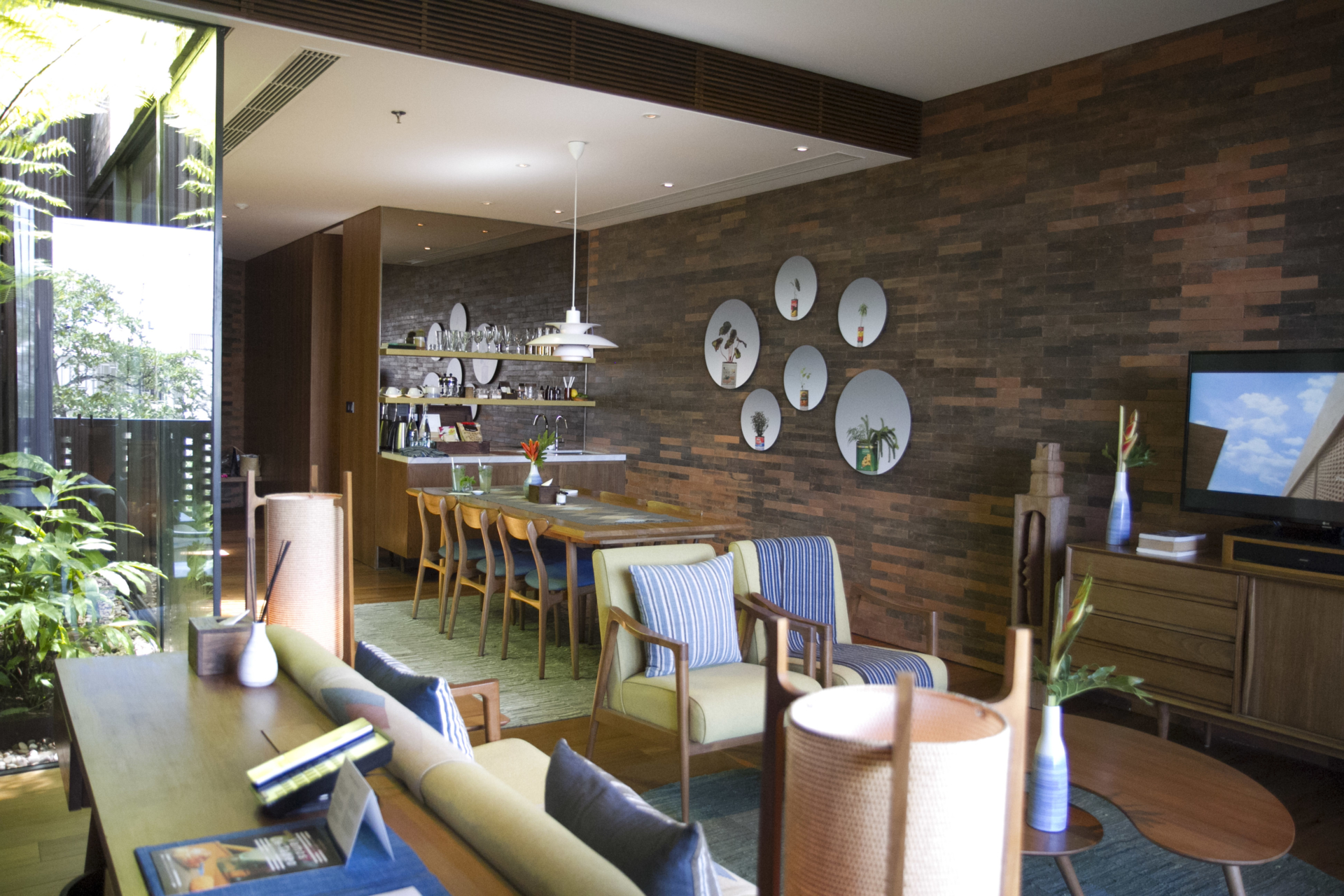 Walking along the brownish red brick corridor, a solemn feeling passes through us. On my right, I can see the brightest source of lights are the sun ray trying hard to peep through the gaps between the bricks. For a minute, I suddenly am not sure where I am…….It definitely does not feels like a hotel nor like a home with it's raw and minimalistic architectural. But all that changes when the wooden door of our room opens up to reveal a juxtaposition of warm colours and textures, the big contrast bursting right into our face.
"Would you like us to send a mixologist to your room to prepare your welcome drink. Do let us do which choice of drink will you like?" He asked. And talk about service, aren't we totally TOO pampered? Check in procedures and welcome drink all done in the privacy of our room. Now we are starting to feel like Beyonce or Rihanna, with tonnes of fans waiting outside the room and bodyguards blocking for the sake of our safety. Yes, as if.  
The live demonstration from the mixologist was intriguing. He was indeed professional and dedicated to his job, from the moment he entered the room to when he presents the drinks, he was silent. He never wince a bit when both of us are busy videoing or taking photos of him while he mix the drink. Professionalism!
Of course, Katamama houses Akademi bar which was created to be the island's hub in the mixology scene, headed by award-winning mixologist Dre Masso, naturally, the welcome drinks do not disappoint at all. In fact, these are the best welcome drink I ever tasted. We were given the choice of either Rum or Gin, and so we took one of each. Ms Y totally forgotten that it's a cocktail and down the entire glass of drink in one mouthful. Yes, it was this good. And they are generous with the alcohol but mask it perfectly with the other ingredients to complete it as a refreshing drink.
What's stands out in all the rooms in Katamama are their mini bar. Instead of the usual mini fridge with soft drinks, beers and alcohol, they took the mini bar to a whole new level. They bring the bar right into your room, literally. On the shelves are a full range of bitters and house-infused alcohols such as lemongrass gin, vanilla tequila and roasted pineapple arak (a local liquor) for you to turn on your inner mixologist. If you are a mixer idiot, they even provide an instruction book teaching you how to concoct your own cocktail. Full stock of ice prepared in the ice well, plus all the tools such a strainer, peeler, bar spoon, mixer, even fresh fruits all ready for you to become the next bartender of the night. Another striking difference I notice is the lack of what most people will assume as "where's the Nespresso machine"?. Instead they provides you with the traditional french press and coffee powder from the local brand One Fifteenth Coffee. This is what I call a true support to the local community.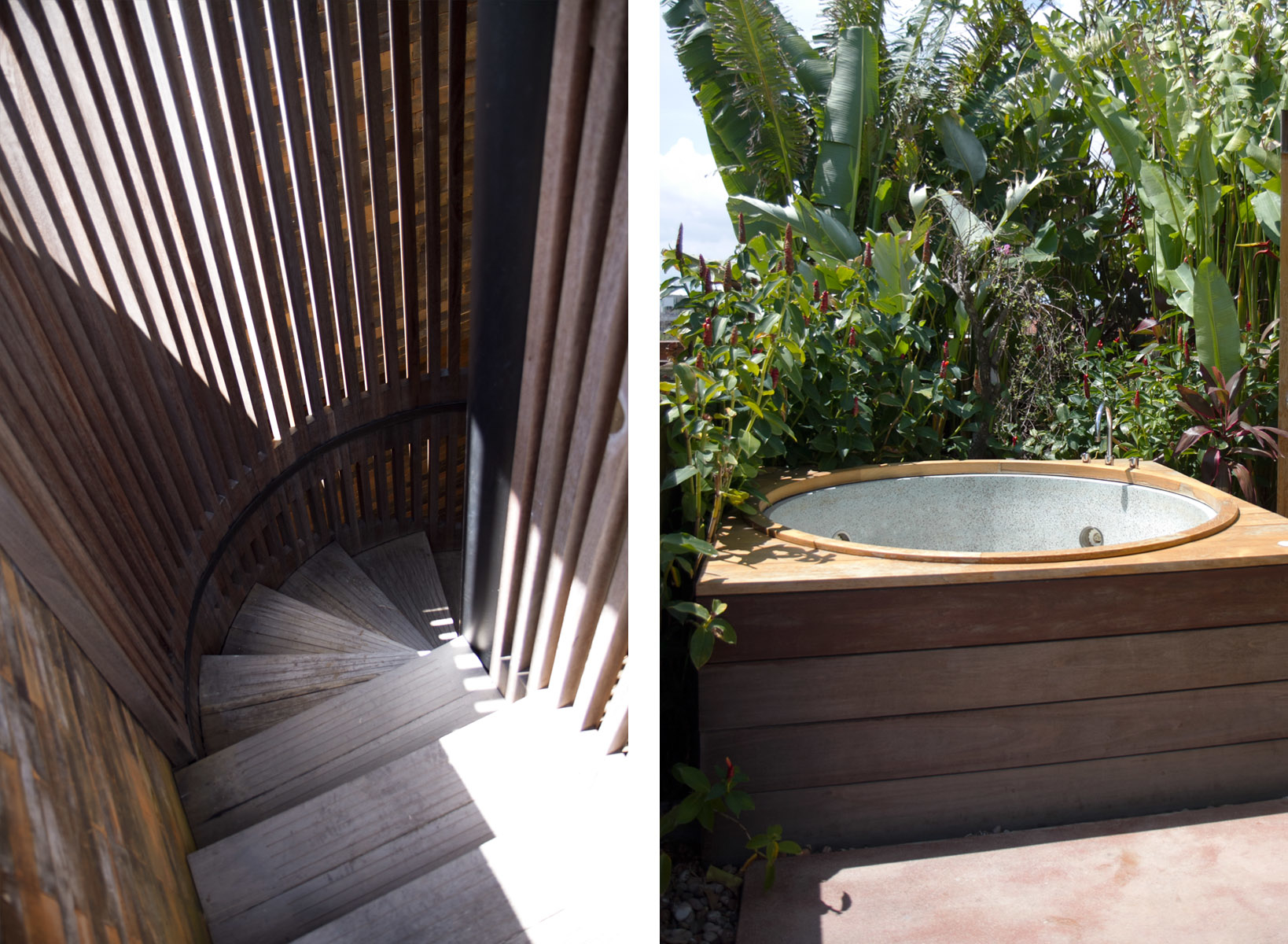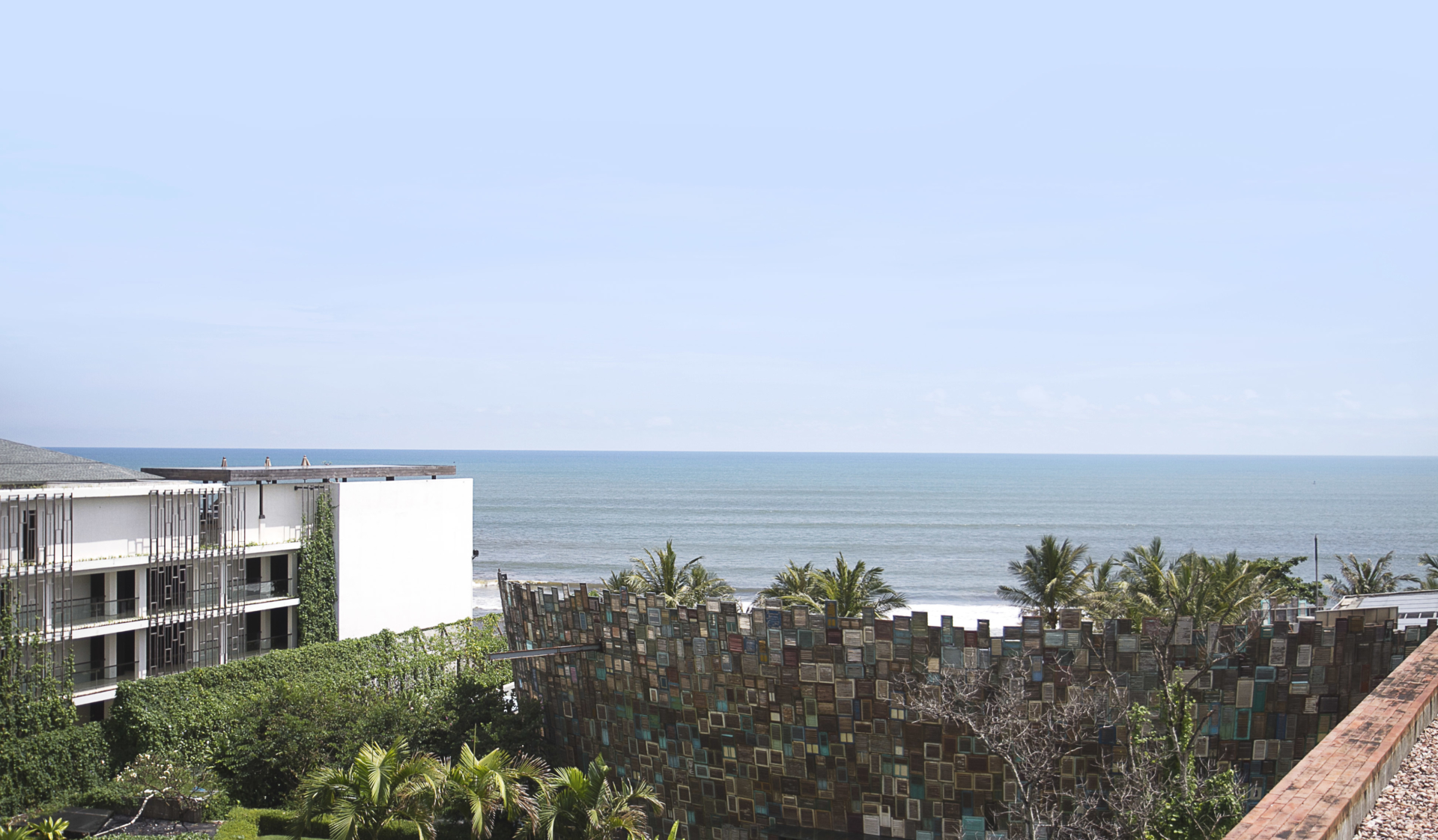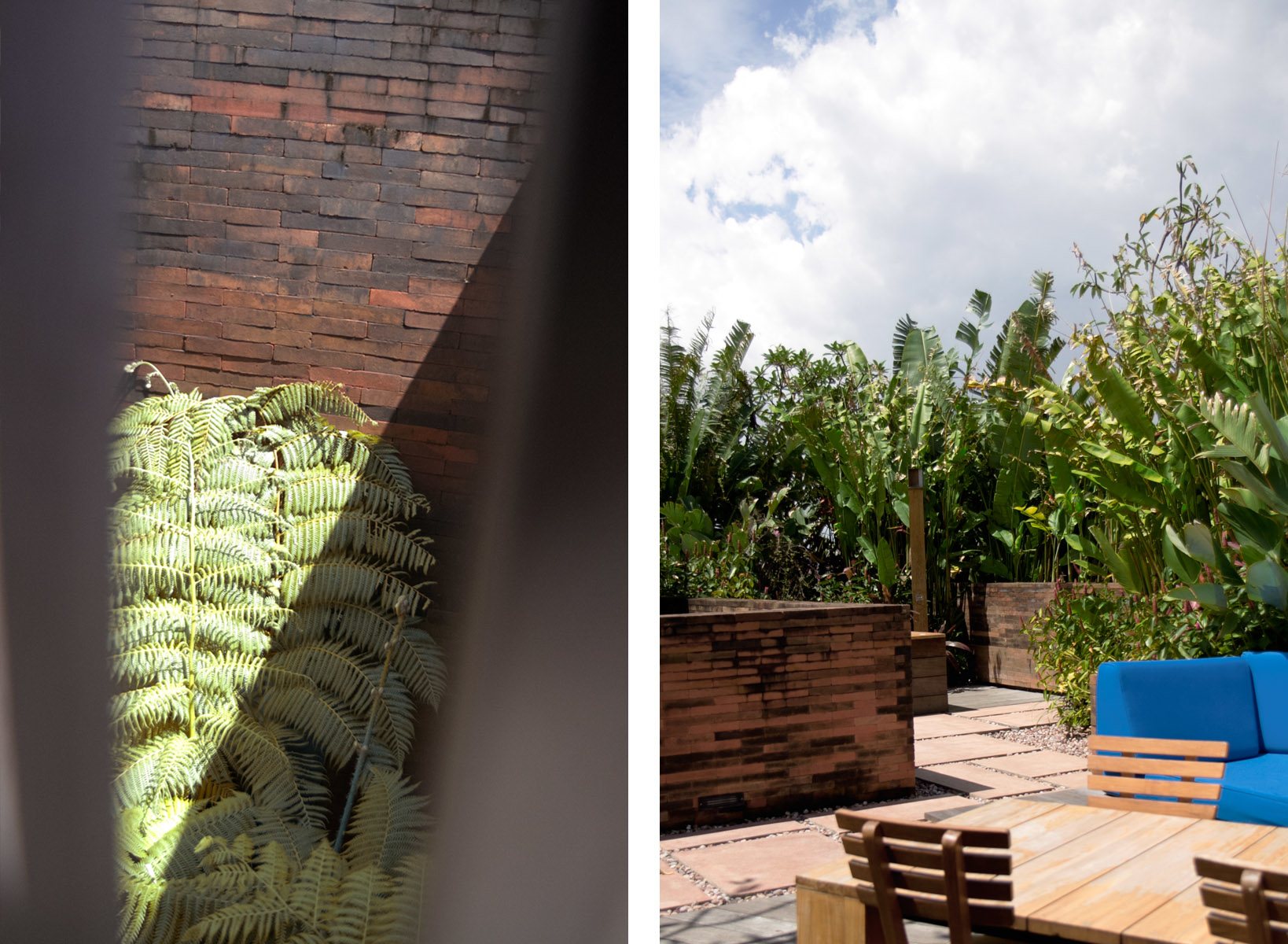 Let me bore you with Katamama hotel background for those who are curious:Katamama is simply translated as 'mama says' in Bahasa Indonesian which reflects the strong family values of the man behind the famed Potato Head Beach Club, Ronald Akili. The entire hotel design is centred around creating a sanctuary with a homey feel.
Housing only 58 rooms, this boutique hotel took nearly six years to design and build. Local craftmanship and materials is a strong theme when designing the hotel, with high relation to the Bali culture and environment. Once only reserved for regional temple construction and almost a declining trade, these red clay bricks are now given a new life, adorning the entire building. One-and-a-half million handmade bricks are required to build the hotel and took almost two years to commission, since this age-old trade only allows production of 600 bricks a day. Every brick is painstakingly handmade, and this craftsmanship is evident at every turn in the hotel.
Another rare craft is indigo dyeing. Not many places does it in the traditional way, and Katamama worked with a workshop that still uses the old way of dyeing, to produce the bathrobes in all the rooms, as well as the staff uniforms. The indigo print are also translated onto ceramics, art, and furnishings throughout the hotel. As Mr Akili visioned, "Everything connects and everything you see in the hotel has a story."
Every piece of art such as paintings or posters in the room, sculptures in the general area are originals from local artist, and chosen personally by Mr Akili. The entire hotel feels like a live gallery of artisan produce and curated art pieces. Katamama grows on you, like the taste of wine. The wine gets sweeter and sweeter the longer you let it linger. Every corner that you look, you discover something new.
The ingenious mix of traditional local craftsmanship with modern design, award-winning Indonesian architect Andra Matin together with Singapore-based design company Takenouchi Webb managed to still bring out a luxury touch with a sense of a home away from home for Katamama.
Photos cannot do justice to the hotel as no two dimensional image can portray the details of good craftsmanship. Human touch seems to be fading in our current twenty-first century and Katamama strives to preserve it incorporating this theme throughout the hotel.  This new kind of luxury is a breathe of fresh air and represents what us, in our developed countries lacks, especially with the rise of modernisation and automation.
Our room is a rooftop suite covering around 268 sqm, with 2 toilets, 2 showers including one large bathroom, a living room, a balcony that faces the pool and a king size bed.  The highlight is definitely the roof top that comes with a private view of the Indian Ocean and a jacuzzi. I was told that we can even borrow the hotel's turntable and records, to transform the rooftop into a private party house.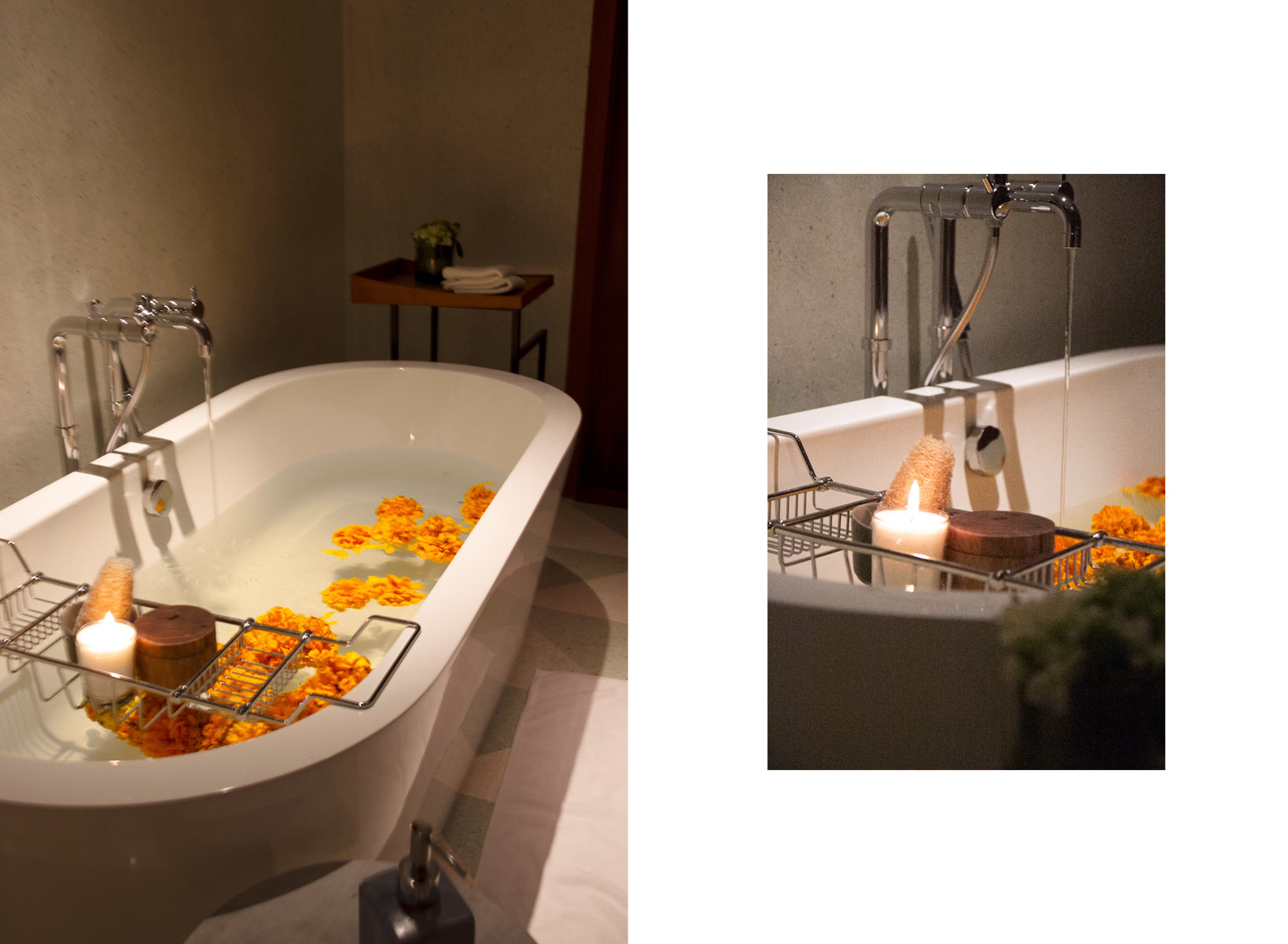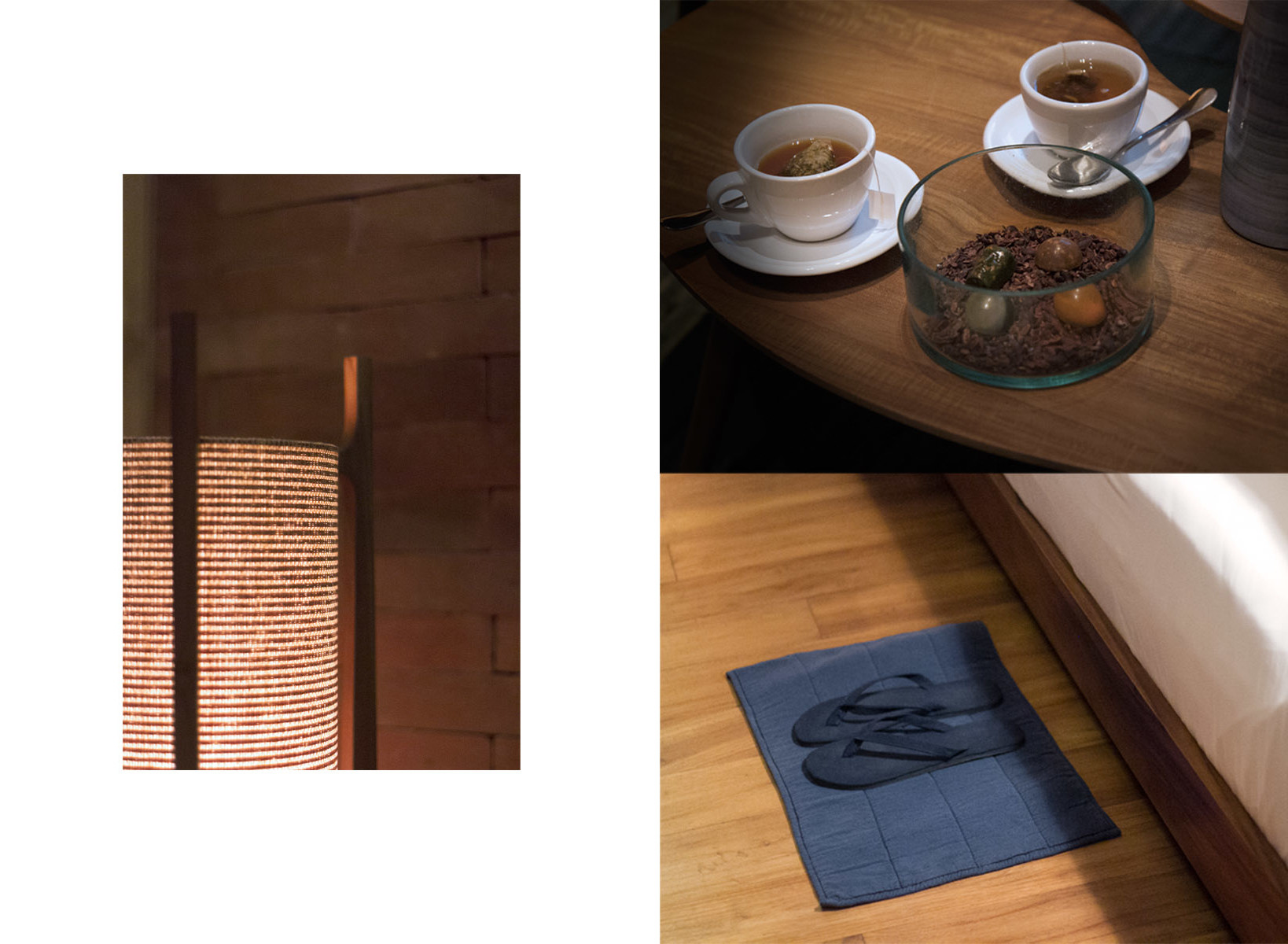 That night, "Welcome home" were the words that greeted us when we return to Katamama from dinner. Indeed, the theme of setting the place like a home is strongly carried out everywhere. Im impressed.
We opt for a jacuzzi soak before we hit the sack. So, when we return to our room, the jacuzzi is all prepared, bubbling, and filled with warm water calling us to hop in. We brought the portable bose speaker from the room up to the rooftop, plus an imaginary glass of wine each as we can't have anymore alcohol after two sessions of drinks earlier, and enjoy the relaxing bubble jet massaging our stress away. Is this "la dolce vita"?
No more alcohol for tonight but tea is welcomed. On the bar, there are quite a few interesting selection of tea, also sourced locally. And the night turndown desserts are pralines of quality chocolates placed in a pretty glass bowl. Beautiful presentation I would say, while Miss Y and I finish up the delicious little brown blocks.
Of course, it's the time of the day where Miss Y and I needed our own private space which this suite certainly doesn't lack. As Miss Y relaxes on the couch (and multi tasking on her mobile with some random television program running in front of her), I lie on the bed browsing through the magazines provided.
How impressive is it that the room has the latest issue of Monocle, as well as many other interesting fiction titles. It's obvious that even the books and magazines in the room are thoughtfully selected, unlike the typical hotel where general "free" publications filled with advertisements are displayed as coffee table reads.
No details are spared in the bathroom as well. Katamama's bathroom amenities are personally selected by Mr Akili. Bath gel, shampoo and conditioner are all organic and created exclusively for the hotel. One of my favourite are the indigo dyed designed ceramic containers with sandalwood scented sticks. The scent is welcoming, comforting and warm. On the bathroom counter, there's also a pretty wooden vanity box, containing the usual cotton wool, toothbrush, shaver all placed in cute cotton pouch. I especially love the wooden comb. There's also a set of face scrub, face mist, body lotion and room mist separately wrapped in blue cloth. Everything are so pretty.
Coming back to the room really makes you feel like you are coming home. There are many small items in the room that makes it feels "lived in", entirely opposite of the usual stark, clean and polished feel from a trendy luxury hotel. How can I not to start falling in love with this place? I could live in this room. And that's precisely what Mr Akili wanted to created.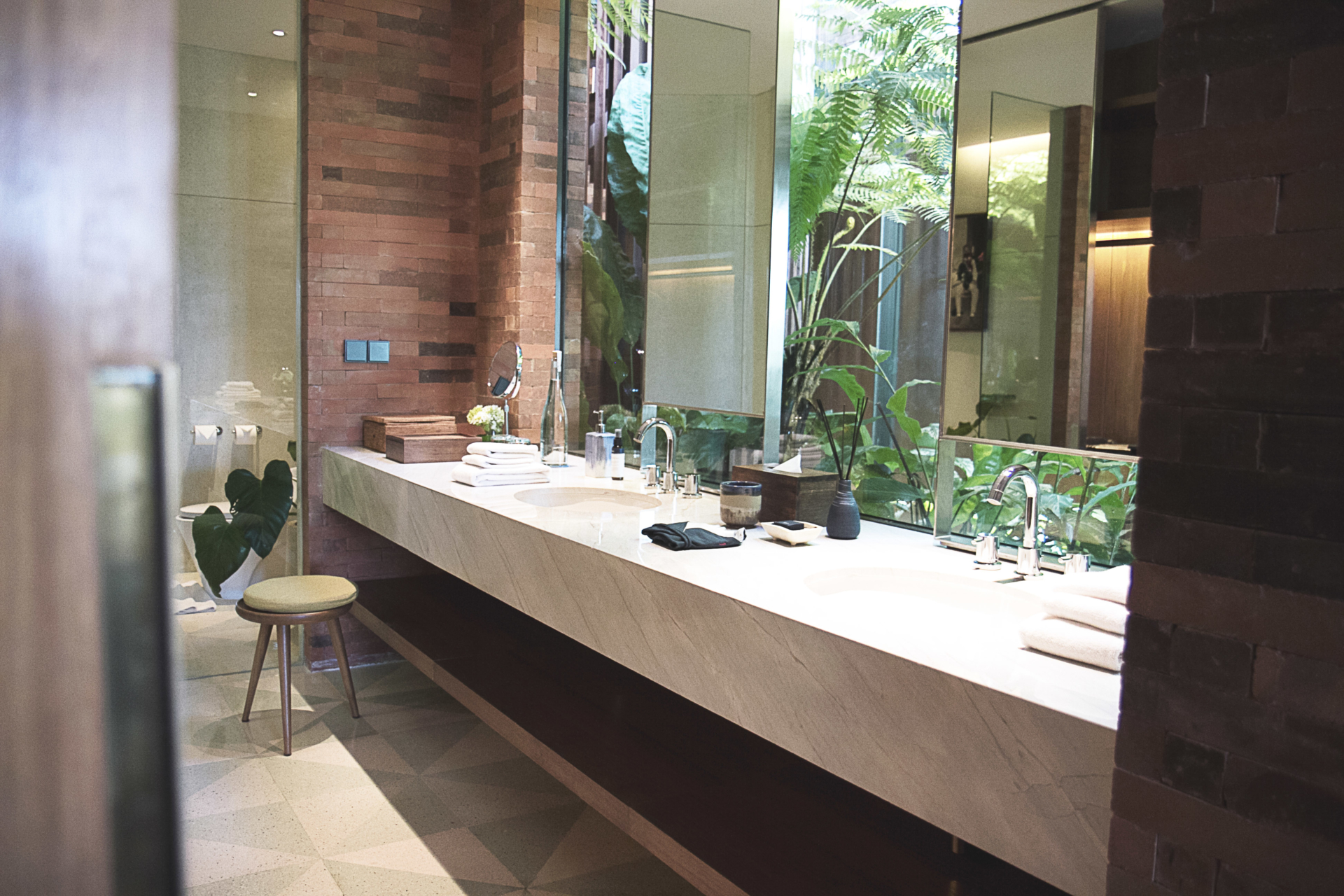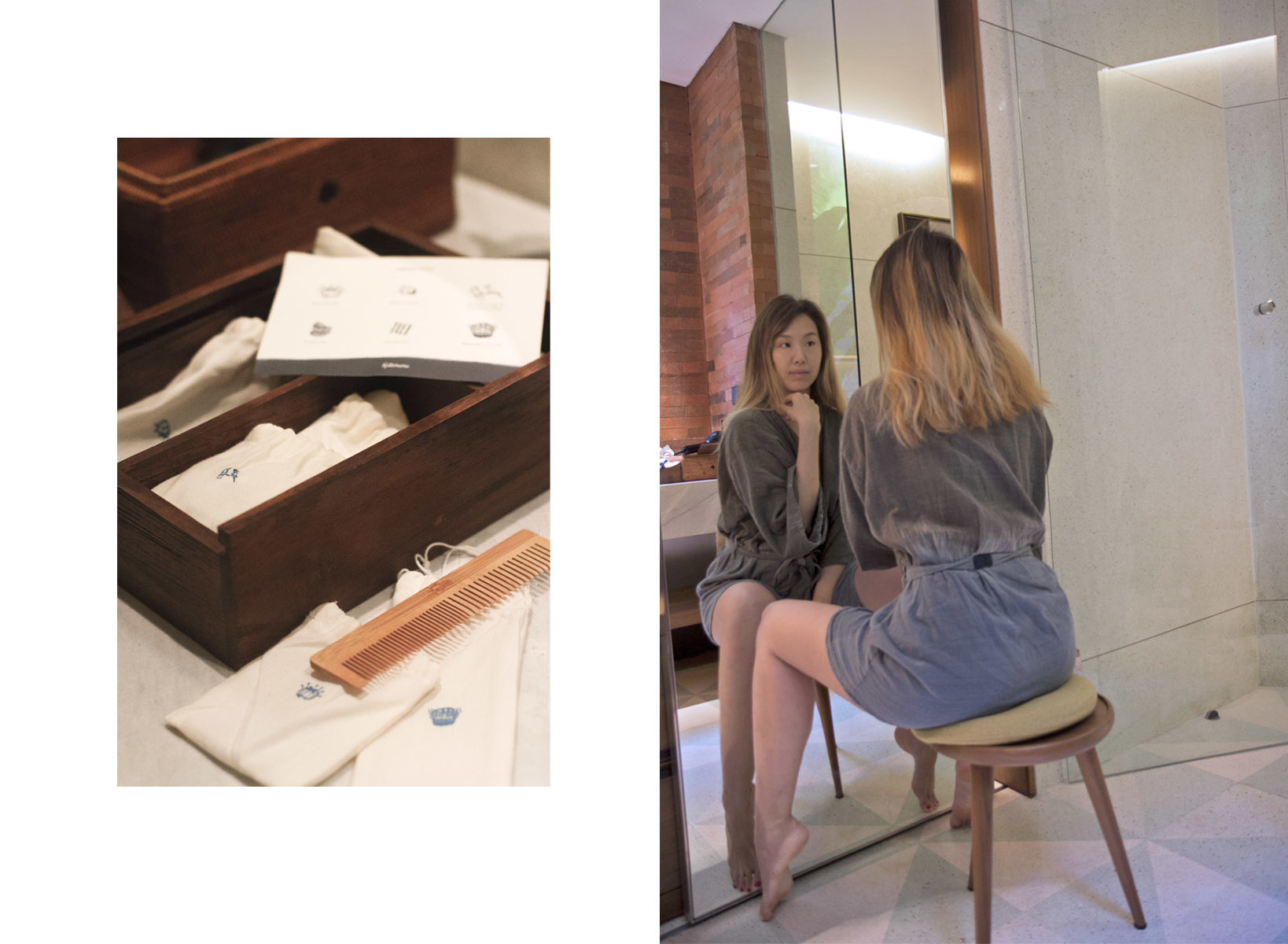 (Above left) I wish I can take bring the beautiul vanity  wooden box.


(Right) Bare faced, just woke up and wearing the indigo dyed robe
made especially for Katamama.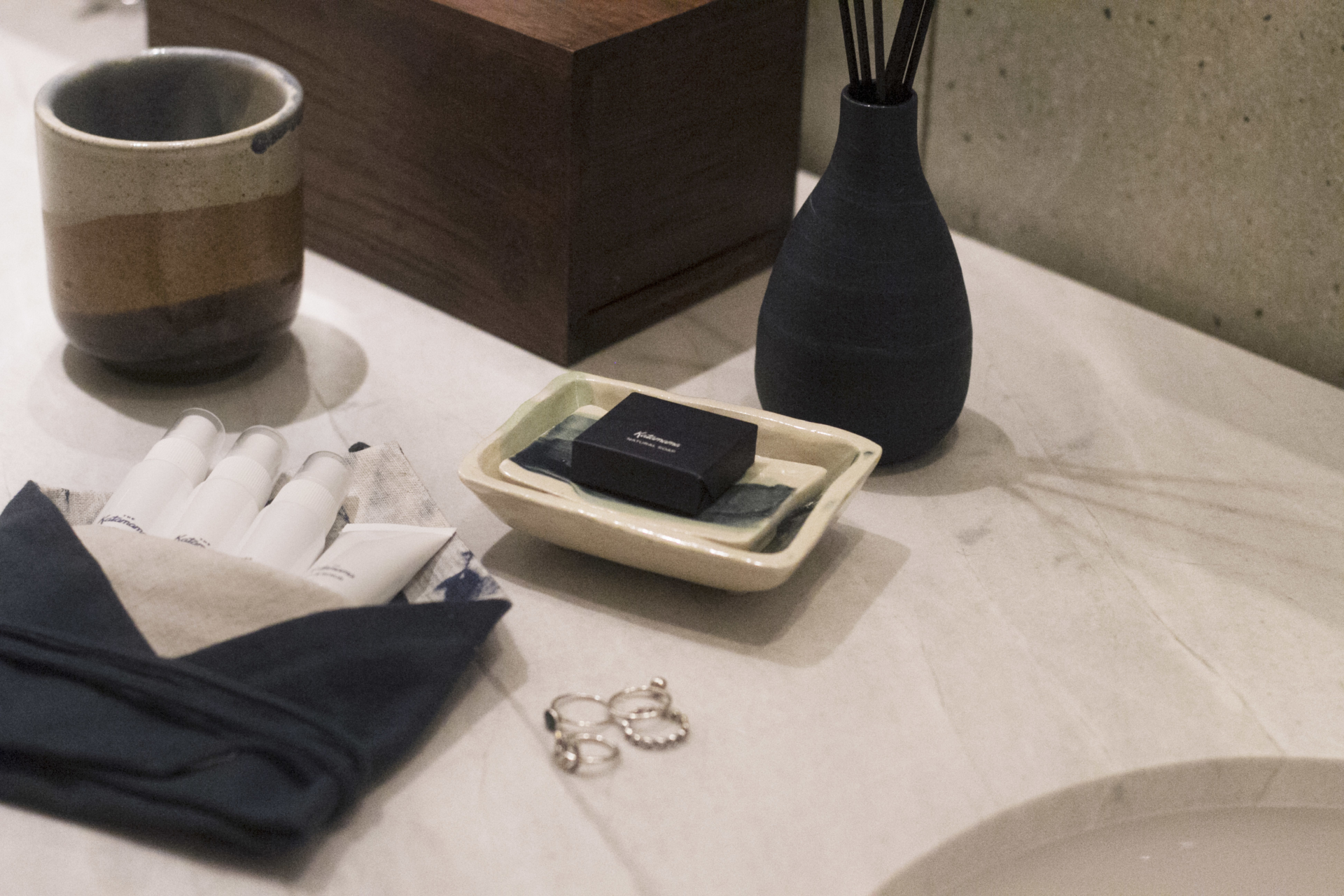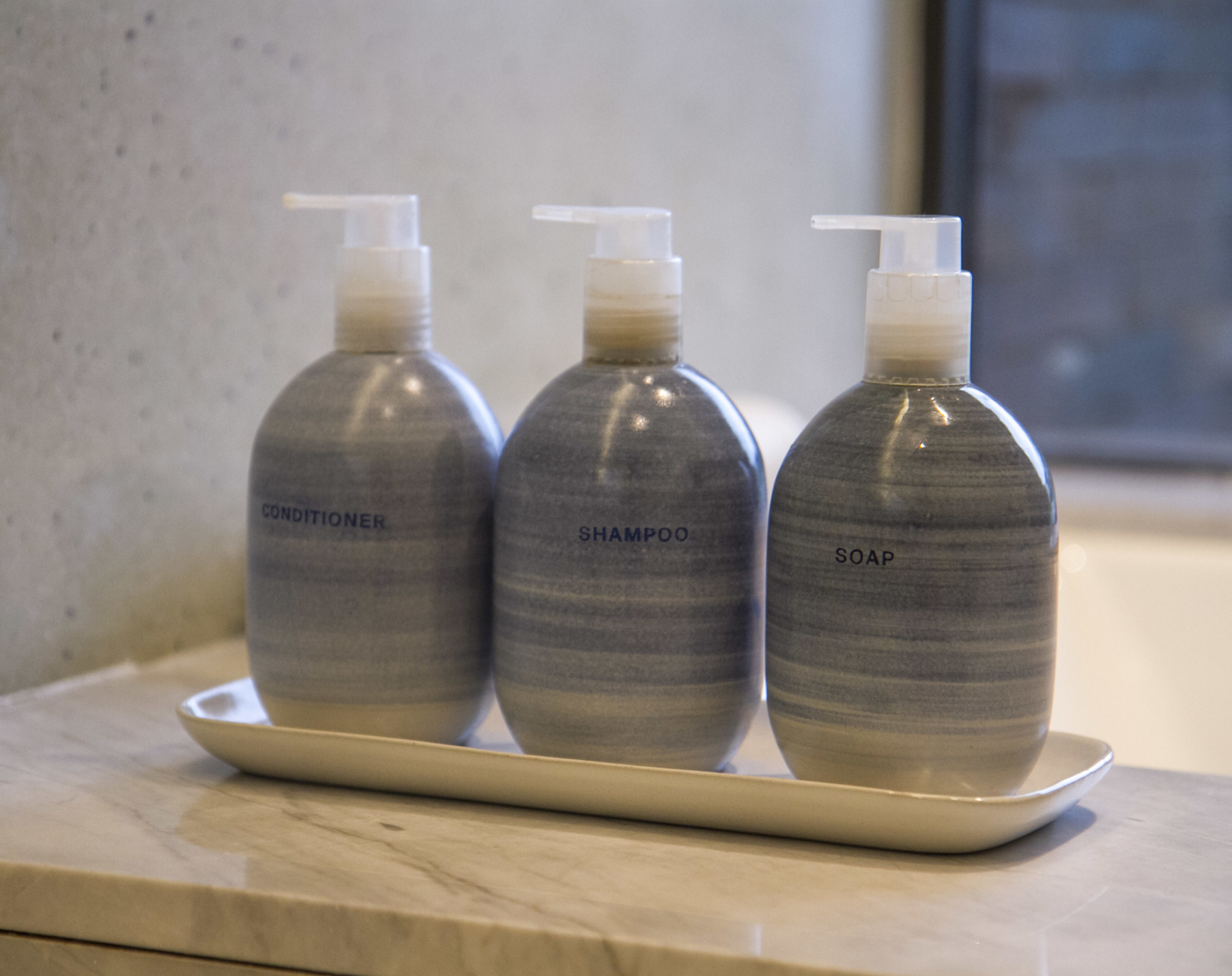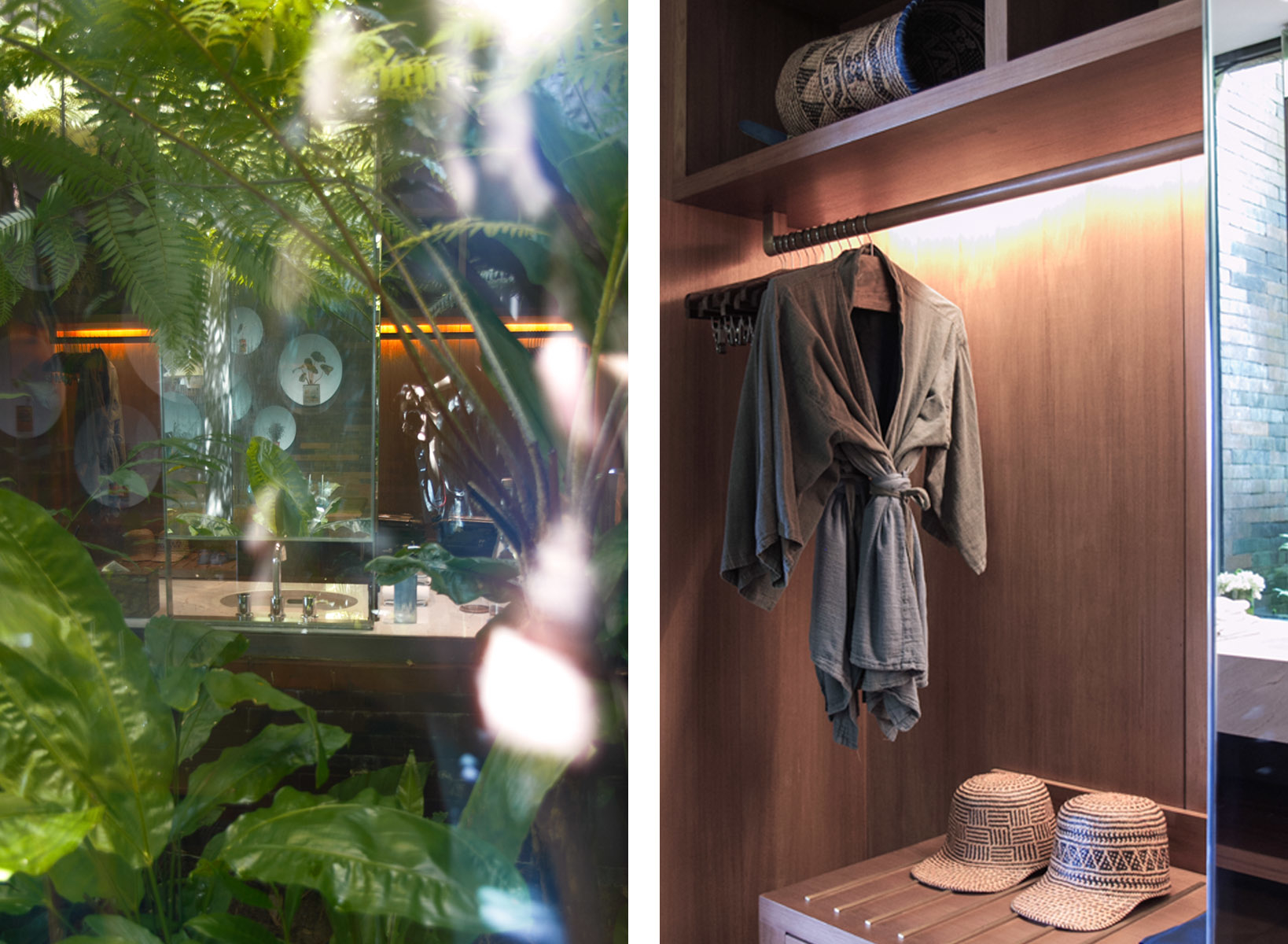 Heading to this huge brightly coloured dinning room for breakfast


after a prepping ourselves

up in the l

uxurious bathroom.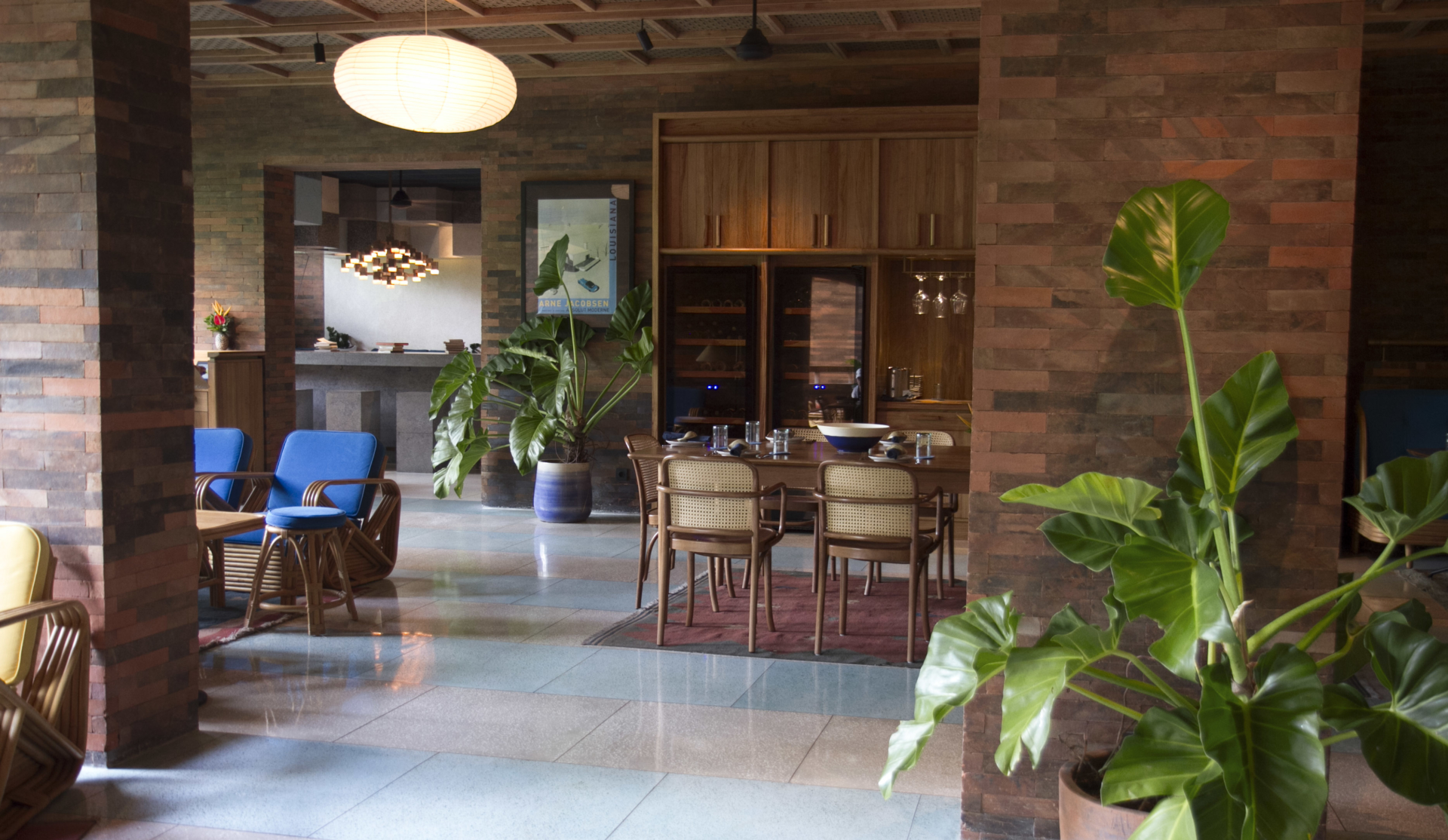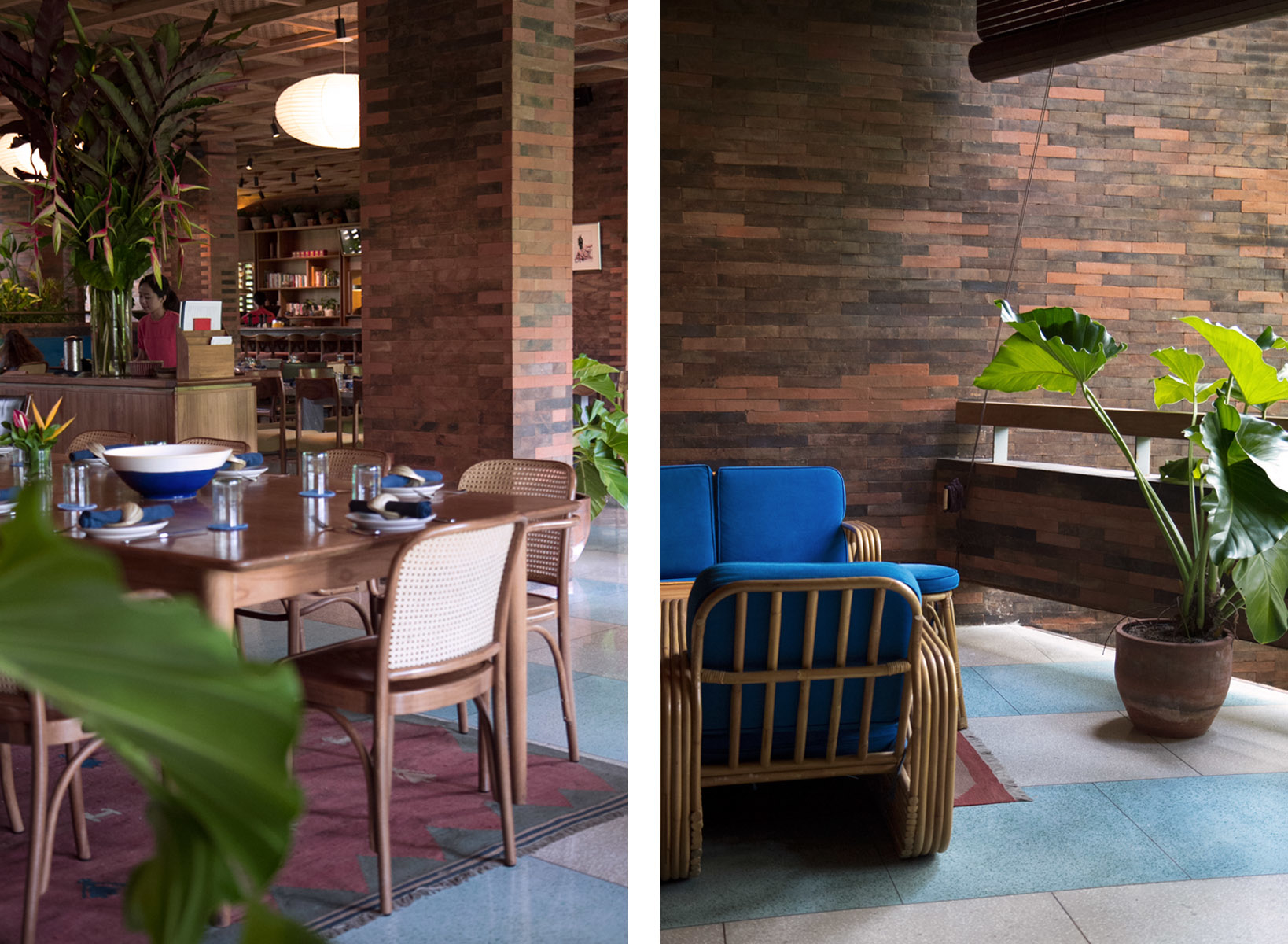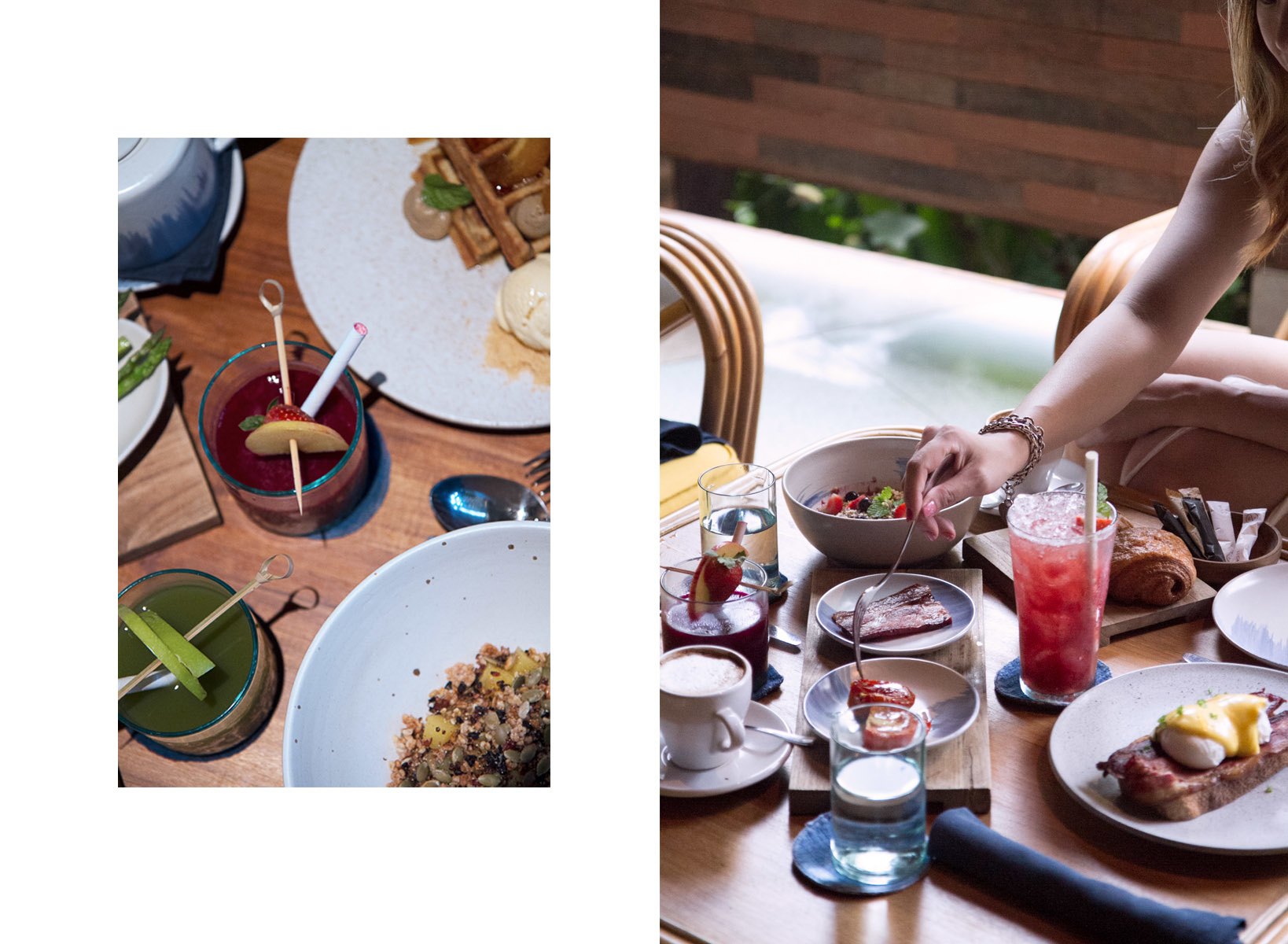 Breakfast at Katamama is a great affair. They emphasis on serving mostly raw/vegan selections. Starting off with pressed juice, a main that includes healthy servings of an Acai bowl or Chia pudding, as well as the usual suspects of waffles, bacon, eggs, sausages and toast etc. A small side selection of vegetables is allowed too . Lastly, to finish off with a mocktail, coffee or tea. I love how all of them are served on the customised indigo printed plates. The table setting is totally instagram worthy.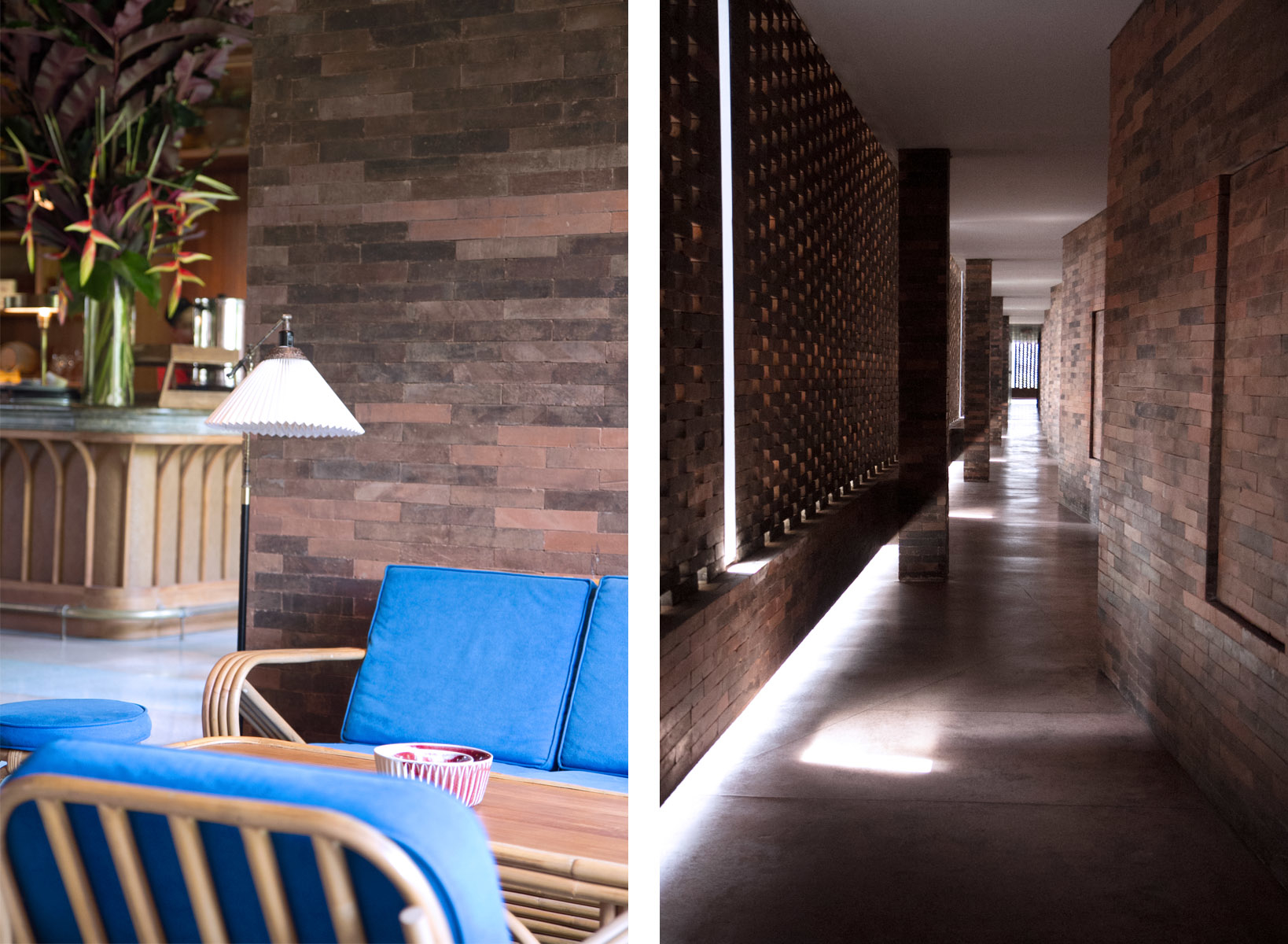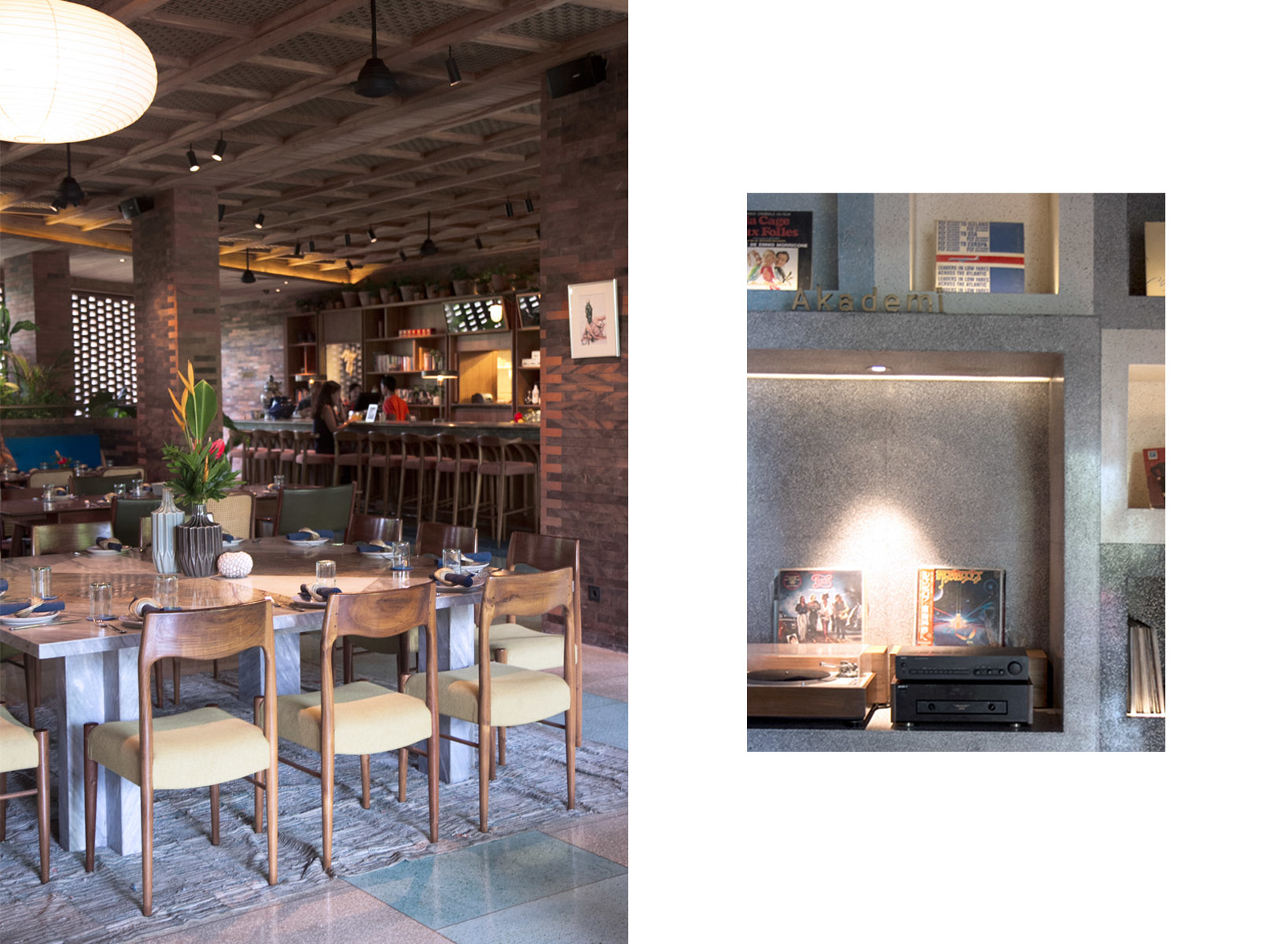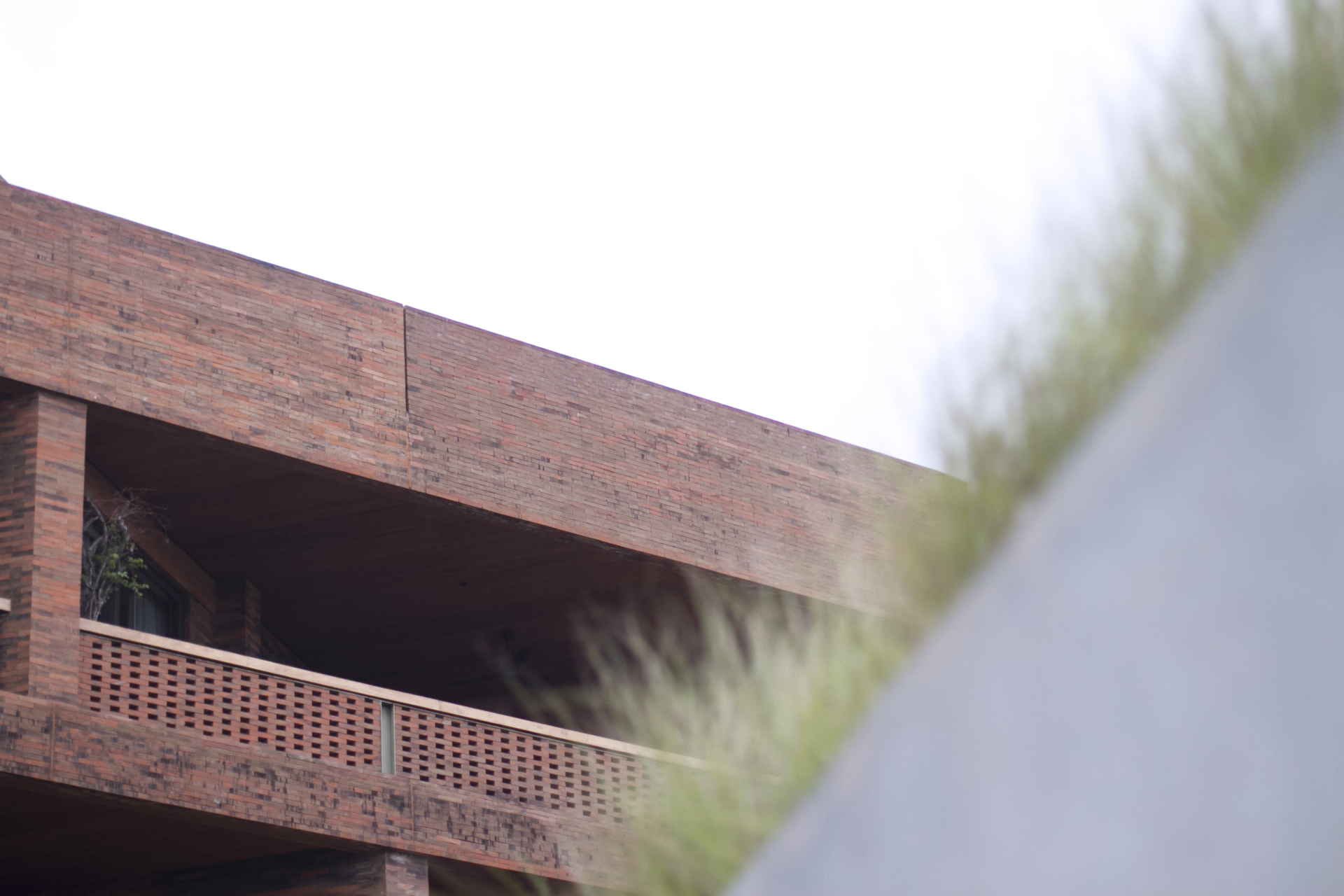 A short video of our roof top suite tour. Pardon the amateur video taking and narration.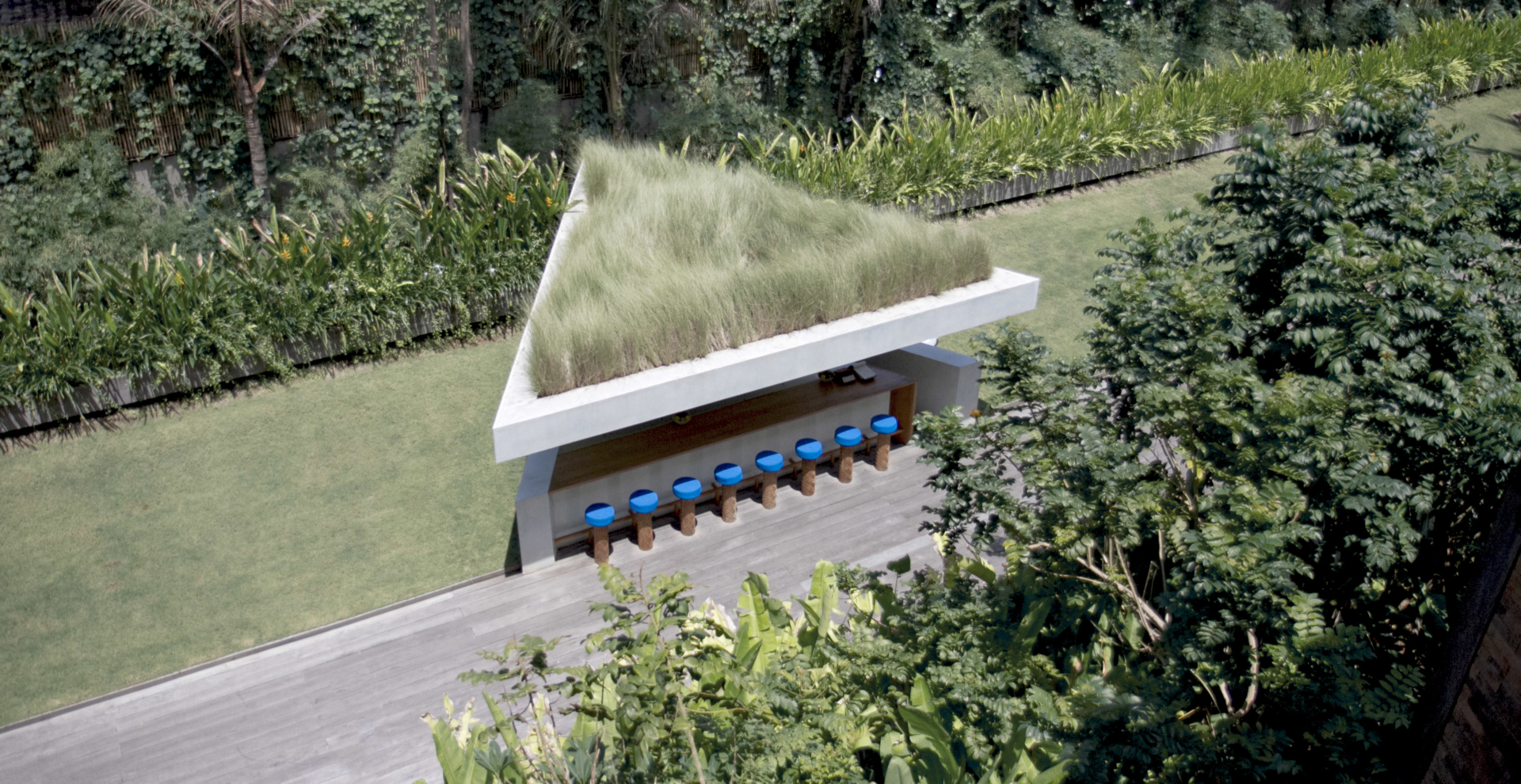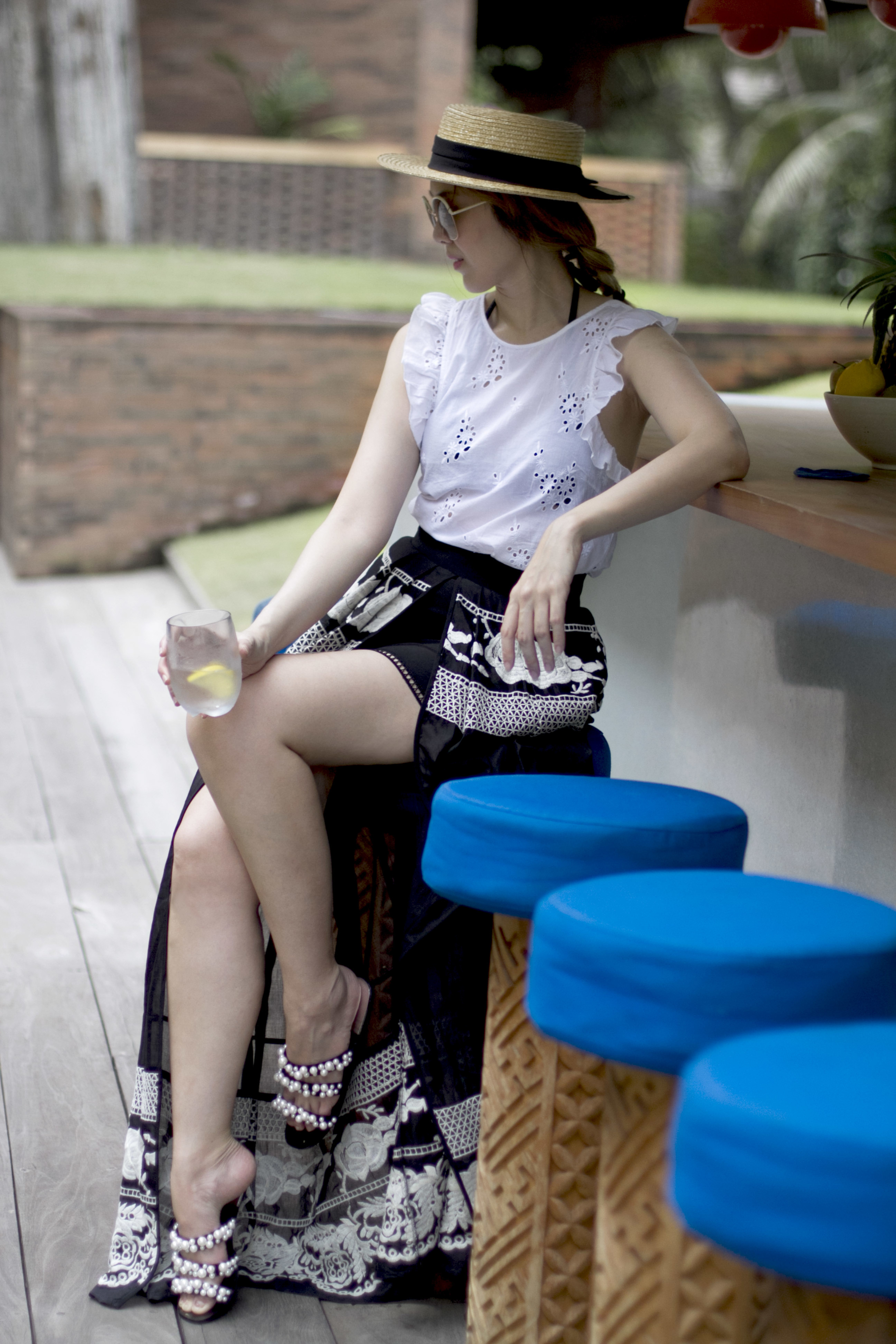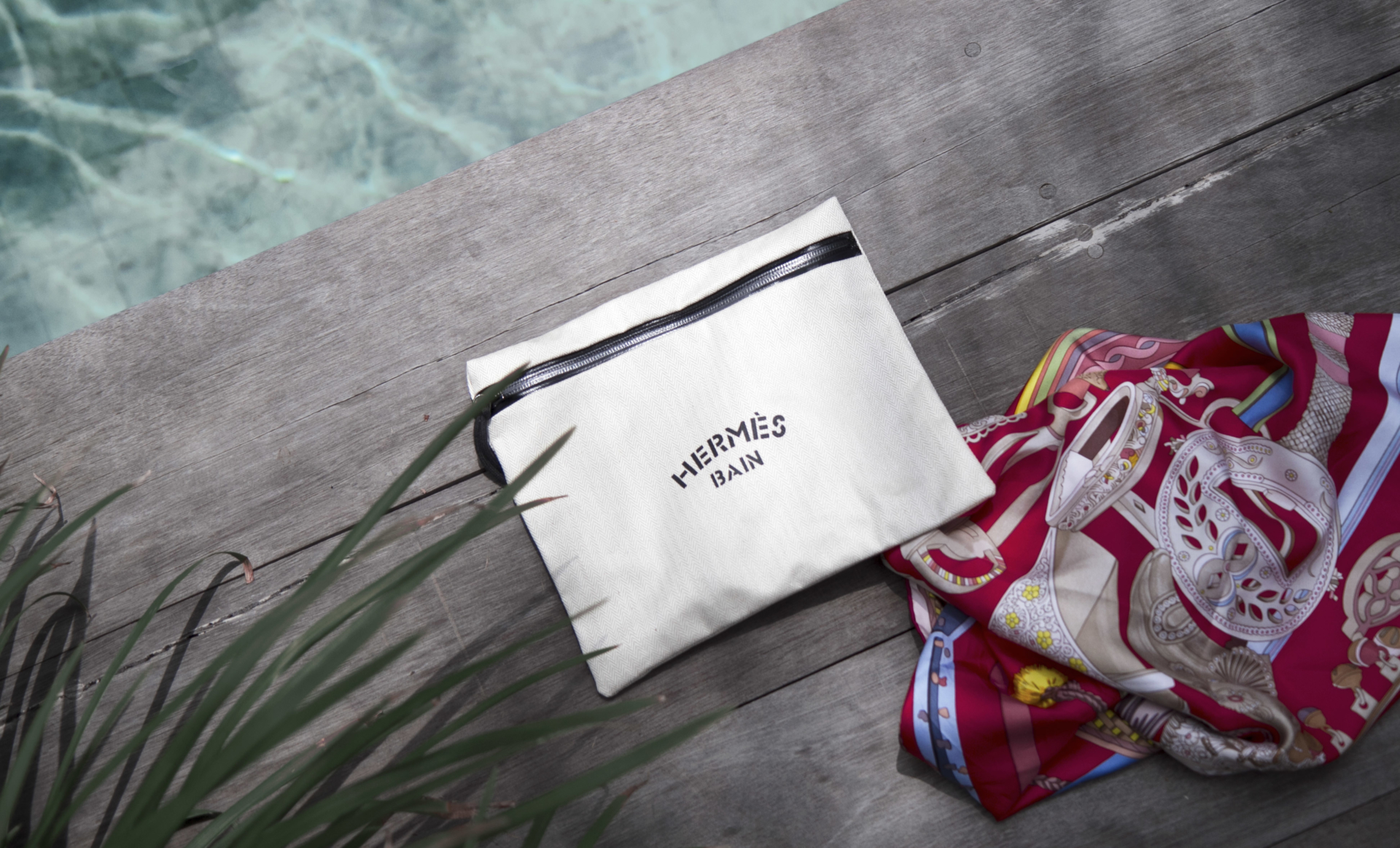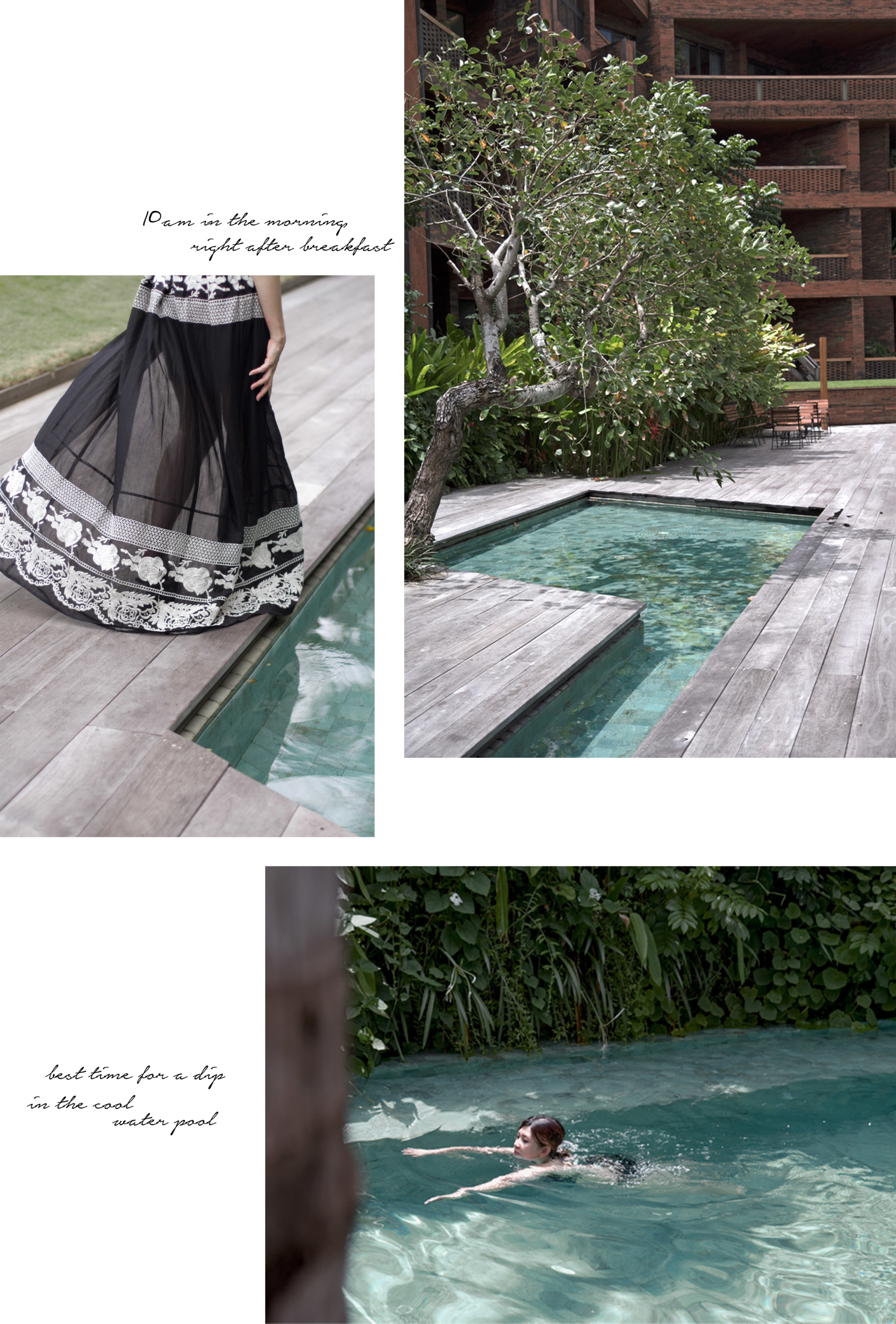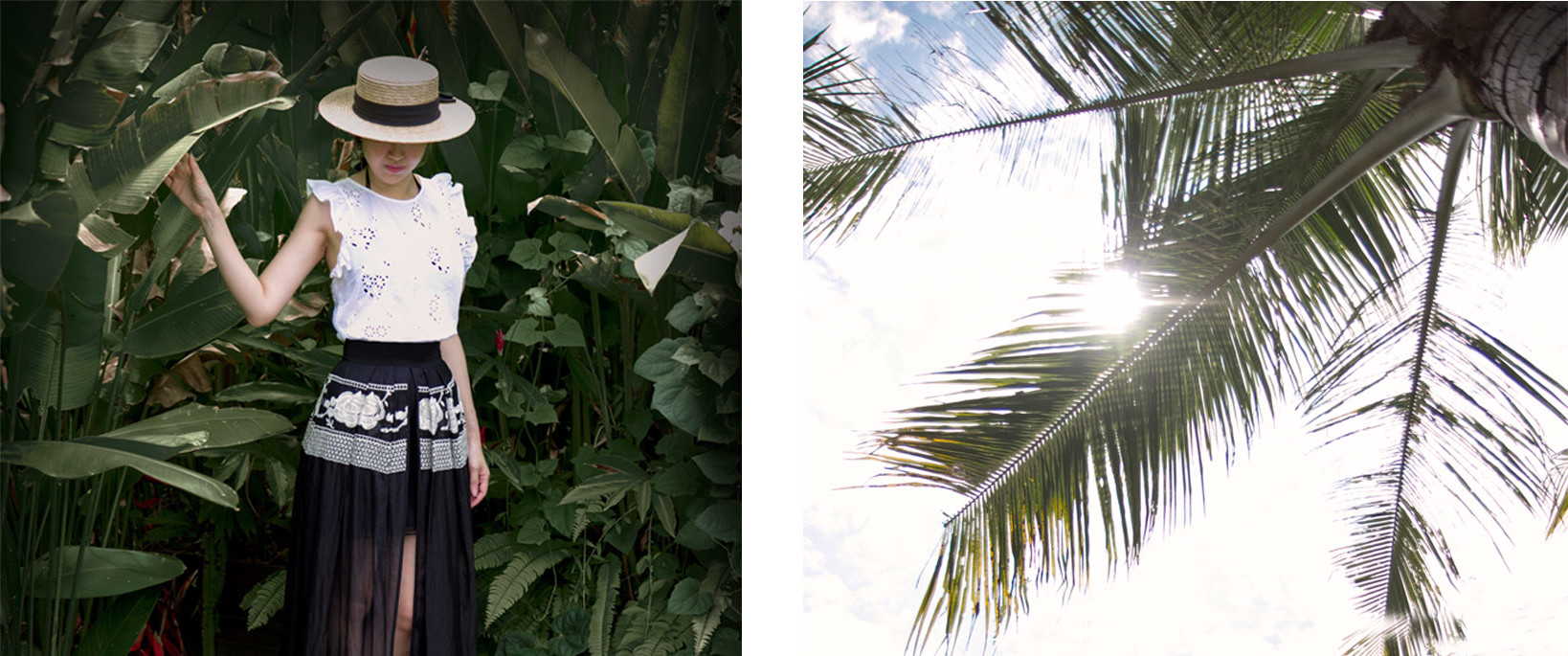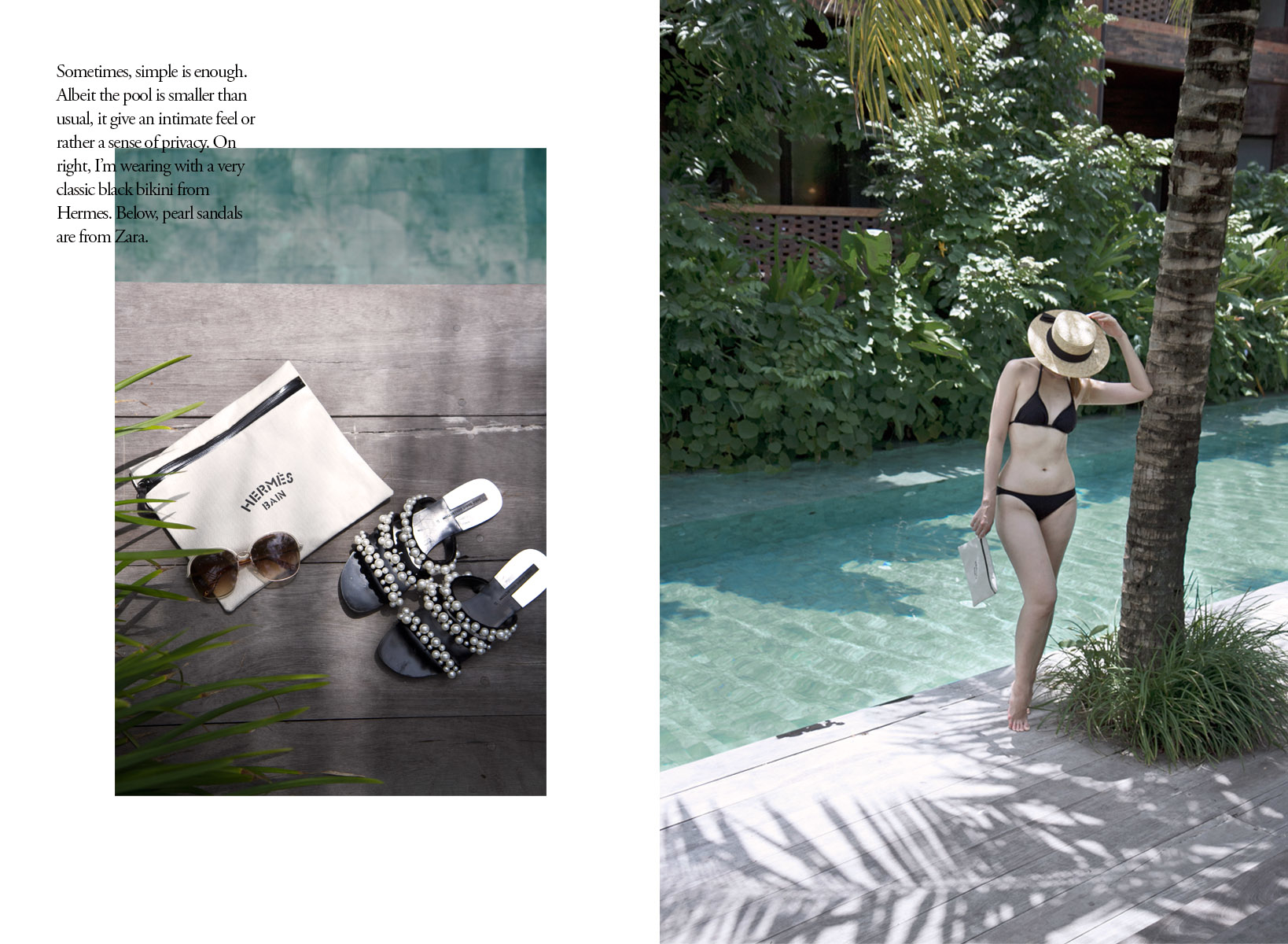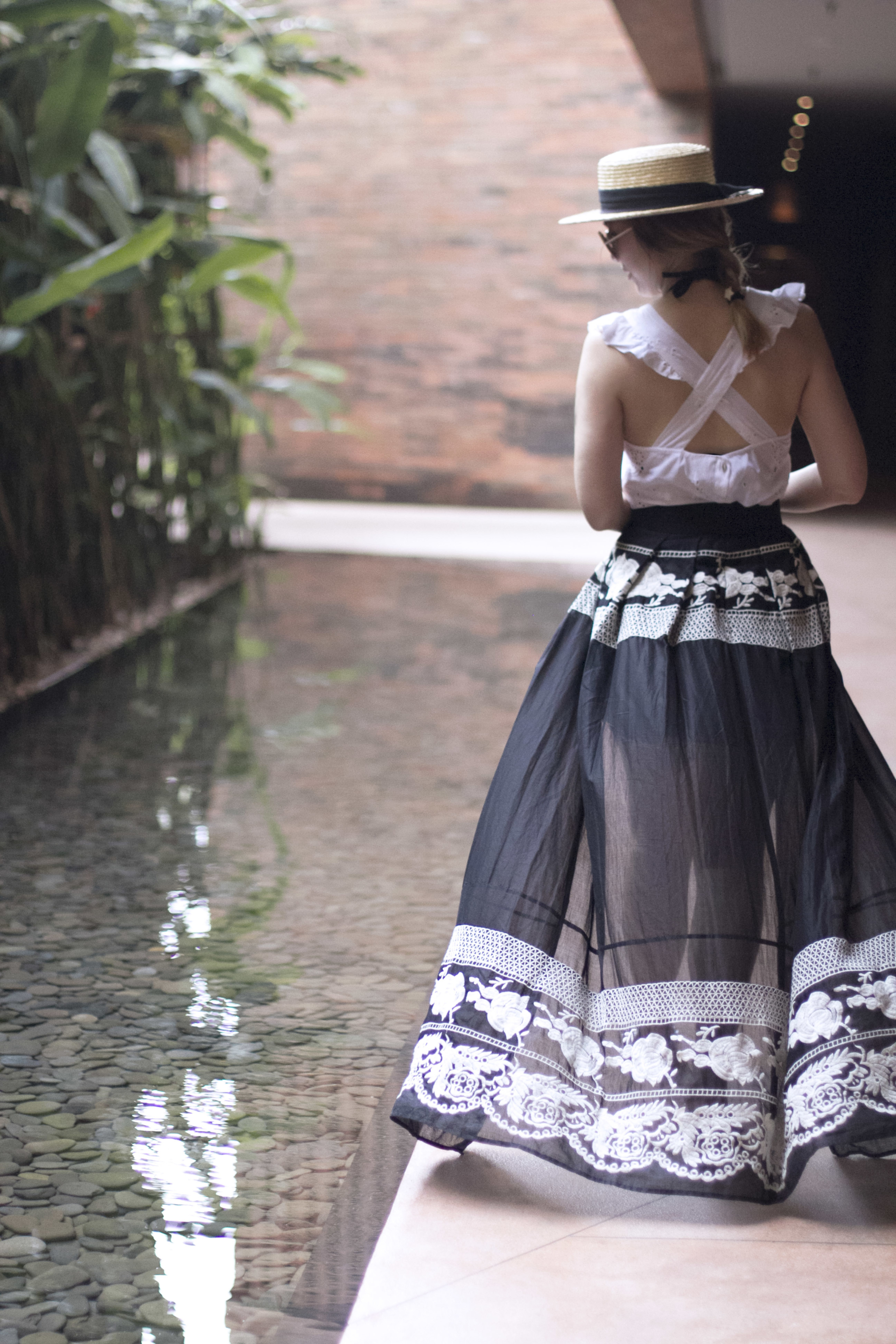 A dip in the pool in the morning was our usual routine if we travel. The pool is located one level below the breakfast area. A long walk from the breakfast area, especially through a long corridor of rooms and a side water feature. The monotonous design using these handmade bricks makes me feels a little like I'm caged in a secret paradise, away from everything. A sense of silence, warmth and yet cold at the same time. It's weird, this feeling. This mixed feeling from the use of traditional materials with modern architectural design.
The pool is very small comparing the usual hotel/ resort pool, but it's functional for only 58 rooms. A linear design is carried out throughout the hotel, which can be reflected in the pool too. It's small and private, more perfect to lounge. Of course the privilege of staying in Katamama is that we get access to priority booking for the beach chairs at Potato Head, and which we can dip ourselves in their huge pool to watch the amazing sunset. The privileges of being able to choose between a very private pool or the "poser " pool.
The service is what one will expect from "six star" hotel or perhaps the hotel of great standard. Once we sat down, the service staff who is also the bartender at the pool bar will immediately serve you a cup of ice cold water with a slice of lemon (details baby, details!). He will make sure you have towels available, all done with a smile. 6/5 stars for service!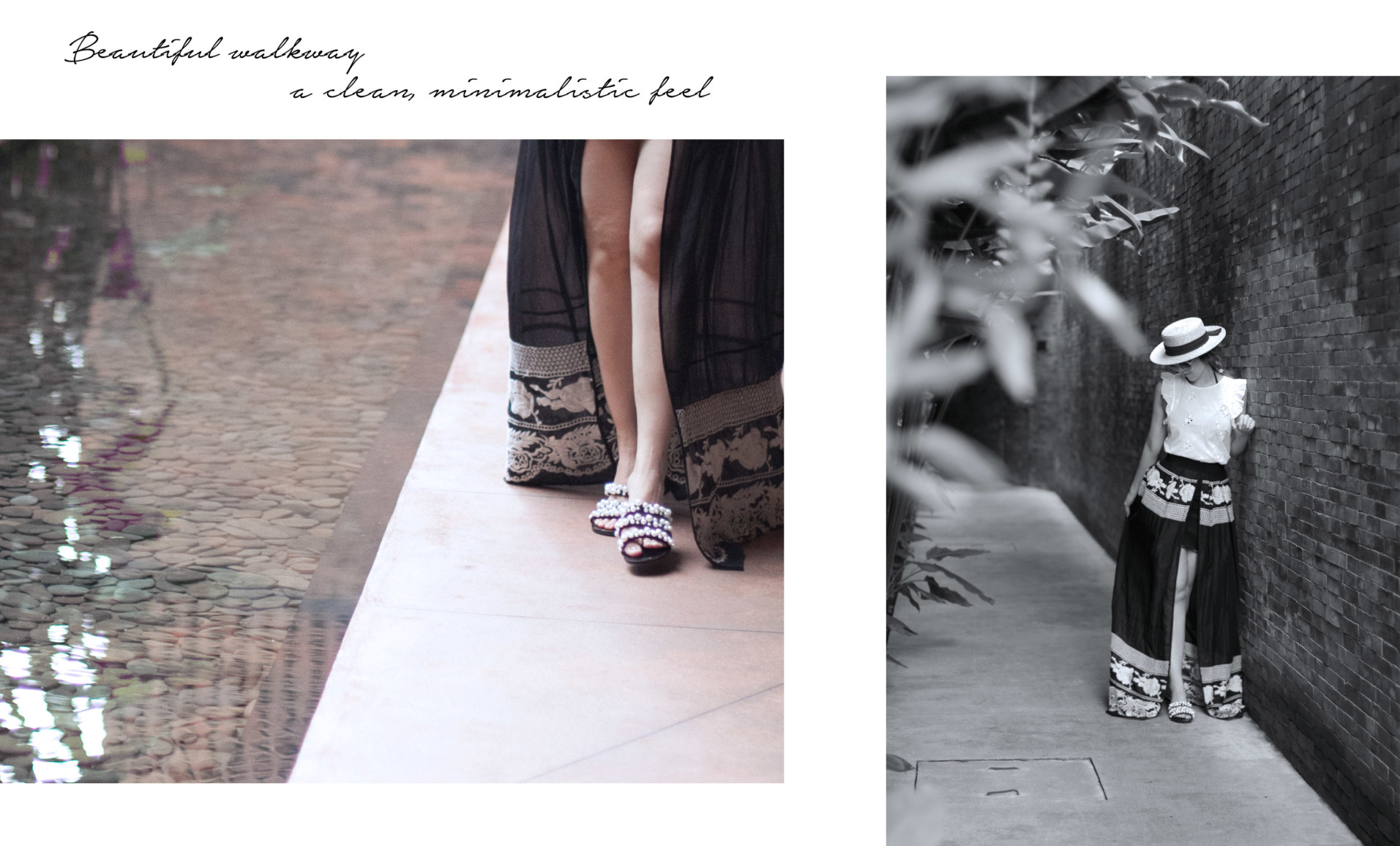 On what I am wearing, this Aijek skirt is a love at first sight. I love the contrast of the white embroidery against the black cotton, the peek a boo concept with a mini skirt under the long skirt. On this outfit, I paired it with a Zara top and my current pearl sandals from Zara too. Shop my pick and similar styles below:
VERDICT:
For readers who can't be bothered to read all the writings above (Yes, I'm like that too). Here's my final verdict:

The whole design concept of Katamama is entirely different from any other hotels in Bali, emphasising on using everything from local communities, and every piece is an Indonesian artwork instead of using commercially factory products. You can sense the human element in everything you see, use and touch in Katamama which lacks in most hotels. The attention to details is to be applaud for, such as carefully selected reading materials in the rooms, face mask and face scrub as part of the toiletries, the fabulous bar counter which you can mix anything to your heart's contend, and of course, the cherry on top is the exclusive treatment in Potato Head Beach Club which makes you feels like a billionaire.
The management makes sure everything is top notch, including the drinks, the food and the service, nothing misses the mark. A pity is if only all rooms have sweeping view of the ocean. Or if only the hotel pool is much bigger. For guests who are looking for the grand five star hotel amenities, sleek finishes, shiny stuff or the glam treatment, look elsewhere, but if you are looking for an experience of the extraordinary, a taste of local culture, an intimate service, check yourself in Katamama for a treat.
Yes, I admit that we enjoyed it very much since we are staying in the rooftop suite (I know you will think that!), but hey, we did try one night in the classic island suite and the experience is equally good. Everything is the same except for the size. The bathroom is still huge and enjoyable with the bathtub next to the window for a view of the partial ocean. There is still the wonderful full service bar counter in the room. Glance through the photos below for our island suite that we stayed in for one night.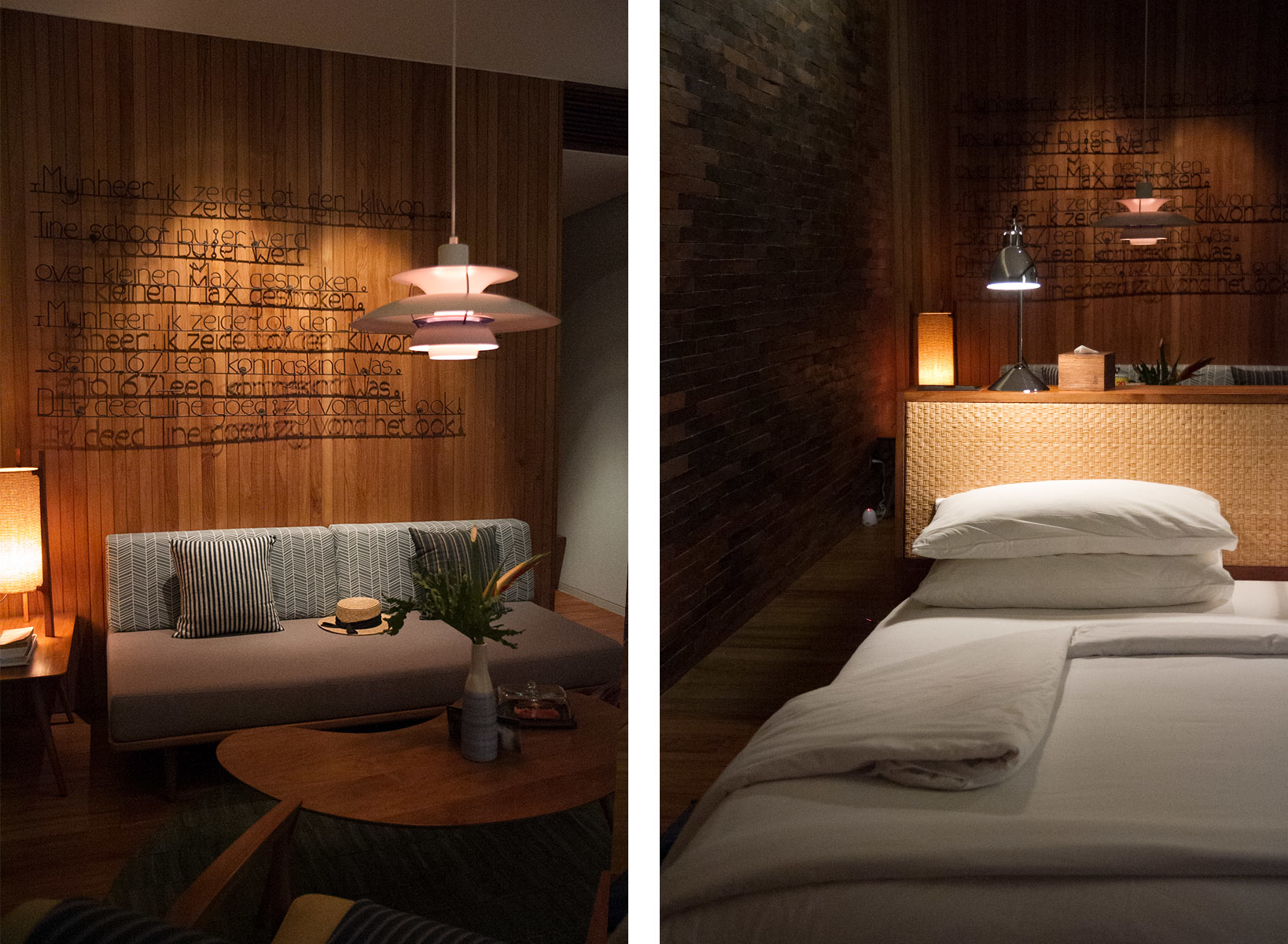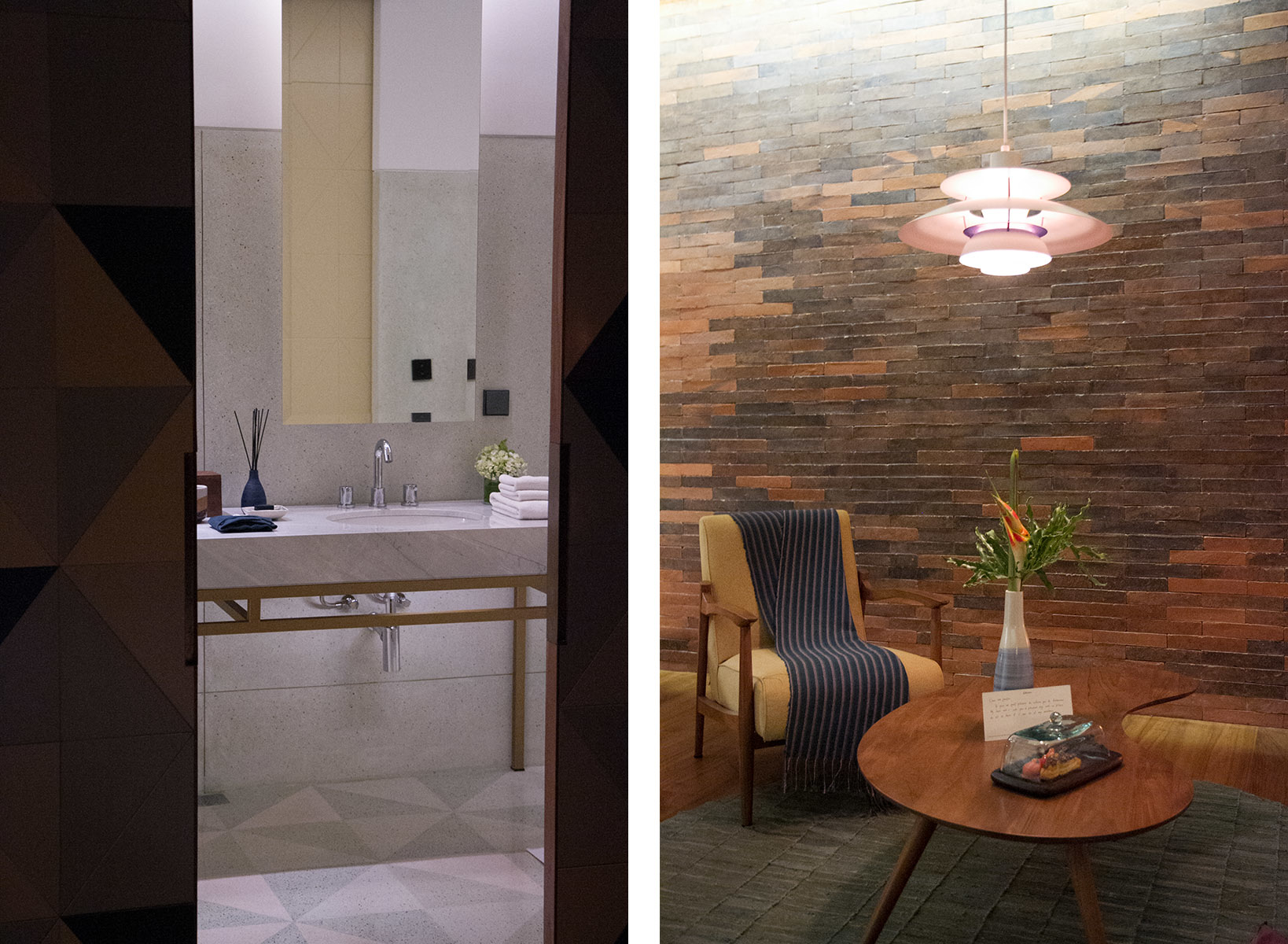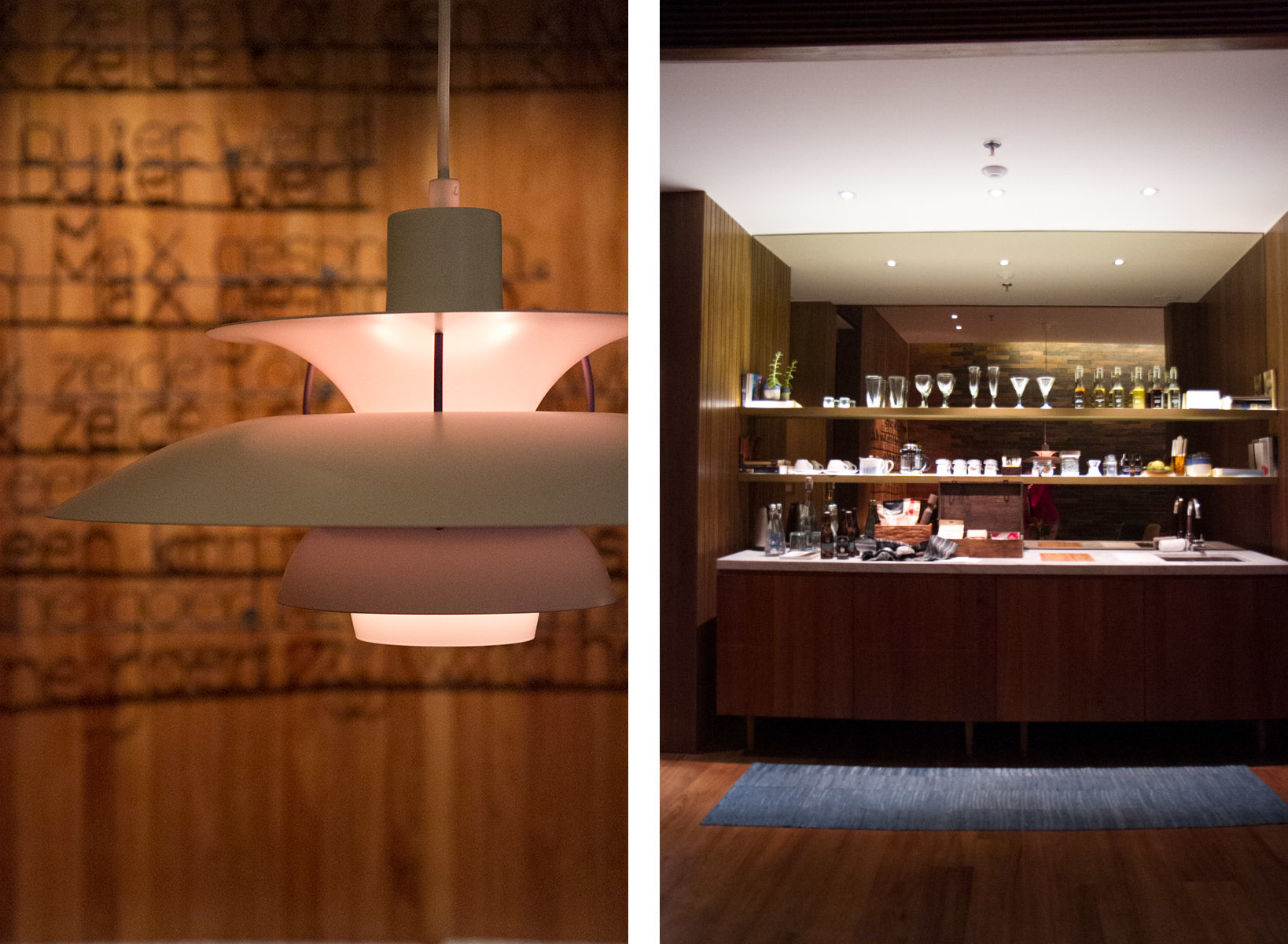 One night stay in an Island Suite starts at US$400, while the Rooftop Suite starts from US$1400 onwards. Both are equally great but I highly recommend the rooftop suites of course if you feels like pampering yourself a little. 
Address:
Katamama, Jl. Petitenget No.51, Kerobokan Kelod, Kuta Utara, Kabupaten Badung, Bali, Indonesia, +62 361 3029999, www.katamama.com