It's about 2 hours since we started driving from Taipei City towards Kaohsiung. Stomachs are groaning and we reached the province of Miao Li 苗栗. About time to stop for some feeding.
There's a famous noodle shop in the town of San Yi (三義) in the Miao Li County called Lai Xin Noodle Shop (賴新魁麵館)well known for their handmade flat rice flour noodles (板条).
Entering a quiet town, as we approach the noodle shop, the place starts to become full of activity.
Nothing can stop any life loving person from their good food. Of course there will be an overwhelming queue outside a famous eatery. Of course we need to wait and no one have an privileges. Not to say parking is a problem too.
Took us half hour of soaking in UV ray to get a shared table. Don't dream of a private oasis in this eatery. It's a place to tuck in, be full and get out. No frills or good service. Just simple good tasting food.
Accompanying the famous noodles are side dishes of vegetable, tofu, pork or beef. The noodles are served either soup or dry. Both have generous serving of sesame oil, fried shallots and stewed egg. The noodles are chewy or what most will called as QQ. It has a bouncy texture and a smooth taste. At just NT60 (USD1.50) for each bowl of noodles, what's there to complain beside compliments. Food at this price seems to bring me back to the 80s. Gosh, even the shop interior and the countryside ambience is not helping to remind me that back in Singapore I'm in the 21 century of Starbucks, Ben and Jerry's era, extravagant indulgences 3 times the price of this noodle. Here, tasty food can be at such simple prices.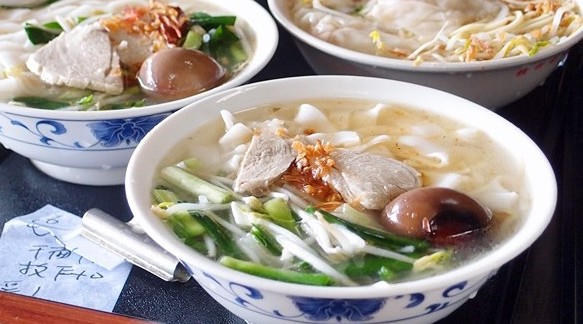 A bowl of steaming hot QQ noodles that I unfortunately forgotten to take a picture of. We gobbled up the noodles the moment it arrived on our table. Thus, this photo of soup noodles is courtesy of Mokafun. Do not be deceived by how plain the noodles looked. They are as tasty as you can imagine.
Take a note to drop by this eatery if you are passing by Taichung. I can't guarantee that you won't be disappointed but I'm sure you won't be unhappy either. Just be prepared to queue.
Name 名稱 : Lai Xin Noodle Shop 賴新魁麵館
Address 地址 : 苗栗縣三義鄉中正路170之1號
Telephone 電話:037-872600
Operating hours: 營業時間: 7:00am ~ 8:00pm