REVIEW OF FILLERS DONE AT KOWAYO AESTHETIC
19 . 3 . 17       
"The greatest part of imperfection, is being perfect at it."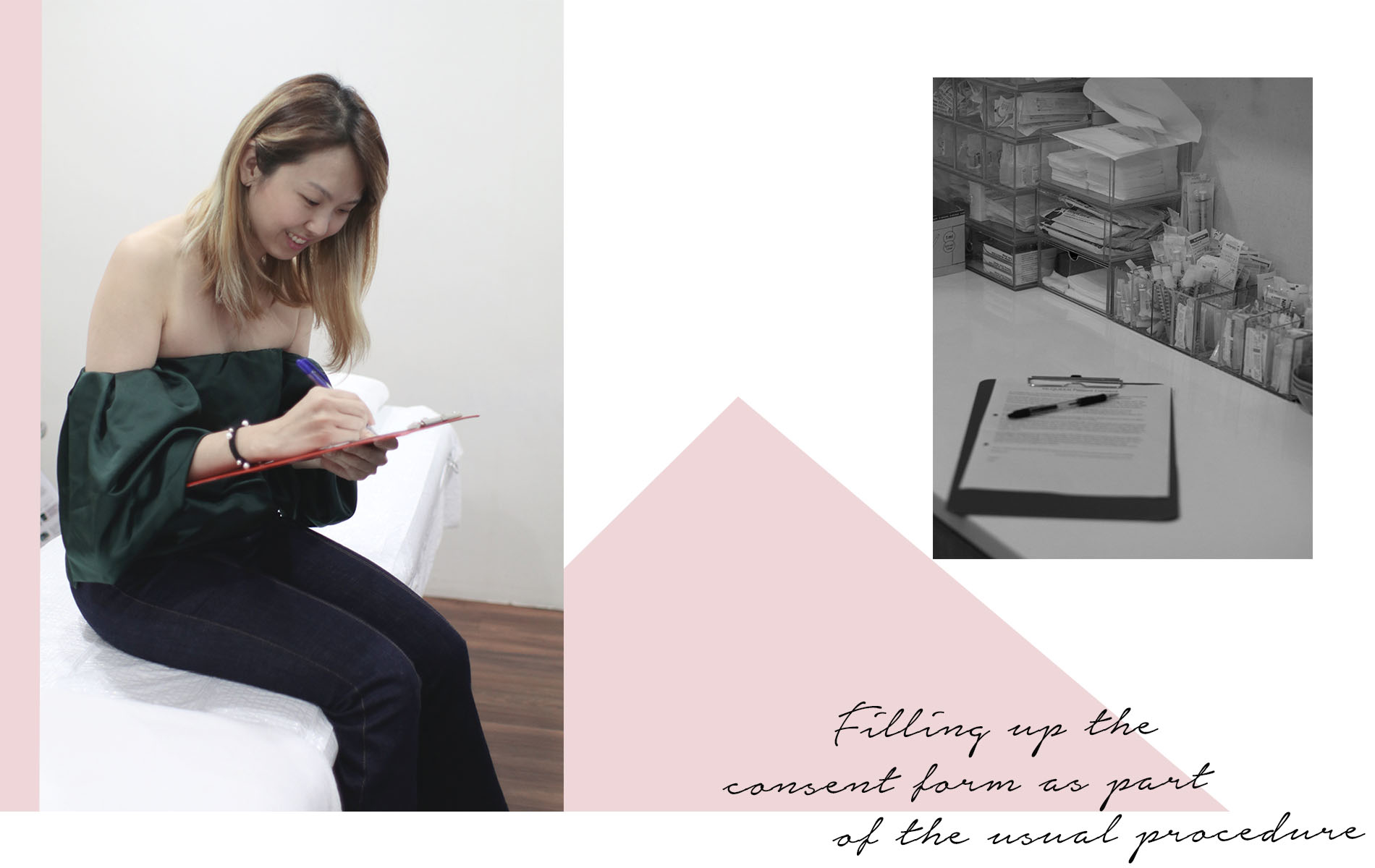 There's a debate of loving your own skin versus using cosmetic procedures to beautify oneself. But how do we define using make up? Isn't it the same logic of using some form of external means? Woman are created to provide and create beauty to the world, with our feminine bodies of slender curves and soft dewy skin. Yes, we are meant to look beautiful, thus the never ending chase of beautifying ourselves. Is it to satisfy the eyes of the opposite sex or oneself, the lines have blurred, but one thing is, we will try whatever our appetite can take for vanity. For me, I'm never against the idea of exploring various methods to improve one's look. Call me superficial, but looks does matters. With a beautiful face, it gets you access to the VIP line, the waiter pouring you slightly more wine, winning the interview over an average looking candidate with same credentials as you,
stealing glances from a handsome guy on the dance floor, yes, there's many advantages from looking prettier than an average looking girl. Going under the knife is no longer a taboo. Where celebrities once denied "having any work done," they now talk openly about having a nose or boob job and Botox. Just one search online, and you can find tonnes of forums discussing about where is the best doctor to go to, or influencers recording about "getting something done". There's a changing attitude and some of that is because of how the technology of cosmetic procedures have changed. Especially with the influence of K-pop or K-drama where their media industry is so competitive that it demands perfection on looks. Getting a botox or fillers became just like a lunchtime pop by to the clinic and that is what Kowoyo Aesthetic provides.
Fast convenience of non or minimal invasive procedures that can be complete within lunch hour. Back in the office, non of your colleagues will even realised you "had something done", and they would have thought you went for just a quick facial. And that's what I did, which I'm sharing my journey of a getting fillers for a more defined chin under the skilful hands of Dr Wong. Kowayo Aesthetic is centrally located at the Raffles Link, easily reached from City Hall.
The clinic is done up in soft warm colours, giving a cosy and warm feel. You won't feel nervous at all because it feels more like home rather than a clinic. There's two waiting areas, one next to the main reception and one inside for more privacy. The private waiting room has a TV, coffee machine and an entire fridge filled with various type of cold drinks. I helped myself to a packet of ice lemon tea and wondered around. ( Yap, I love to snoop around)
The clinic is not huge, thus, making sure all patients receive personalised treatment. All rooms are done up in soft pink colours (I like!) and there's also a room for taking before and after photos. Unfortunately, all rooms are occupied and I can't take more photos to show. Just a short wait and I saw Dr Wong came out to greet us.
Dr Wong assess my face and pointed that I need to define the lower part of my face and tighten my skin. He suggested Botox and fillers for that V-shape face and HiQueen to for further lifting creating a sharper chin. I am not keen on Botox and decided on trying fillers on my chin. I do find that I have a hexagon-shaped face and will love to have a longer chin, which Dr Wong said a jab of filler will make a difference.
Choosing fillers as an alternative to implants
Hyaluronic Acid Fillers, also known as dermal fillers are approved by the Food and Drug Administration (FDA) for use in helping to create a smoother and/or fuller appearance in the face. Hyaluronic acid is a type of sugar (polysaccharide) that is present in body tissues, such as in skin and cartilage. It is able to combine with water and swell when in gel form, causing a smoothing/filling effect. These fillers have a temporary effect, because they are absorbed by the body over time. Thus, fillers is a great option for those who wants to improve their features yet does not want to go under the knife to insert an implant. If you are not happy with the results, you can just wait for the body to adsorb and dissolve it away over time.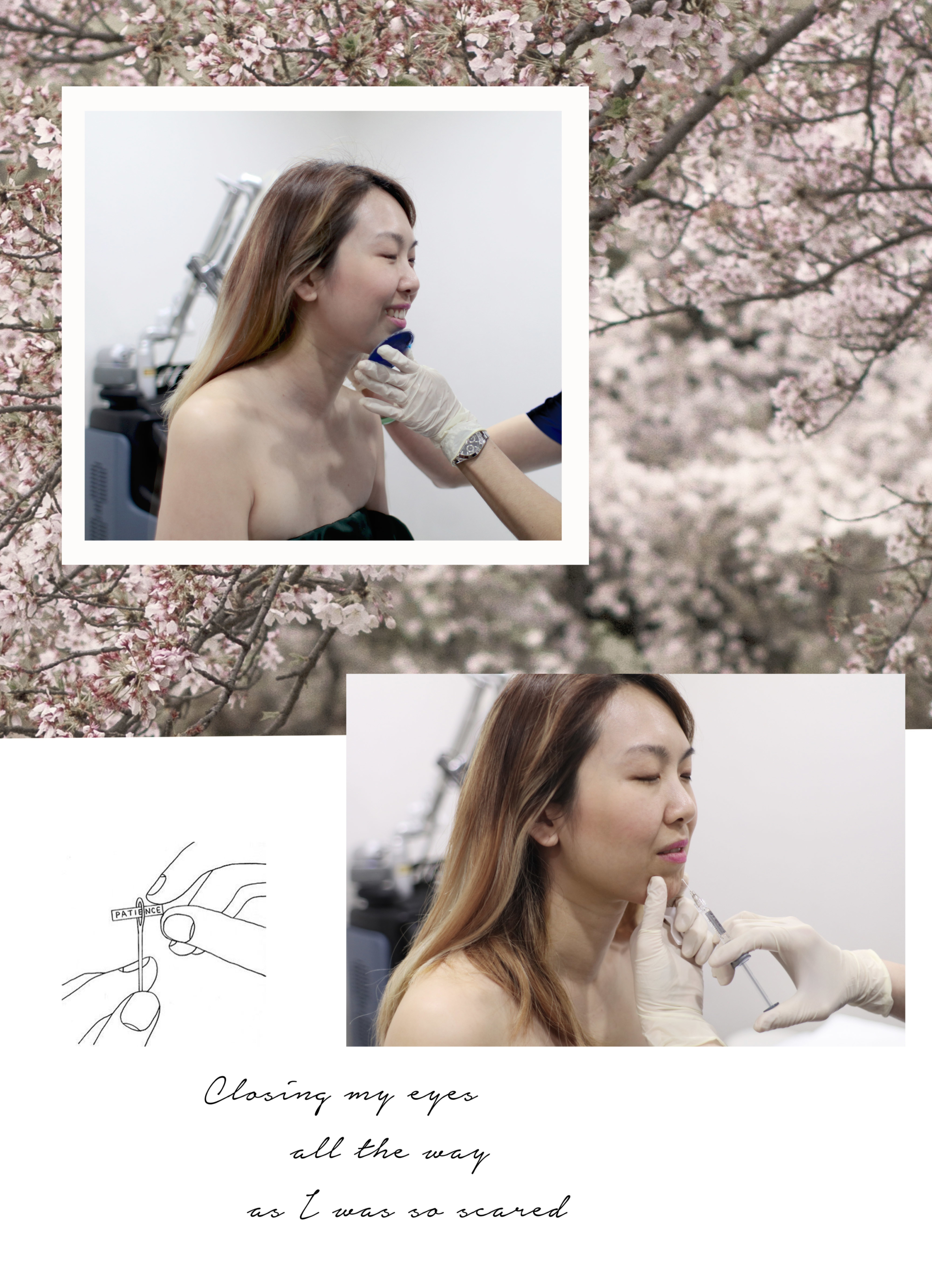 Was it painful? 
I am a baby when comes to pain tolerance. I can scream at the top of my voice and tear if it's painful. This shows how much my pain threshold is. Admittedly, this is not my first time having fillers on my face. I've tried fillers on my nose 2 years ago, and that time, I had numbing cream for almost 30 minutes (the doctor made sure my face is 100% numb) before the doctor inject the fillers. This time. Dr Wong said just an ice pack will do. I was terrified! How can an ice pack ease the pain of a needle injecting into my skin?!! But I was assured that I need to trust him. Ok, I gave in…Surprising, when Dr Wong injected the thick substance into my chin, I felt a slight aching feeling and that's it. I looked at him in surprised and he said the reason for not feeling so much pain is because these fillers contain numbing agent to ease the pain. So, while injection the fillers, the numbing agent is also injected and start doing it's job.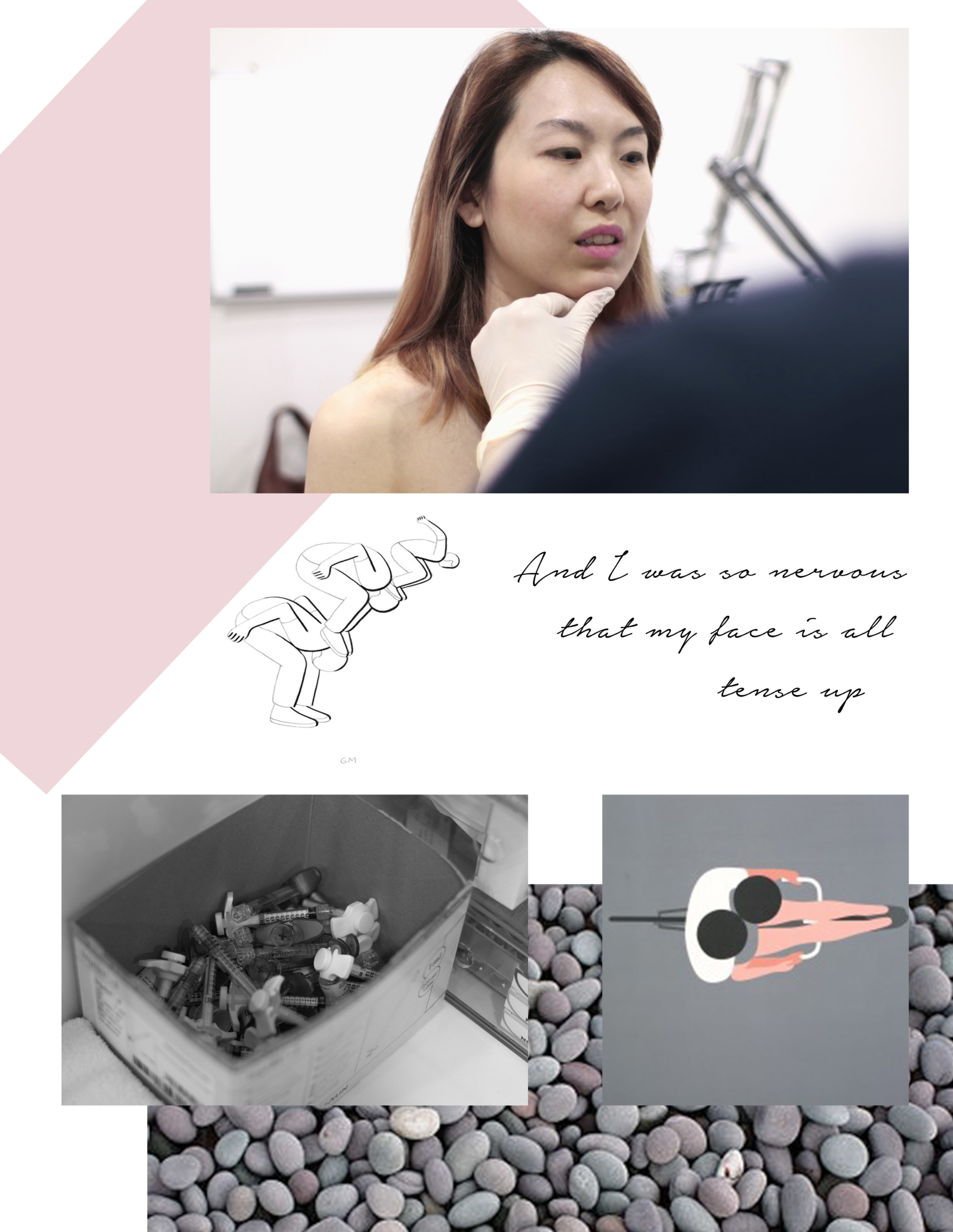 In total, I was injected 3 times (I think), because I was soooooo scared I couldn't even open my eyes. The whole procedure took less than 10 minutes but it felt like eternal to me as I was so freaked out. I want the whole procedure to end as soon as possible. Dr Wong kept assuring me that it will be over soon. I can feel his quick and skilful hands moulding my chin. By this time, the lower part of my chin is totally numb, and I can't feel anything except a soft aching feeling when Dr Wong pushes the fillers around my chin. And then it was done!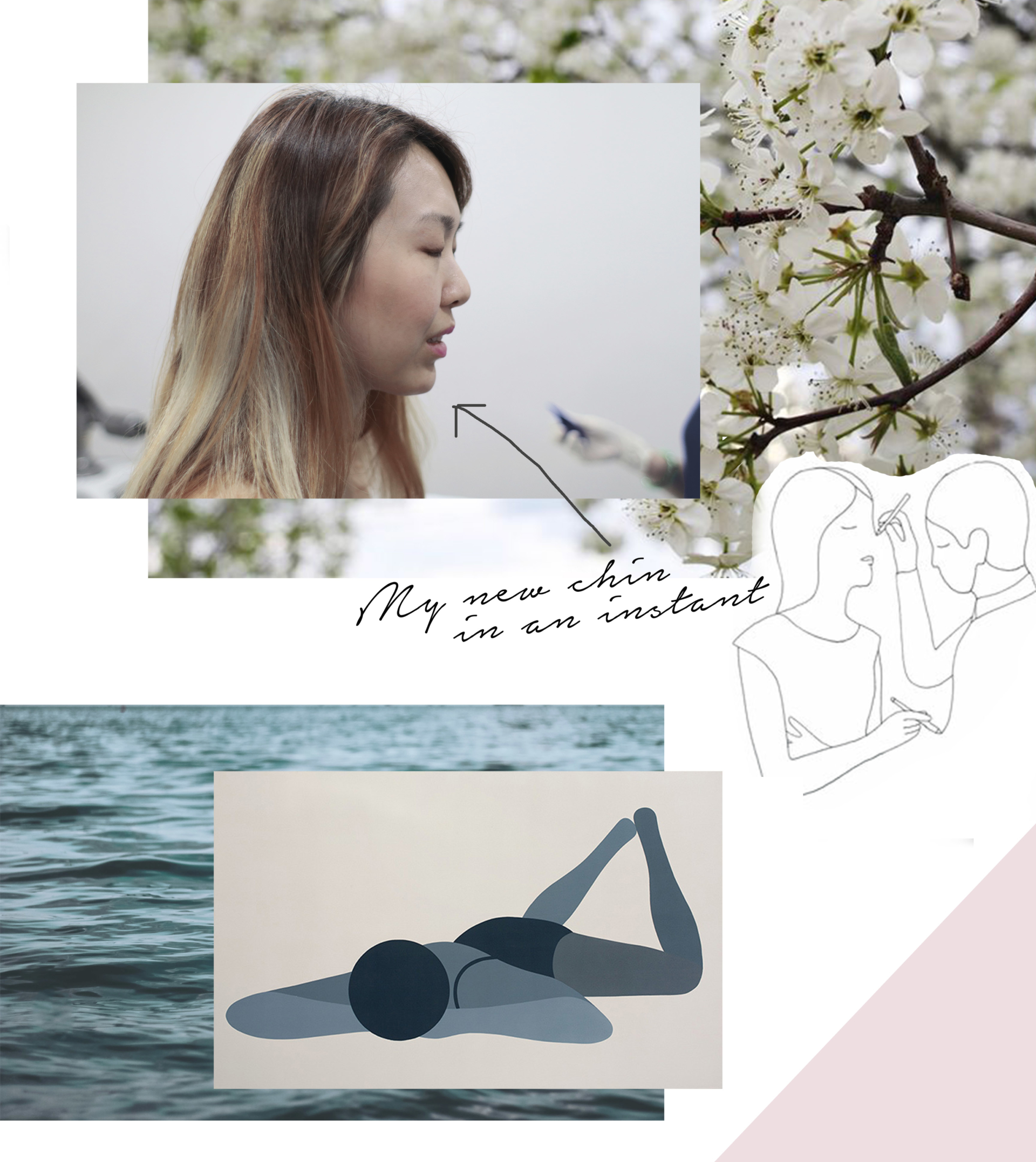 Spot my new chin….it's very sharp! Dr Wong said that the fillers will wear off a little after a week and the effect will be more rounded and natural. Today, my chin will the sharpest and I should enjoy this look and take more photos if I like it! (Hmmm…I think I will prefer the fillers to wear off a little)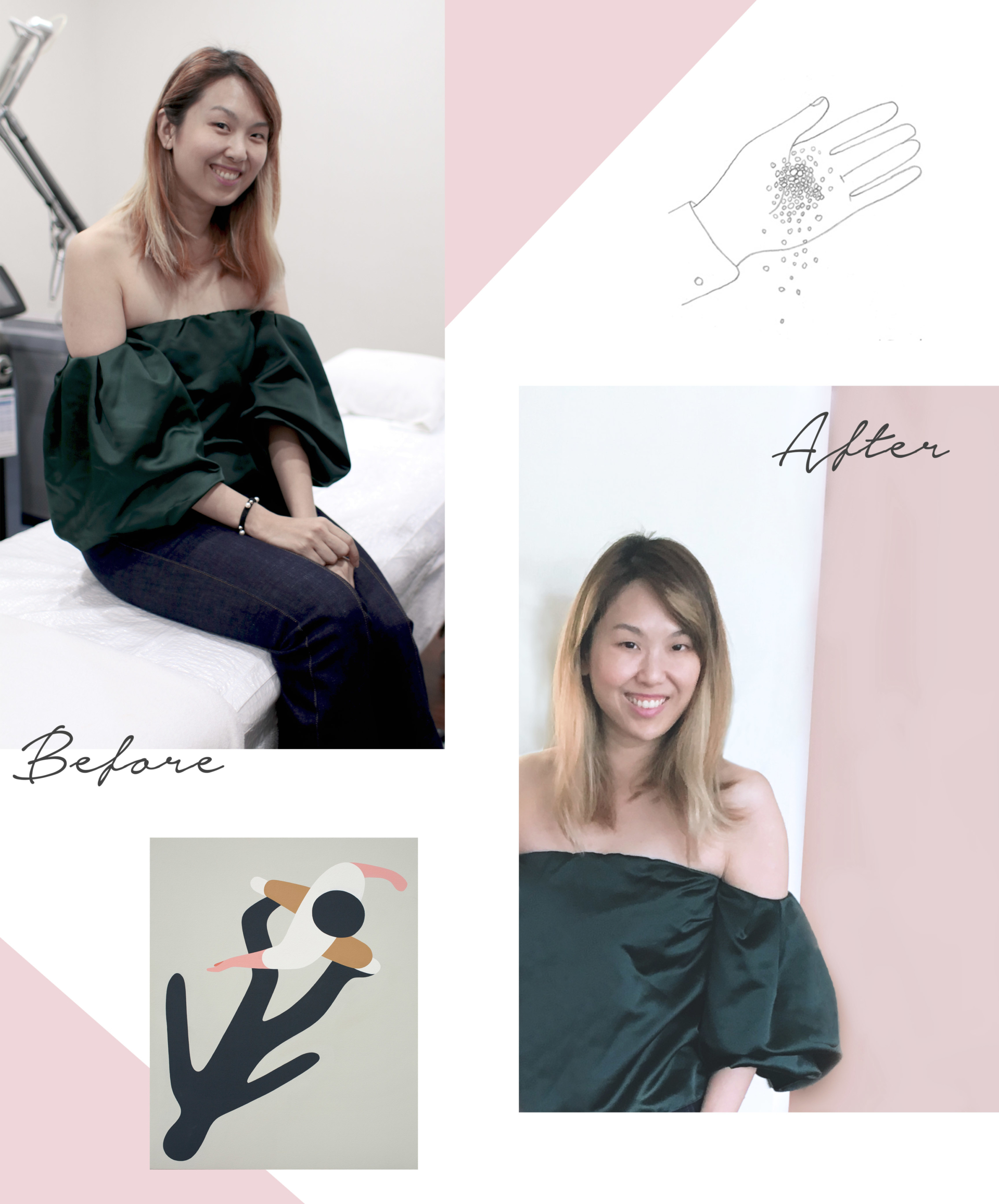 The photo on the left is before I had fillers injected onto my chin. Notice how short my chin is. On the right, is right after Dr Wong gave me a "new" chin. My face is instantly slimmer and my chin is much defined. It's amazing how one jab of fillers can give so much more definition to my face. I love how my new chin balances my high forehead. I was told that Dr Wong has immaculate eyes for details and a great sense of balancing the perfect ratio of a human face, and now I totally agree. "Beauty is achieving a sense of pleasure and harmony and aesthetics treatments are done to enhance beauty in a natural way," says Dr Wong.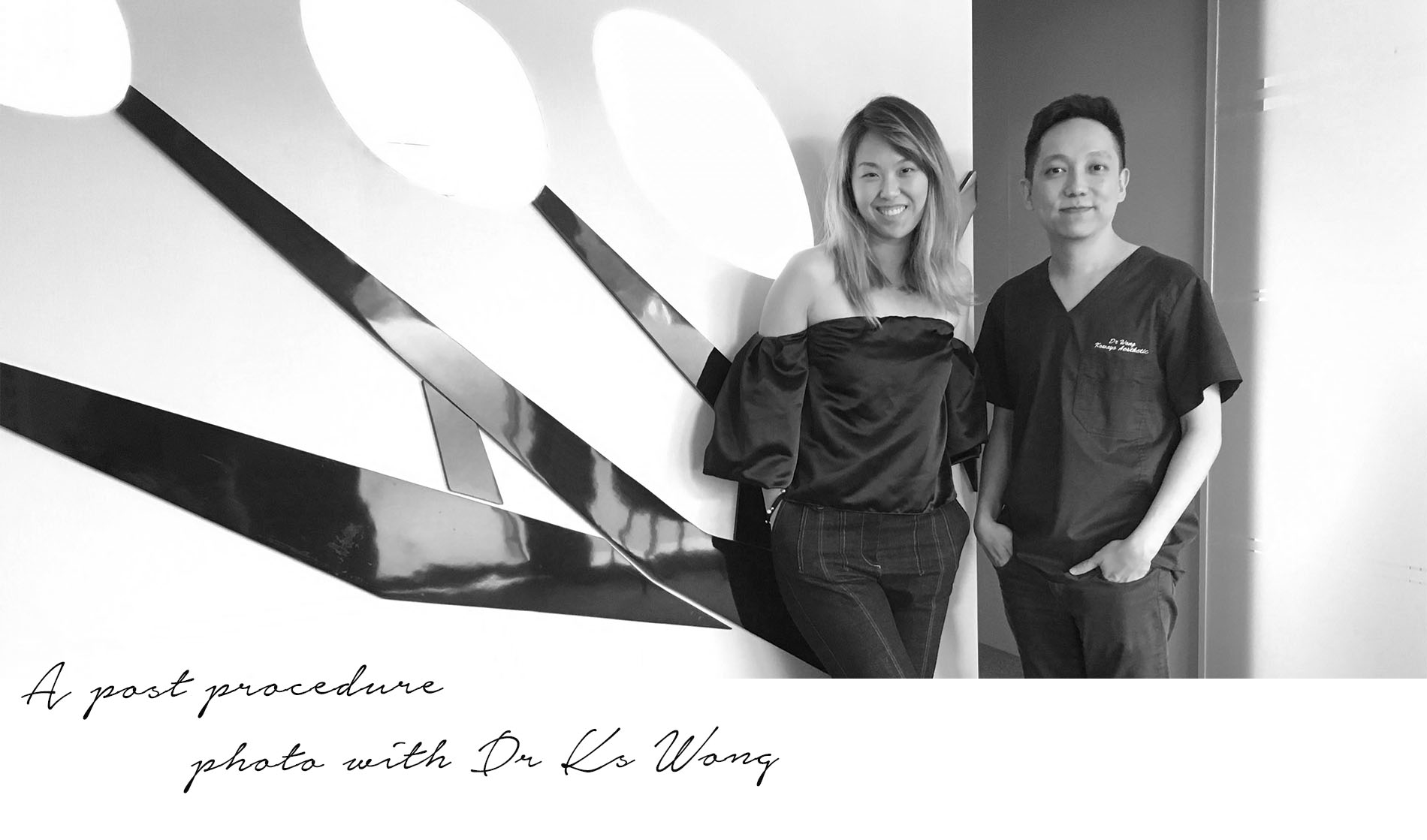 And this is the man behind it all! Dr Wong Kee Seng. On Dr Wong's credentials, he is a physician registered with the Singapore Medical Council (SMC). He obtained his post-graduate qualification MRCP from the Royal College of Physicians, United Kingdom. With special interest in dermatology, he completed his study in Diploma of Practical Dermatology in Cardiff, UK. He is a member of America Academy of Aesthetic Medicine and also an appointed trainer for dermal filler company. Mentored and trained by top aesthetic specialists in Hong Kong and Singapore, Dr Wong believes that aesthetic enhancements should be as natural-looking and sustainable as possible, so clients will look like the best versions of themselves. With his background, we can be assured that we will be under safe hands.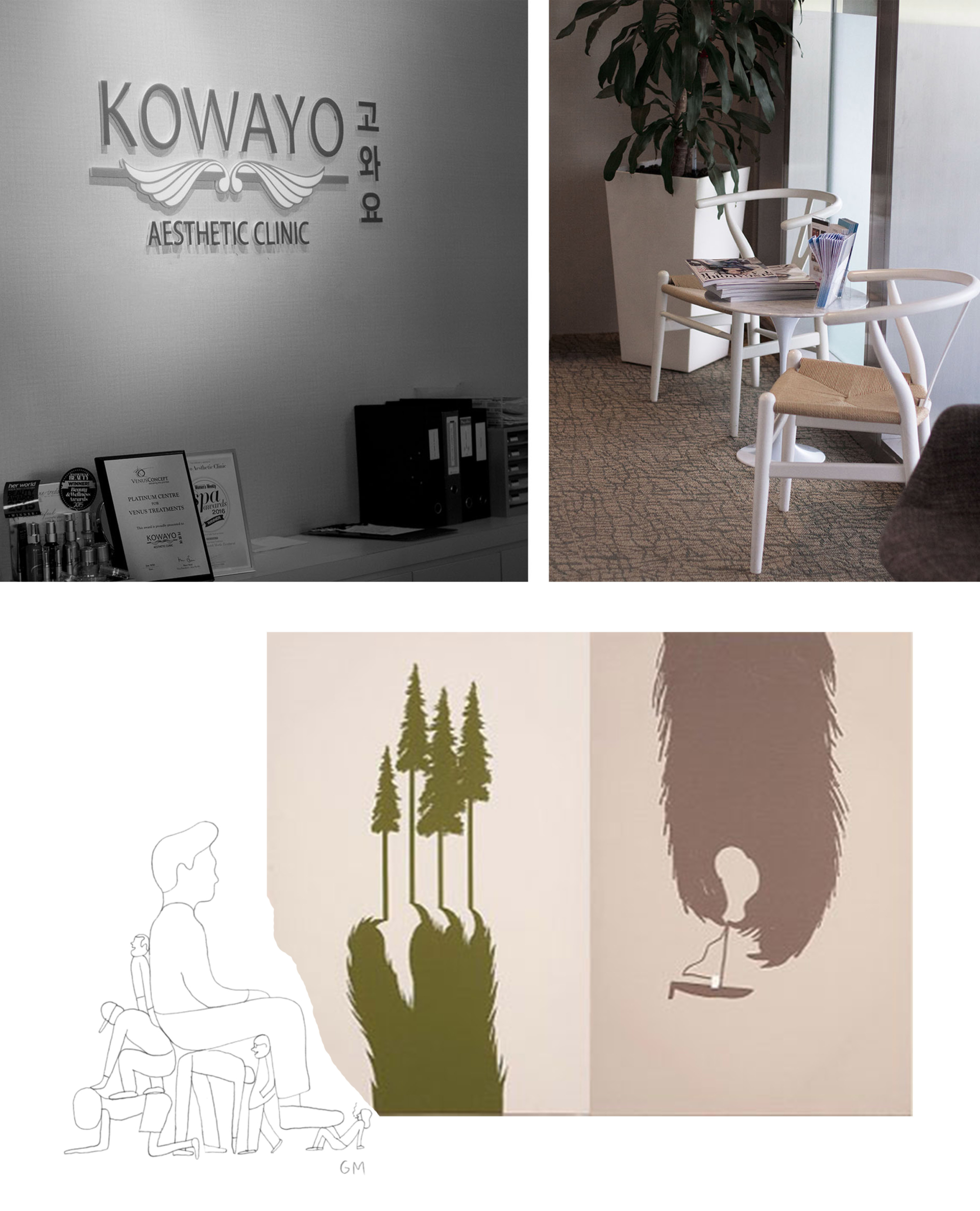 Overall, I'm happy with the results. I took a selfie photo of myself the next day (picture on the right). Compare to the picture on the left, there is a significant difference on the overall shape of my face. It's not as round. I wish this look can last forever.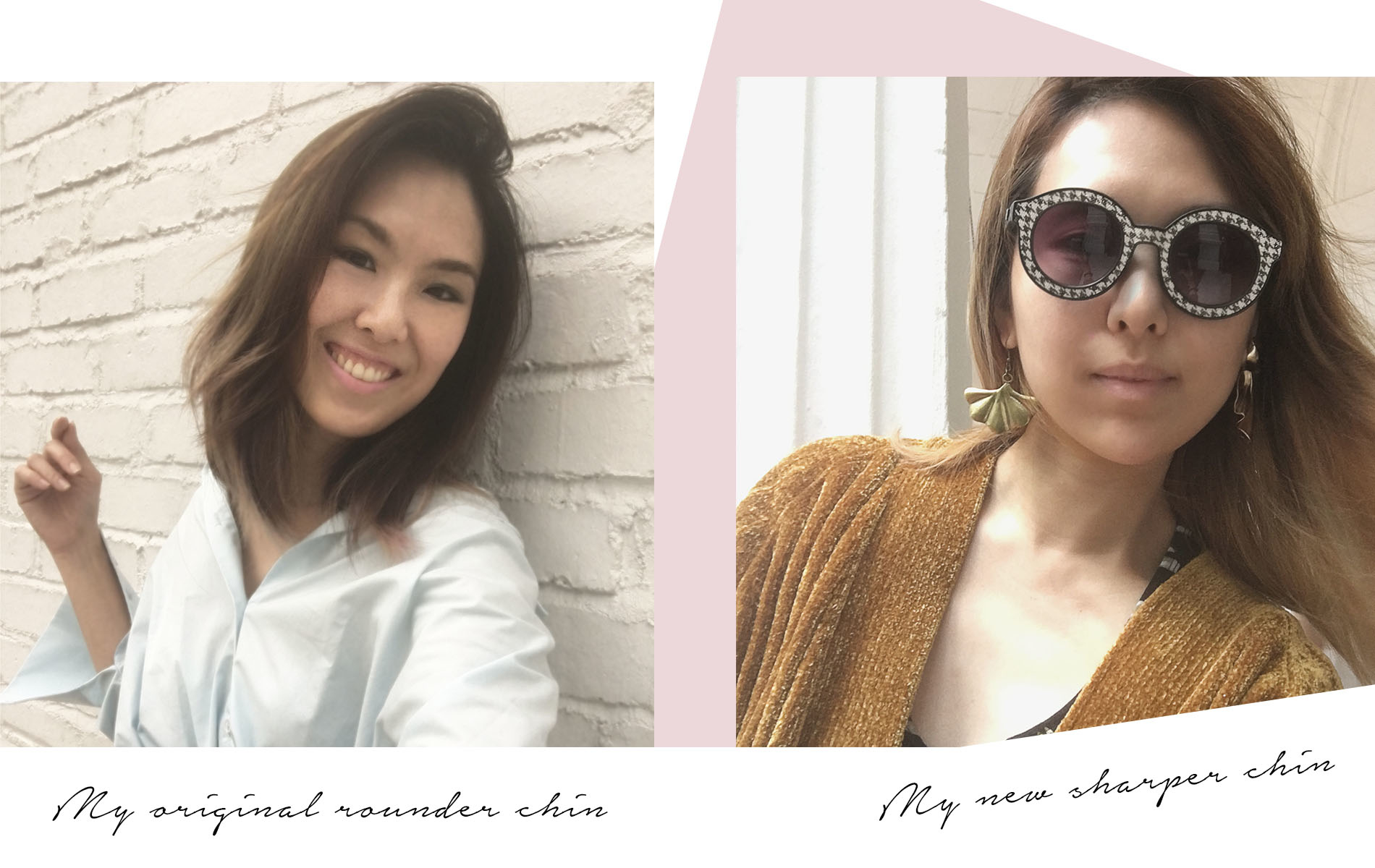 Just one week after my experience with Kowayo,  I got together with a few other bloggers to shared our experience on the various cosmetic procedures done at Kowayo's Dewy Shine Beauty event organised by Gotideas Group. The most impressive presentation during the event is a live demonstration of nose and cheek fillers done by Dr Wong on two fellow bloggers. This is to show how confident, fast and skilful Dr Wong is with his keen eyes on enhancing the features on a face within a couple of minutes. These bloggers are immediately transformed with a more youthful look and define features. Similar to what I have experienced. It's still amazing to witness this immediate transformation on others. Below are some of the photos of me and other bloggers during the event.
It's been one month since I've fillers on my chin and the photo below is taken just yesterday with my chin looking perfect and natural. I simply LOVE my new sharper face. I'm looking forward to my next treatment which helps to lift my skin and create an even sharper face shape. Stay tune for my next blog post on Hiqueen experience.
Thank you Dr Wong of Kowayo and Gotideas Group for giving me this opportunity to experience a sharper chin.
*All illustrations in this post are by Geoff McFetridge.