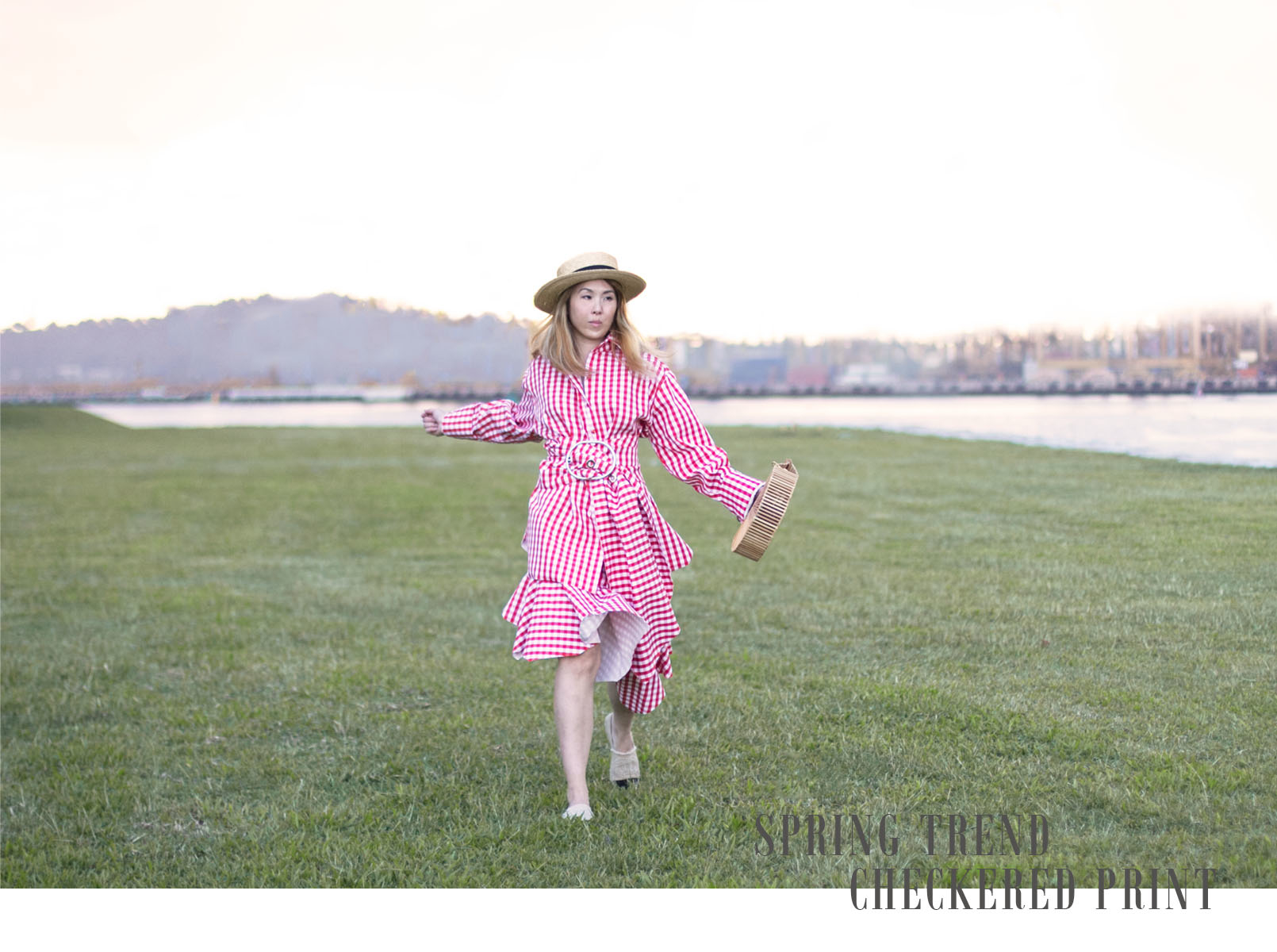 Checkered prints are going to your next best friend
_____________________
Featuring Marques Almeida  and
Fall Winter Spring Summer and Stella Jean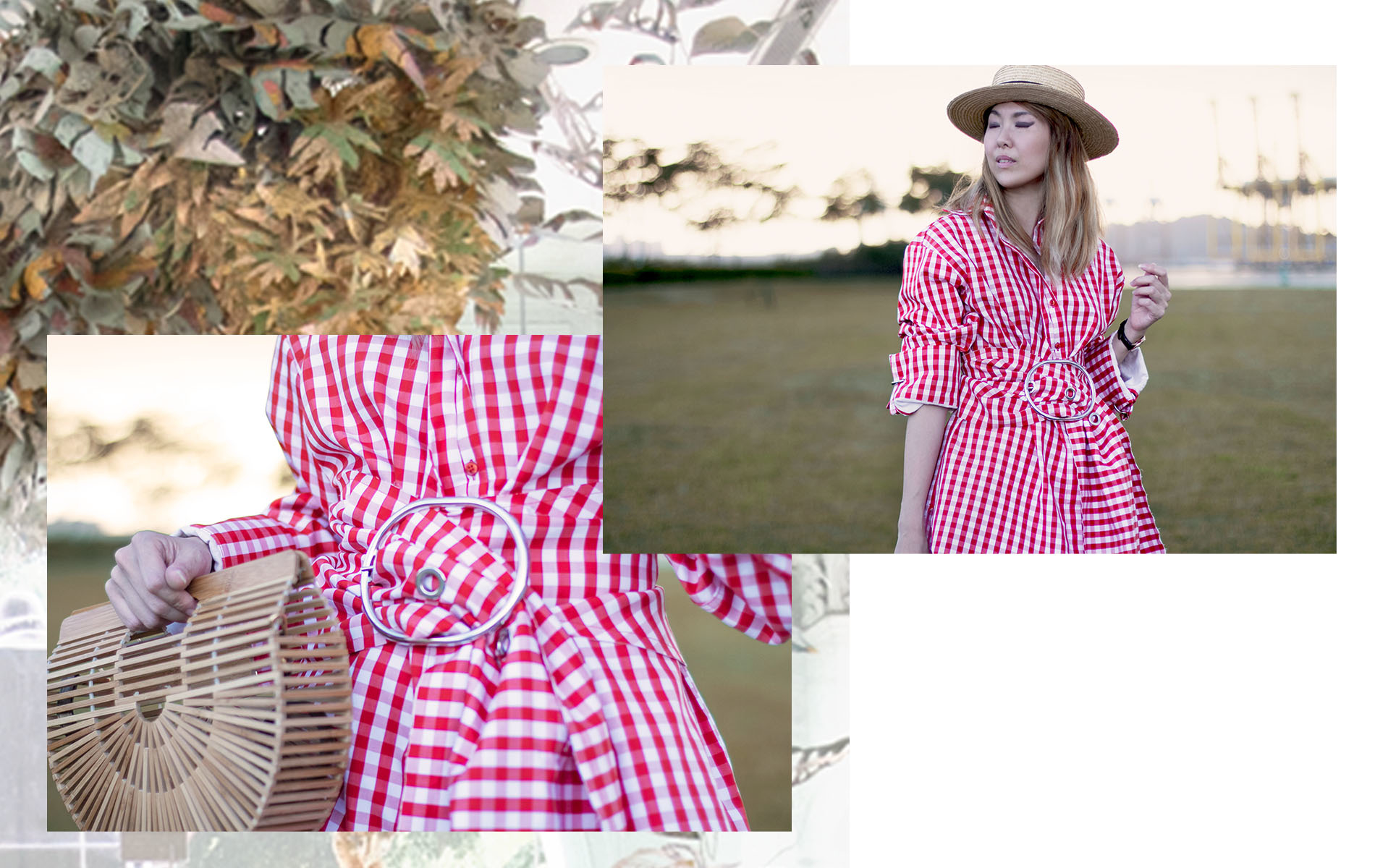 Last winter, we see the plaid print splashing all over blazers and coats. This summer, this trend is carried forward to a more picnic style of checkered or gingham pattern. I've always been a fan of plaid, checkered or gingham as this is a timeless print, similar to the cute polka dots. Even men's shirt are forever availalbe in these overlapping lines, and investing in a good piece will do your wallet a good deed in the years to come. My latest purchase was this loud red checkered print top attached with a statement buckle and skirt, both from Marques Almeida. I first saw this set in the window display of a shop and knew that I needed this outfit. It was love at first sight.
The oversize shirt has a slimming effect. It camouflage every fat your have on your body except your collarbone, making a perfect "feel fat day" outfit. I'm wearing size XS and was practically swimming in it. The sleeves are ultra long with a big silver ring at the cuff to hold up the fold – these details only found on designer pieces. I first came to know about this brand "Marques Almeida" early 2016 when their raw edged flare jeans became a big hit. Marta Marques and Paulo Almeida subscribe to the Helmut Lang school of thought, where 'fashion is about attitude not hemlines'.
Their fashion pieces evoke raw effortlessness but with highly skilled construction techniques and use of materials. I'm intrigued by this new creative construction of cloths, and me being a person who is always eager to support new talents or designers, so here I am, with this outfit set from this designer who debuted their first independent runway collection in 2016. Kinda fun to wear something ridiclulious like this once in a while. My friend called my outfit "the table cloth" and warned me not to step inside Grand Hyatt's Pete's place Italian restaurant, else I'll just merge together with the tables.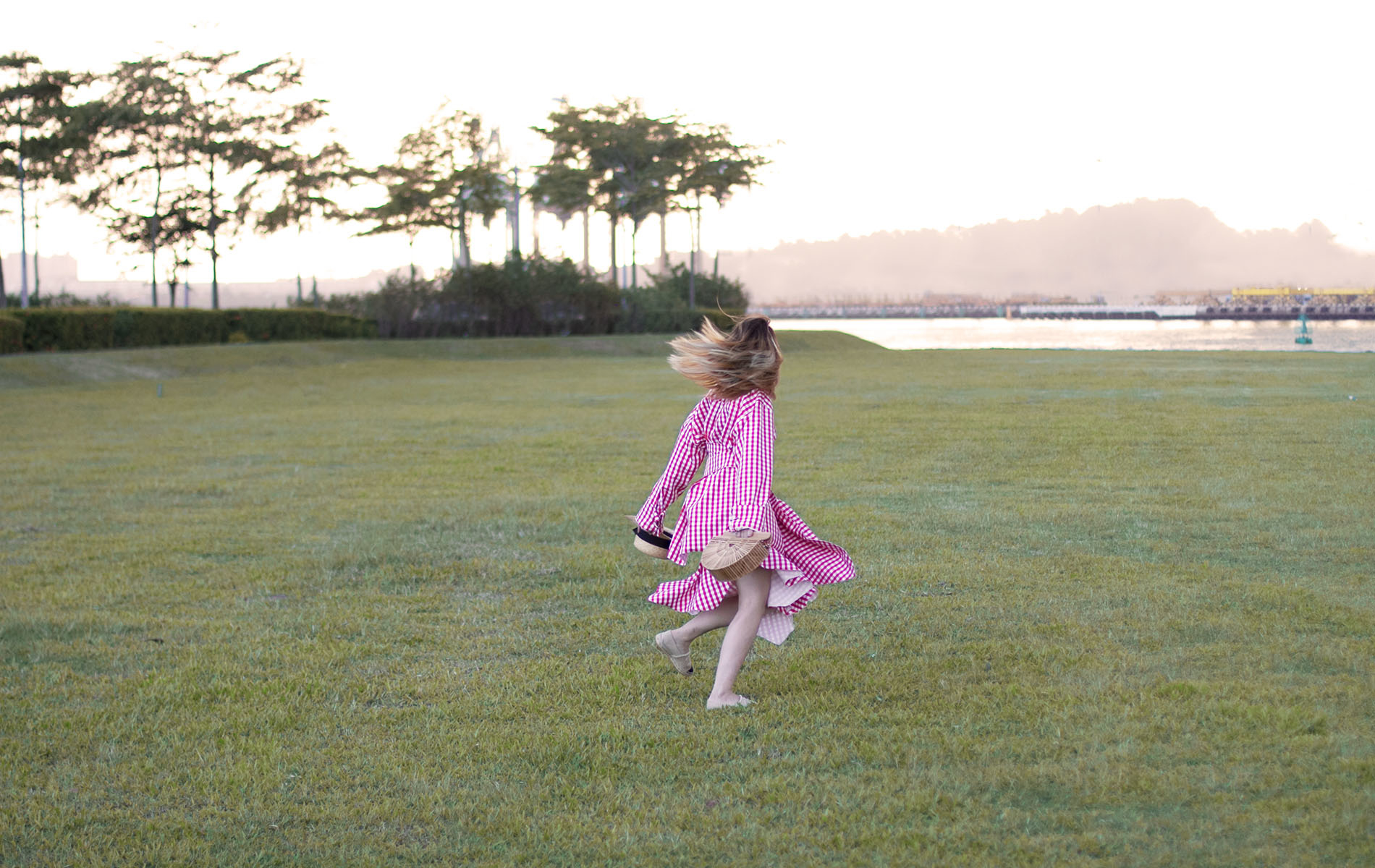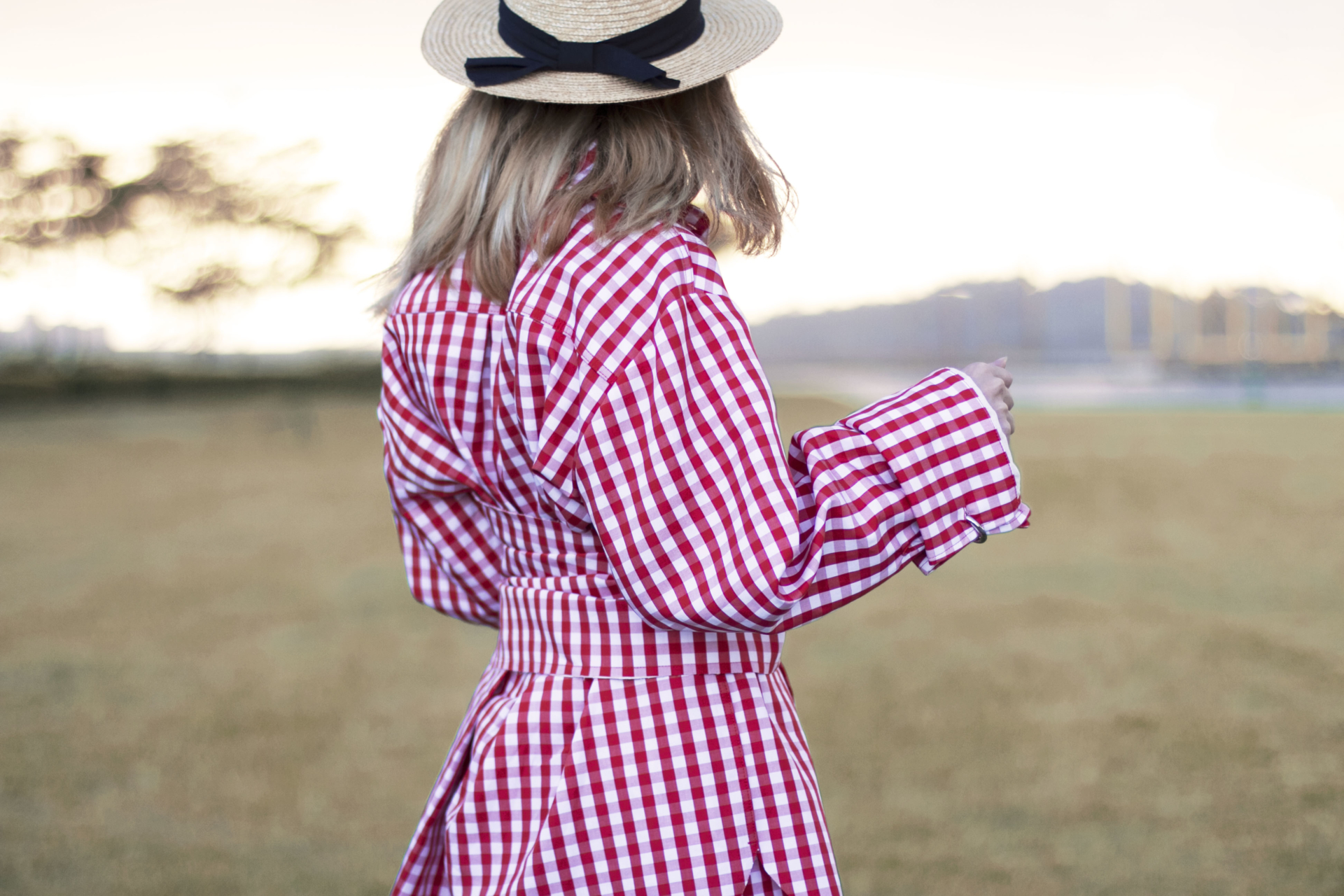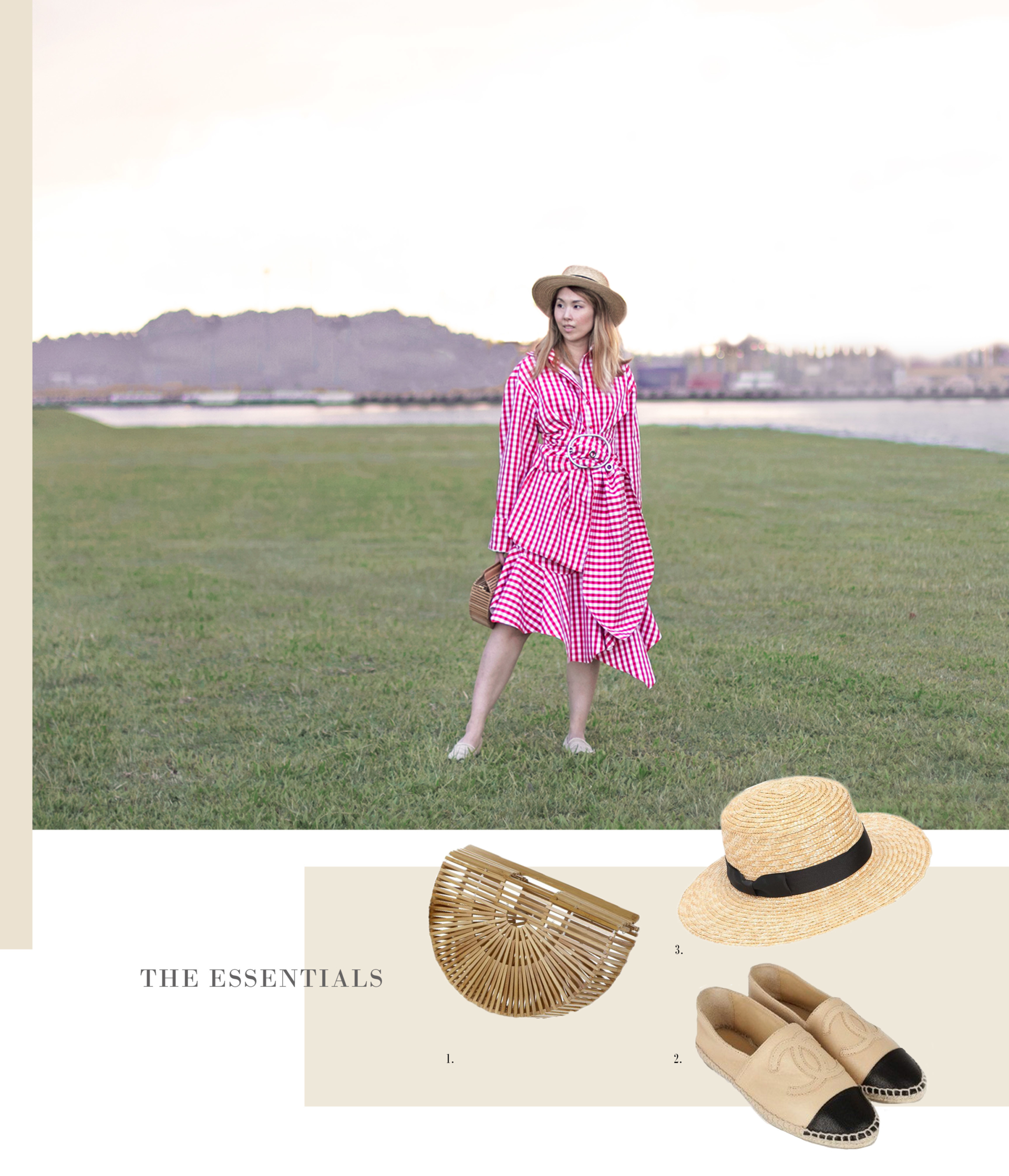 To achieve a spring summery look, you just need to add these 3 classic essentials: A straw or bamboo bag, espadrilles and a straw hat. These 3 items will never go out of style too and it returns almost every spring summer season. Featured here are: 1. My current favourite small bamboo Ark bag from Cult Gaia, 2. Chanel espadrilles  3. Straw hat from Brixton  (similar here). Pairing these 3 items with any linen outfit or a floral summer dress, and you will have a perfect full outfit ideal for the warm season.
SHOP MY SELECTION TO CREATE SIMILAR LOOK
___________________________________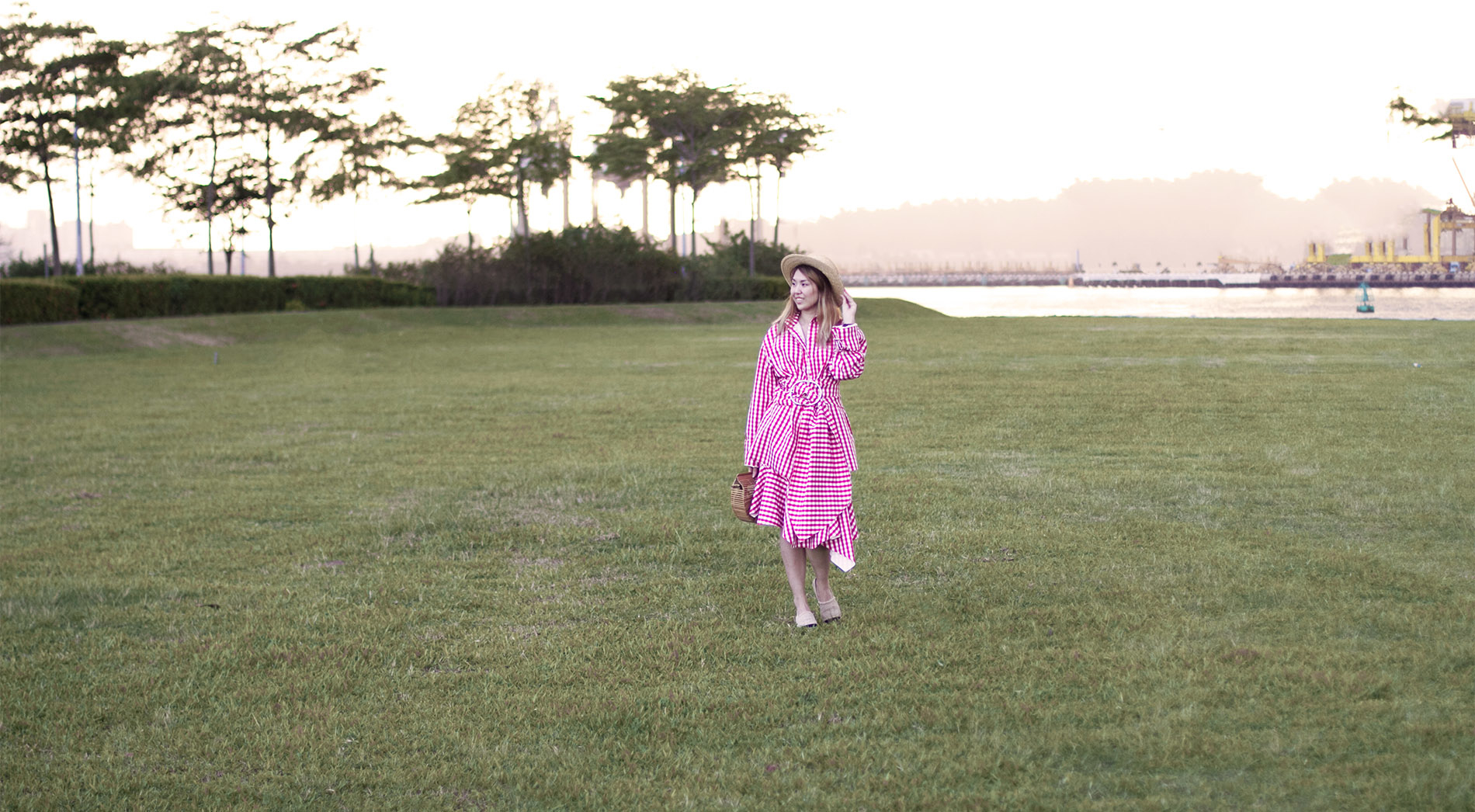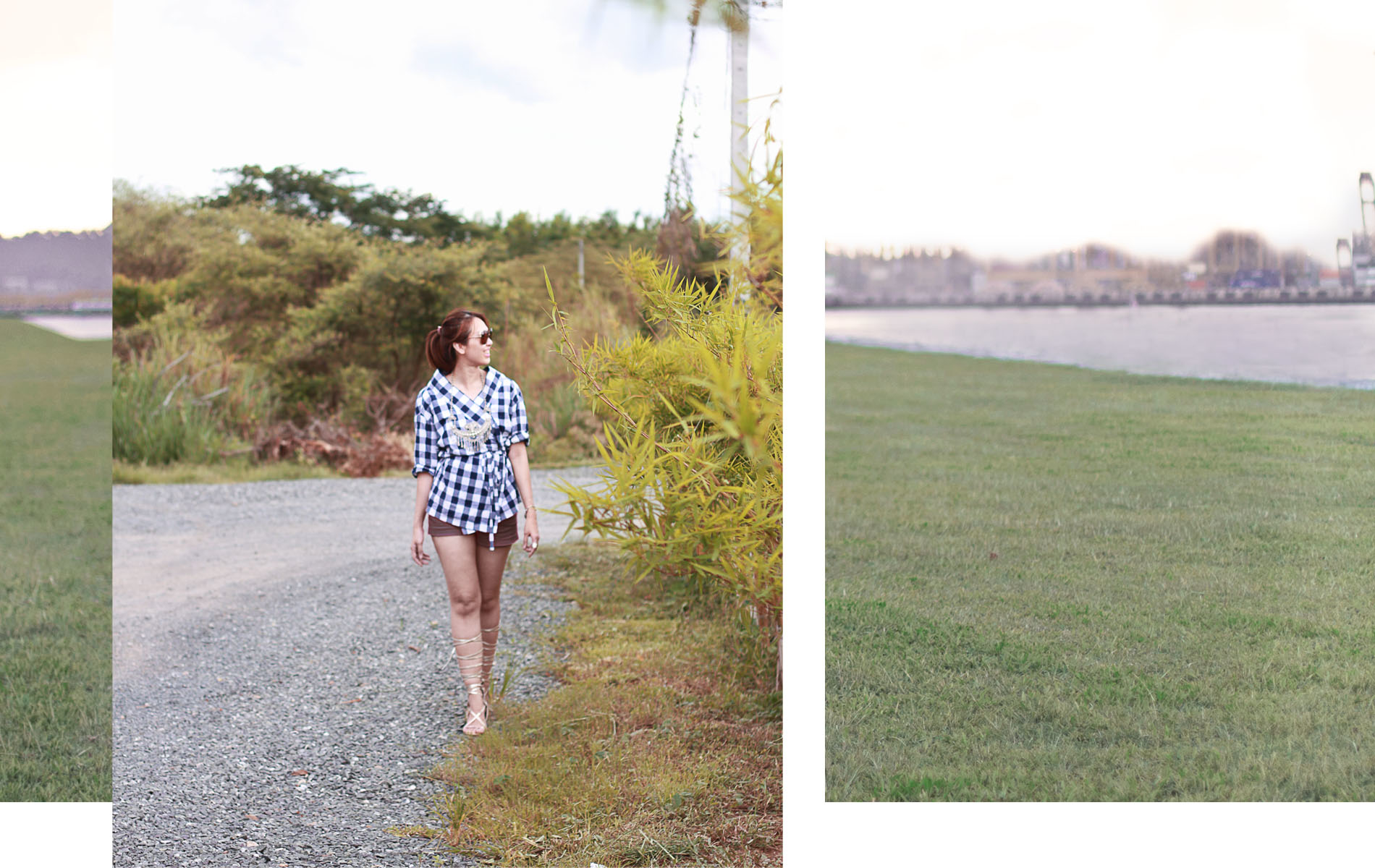 Wearing a blue gingham wrap top by
Stella Jean from previous season
This Stella Jean top was a runway piece from 2014 Spring Summer collection. Gingham or checks never goes out of fashion and 3 years later, this is still a chic outfit. If you chance upon a good quality gingham, checkered, or plaid print, and the cut is good, I'll say go ahead, don't hesitate, because you won' regret it. I still dearly love this wrap checkered shirt.
SHOP MY SELECTION TO CREATE SIMILAR LOOK
___________________________________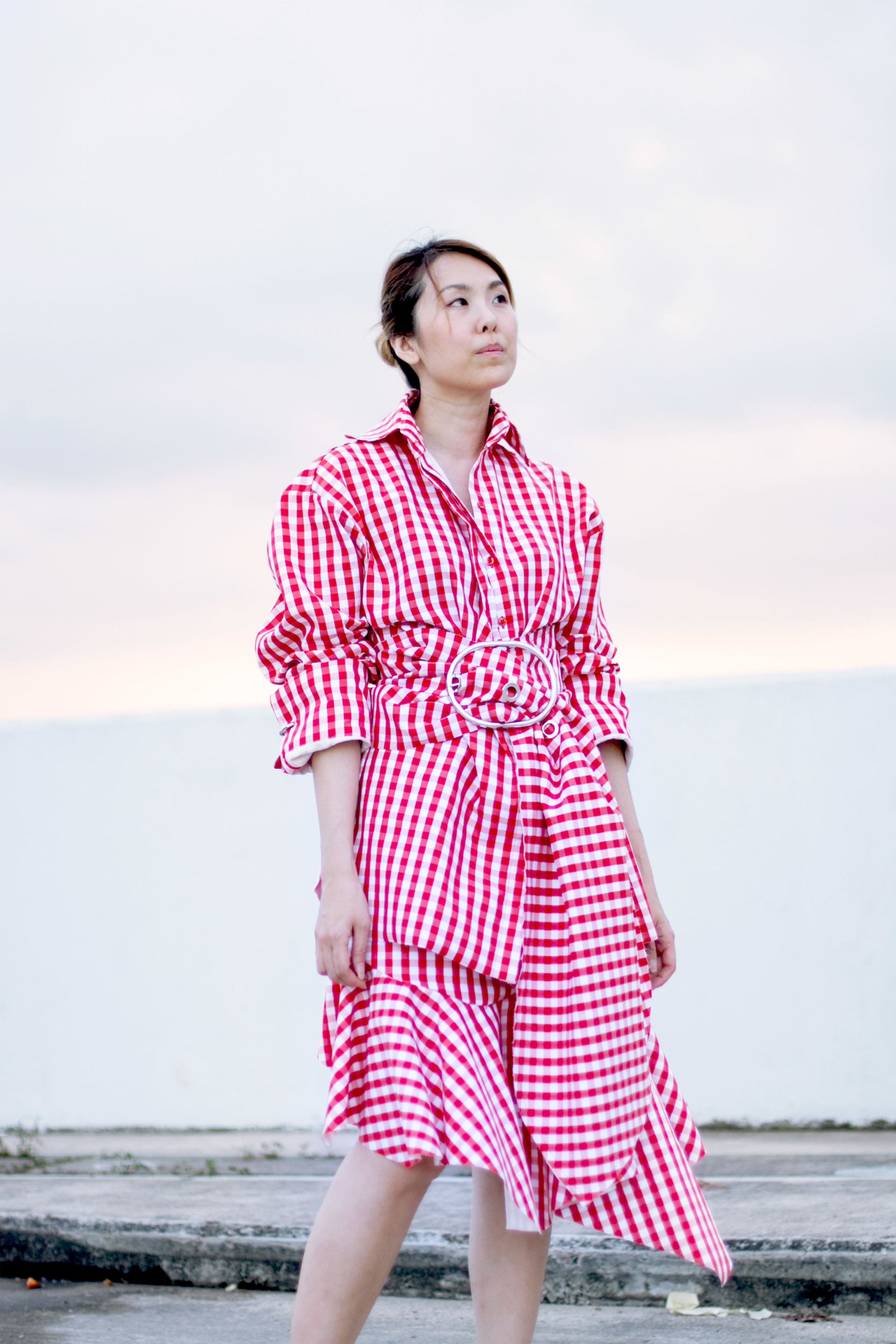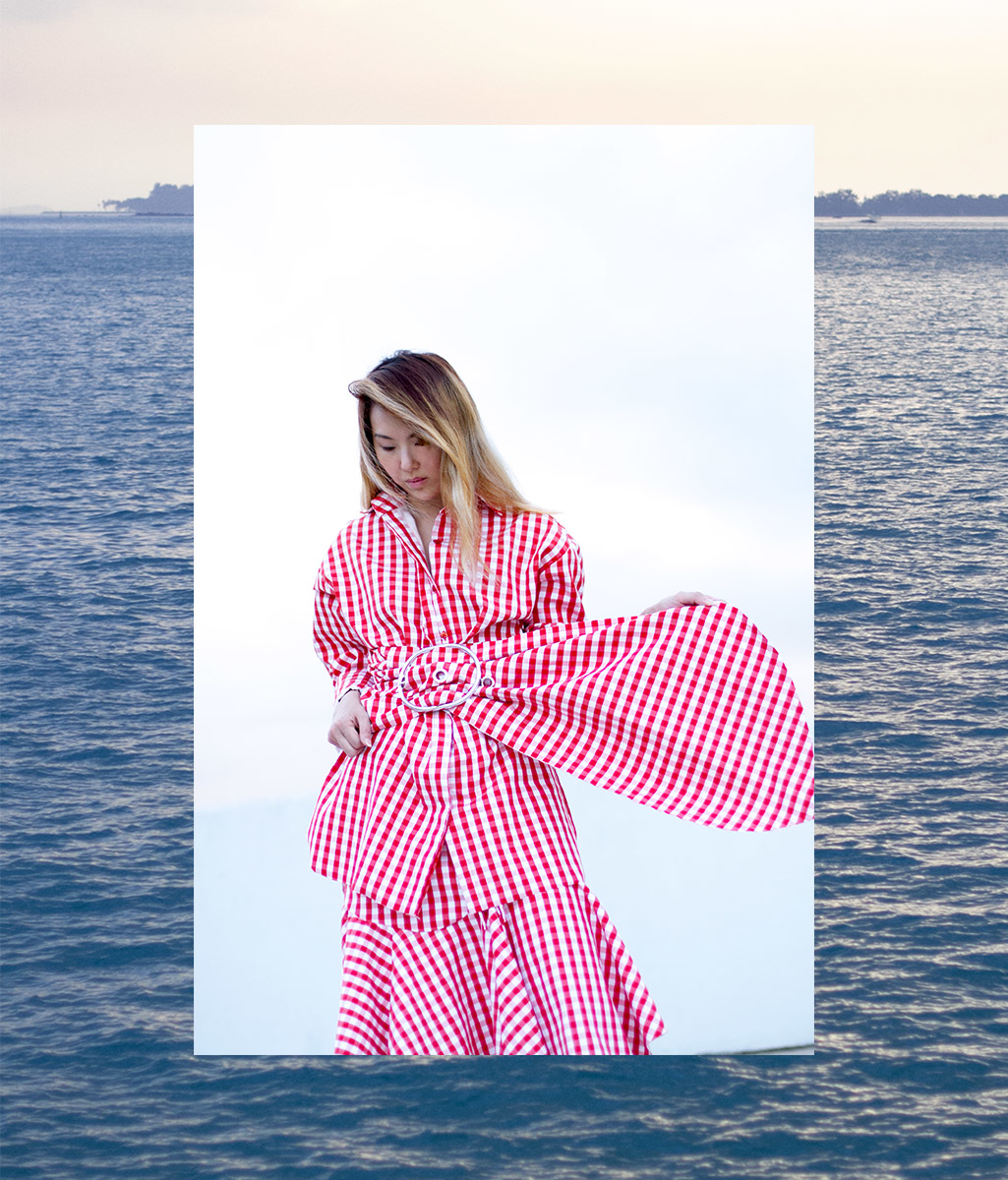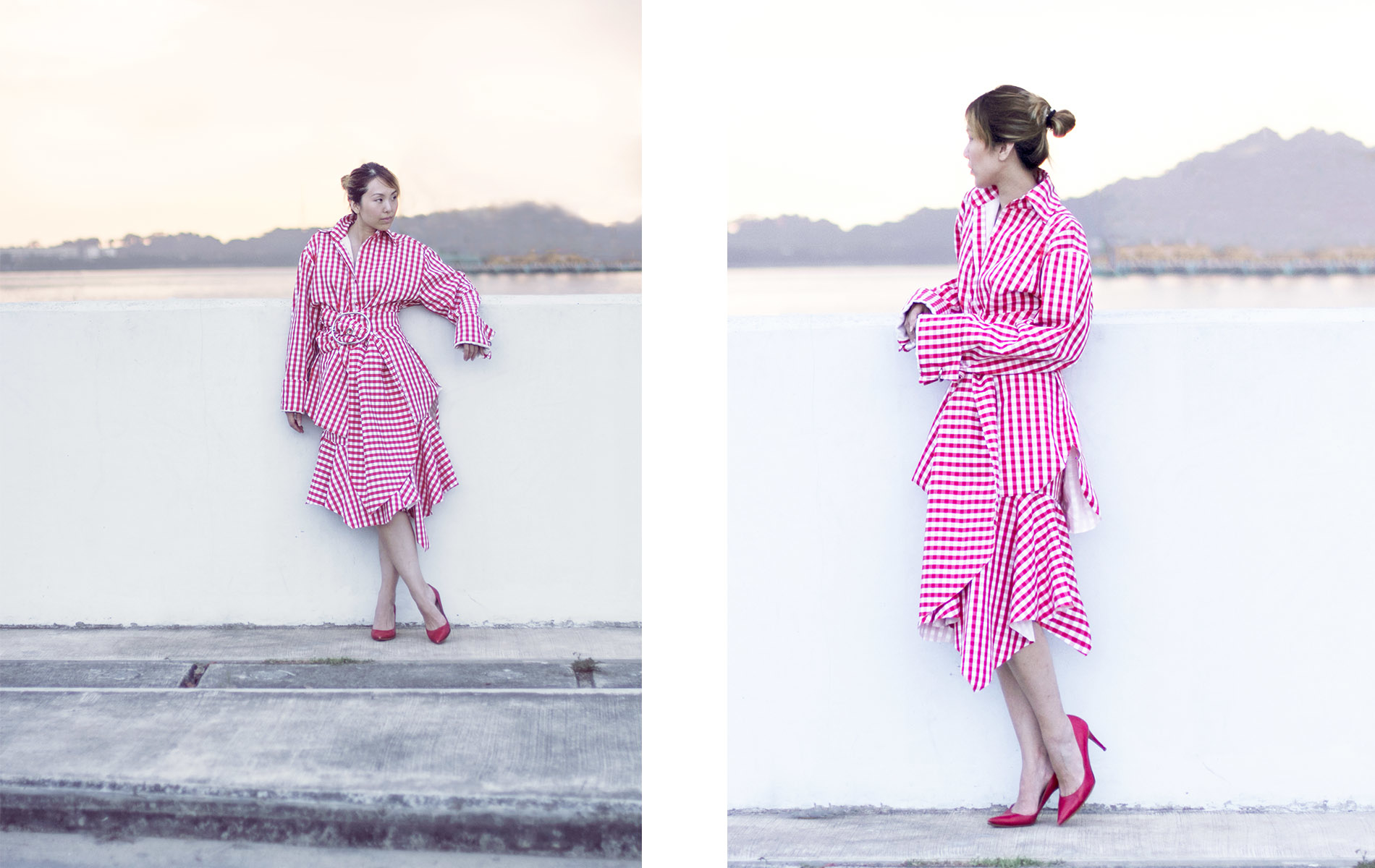 The asymmerical skirt creates an ever-moving silhouette. Viewing from every angle, it draws the viewer to curiosity. In this look, I removed the straw hat and pulled my hair into a chic tight bun. (if you have a bad hair day, this is the best way to look neat and chic effortlessly) Instead of espadrilles, I switch to a pair of red heels from Valentino, which is another classic item which I've purchased while I was in Paris. I wish Valentino will produce more of these classic simple red heels instead of incorporating the stubs into all their designs. Anyone who stumbled upon a similar pair by Valentino, please drop me a mail as I'm searching desperately for another pair for ages. Back to my outfit, changing 2 subtle element and the look is now more polished, suitable the office.
Last outfit featuring a smaller gingham print
_____________________
The high collar shirt is from
Fall Winter Spring Summer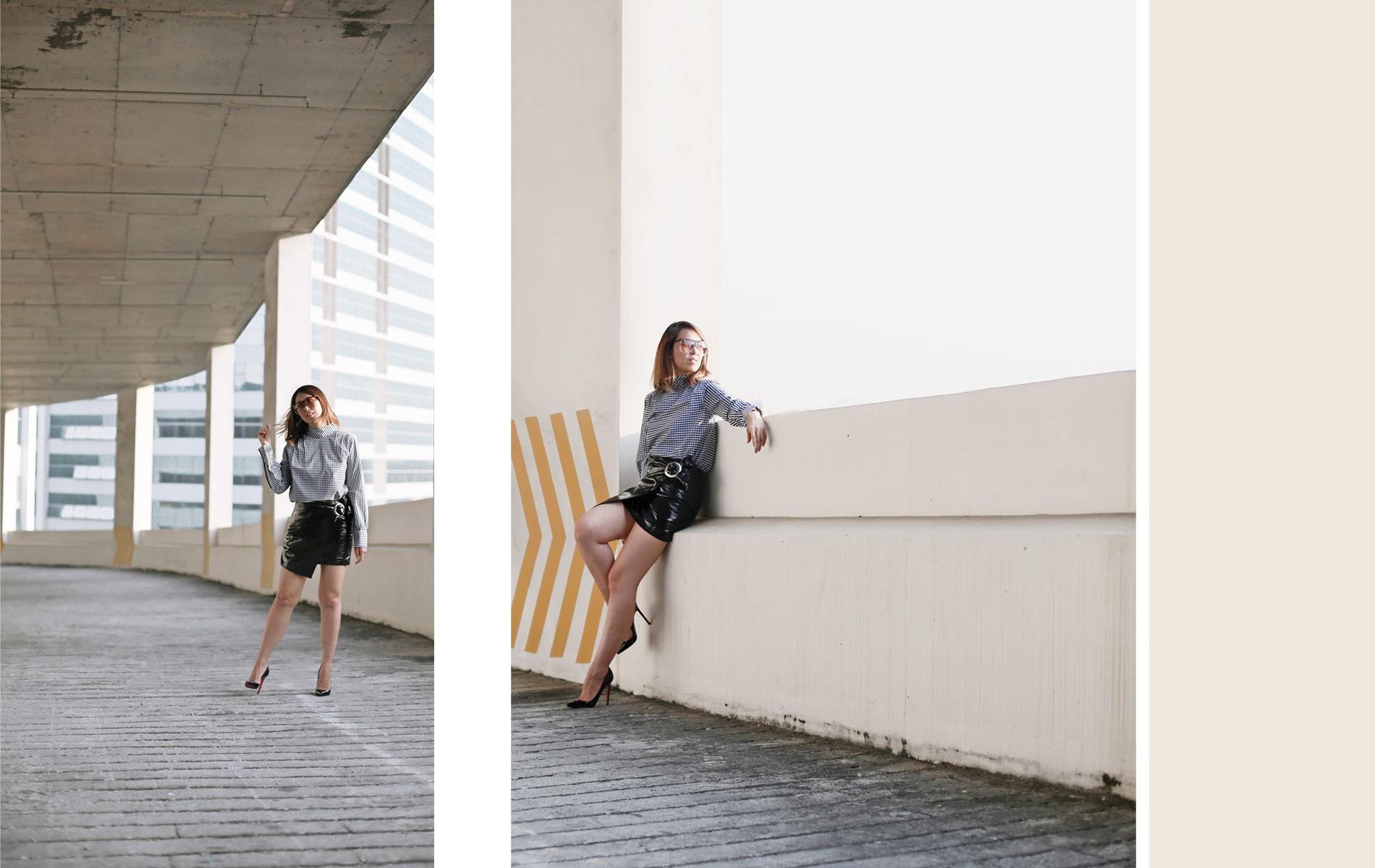 It was by chance I get accquanited with this Scandinavian brand Fall Winter Spring Summer. It has a very unique name and at first I didn't realised it's a brand. My first purchase was this high collar blouse which I got at a discount. As it doesn't ship direct to Singapore, I used a freight forwarding company to send it over. The cut is a little bigger than I thought and luckily I got an extra-small size which fits nicely on my usual small frame. I love the roomy cut suitable for anyone with a longer torso and arms like me, and the material used is of a better quality than the usual commercial brands. I wanted to create an edgy look, so I pair this feminine blouse with a patent skirt from Mango, and  black louboutin heels. This outfit portrays how versatile gingham print can be. It is not limited to just "summer picnic" style but it can be edgy, classic or casual, depending on how the entire outfit is put together.
If you are wondering why my hair is shorter in this set of photos, it's because these photos are take in October last year. (yes, I have huge stash of photos still in queue for a post) I'm including it in this post to share that gingham or checks are ever green. It has been appearing season after season since Fall Winter 2015, and this summer, we can see it hit the runway in full swing. Hooray to this cute square print, you are now in massive trend again.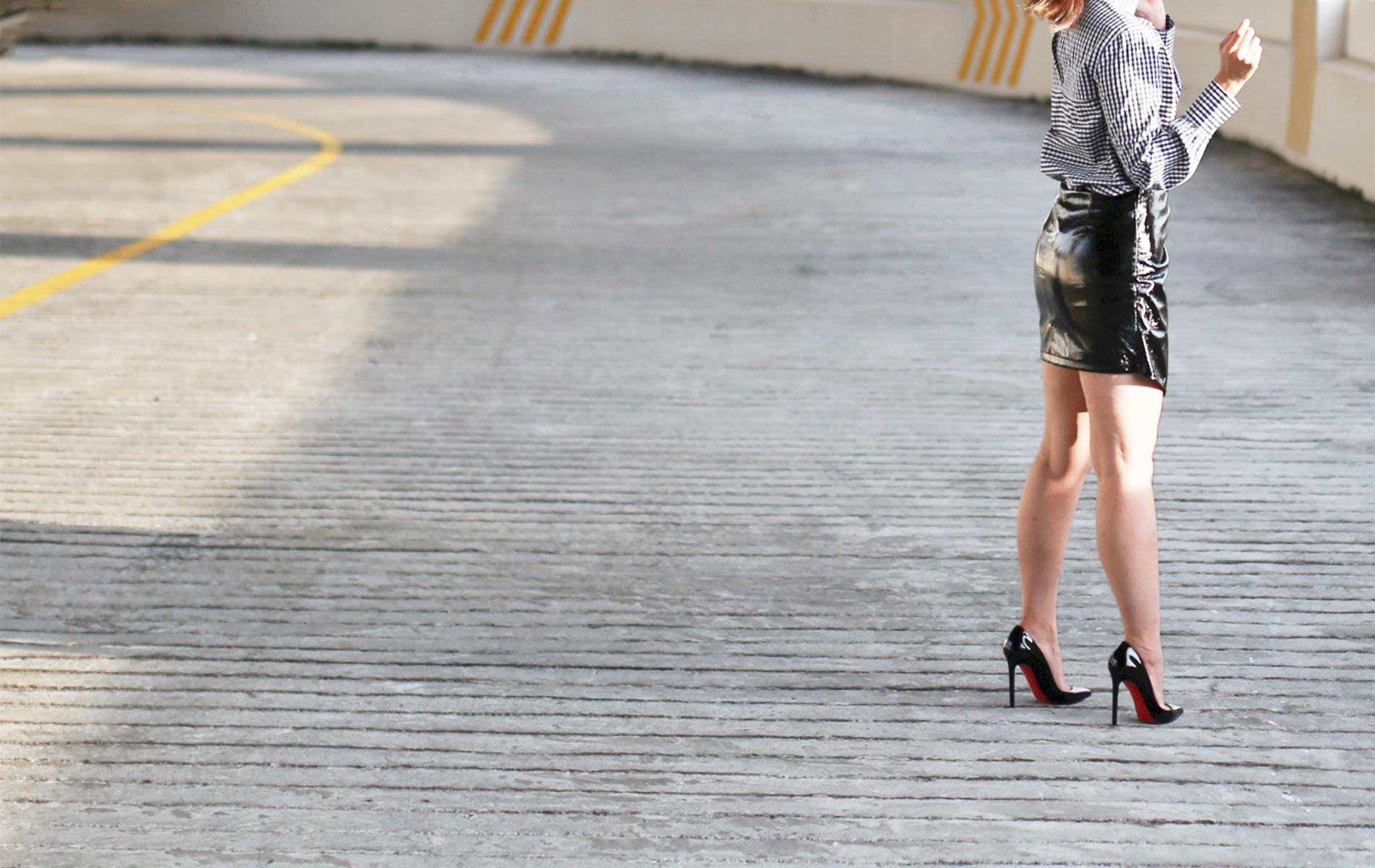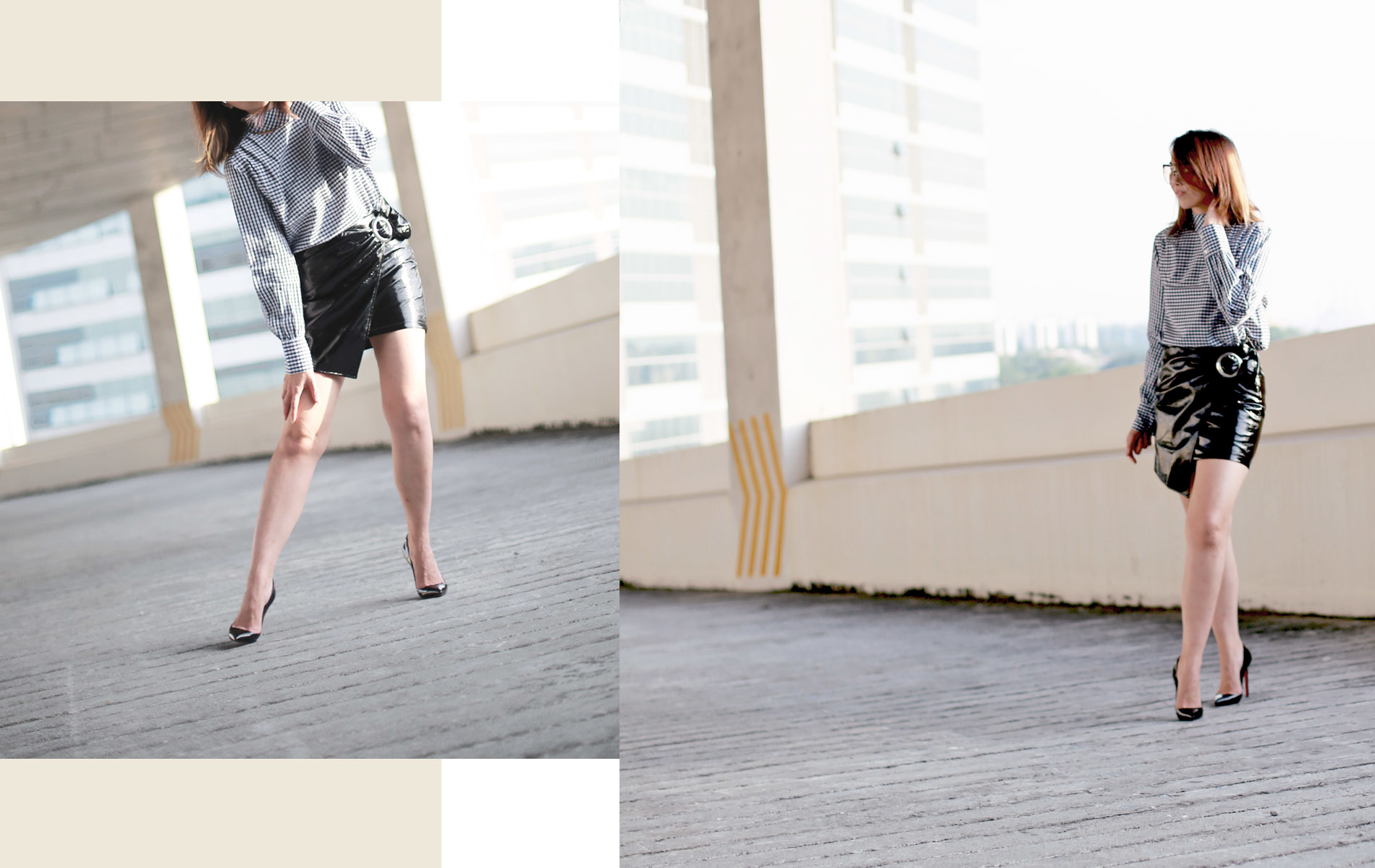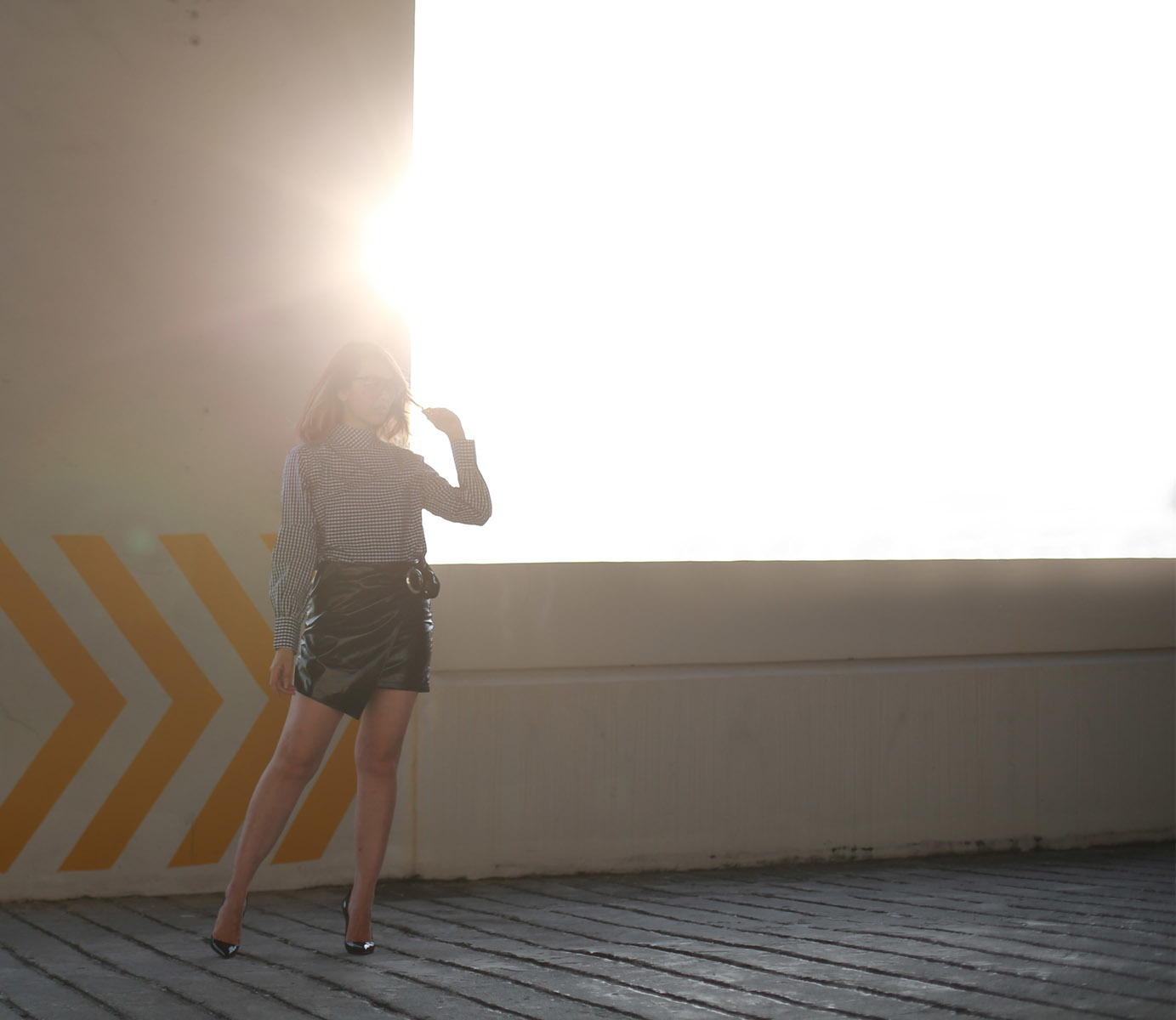 You can get this almost similar top from Zara at a fraction of the price. What's great is Zara now offers online shopping for Singapore!
Thank you for reading this long post dedicated to the square motif that I love so much.
I hope it helps generate some ideas on how this print can be styled.
Shop the rest of my look or similar style below: